Ten American Foreign Policy Influentials Who Died in 2018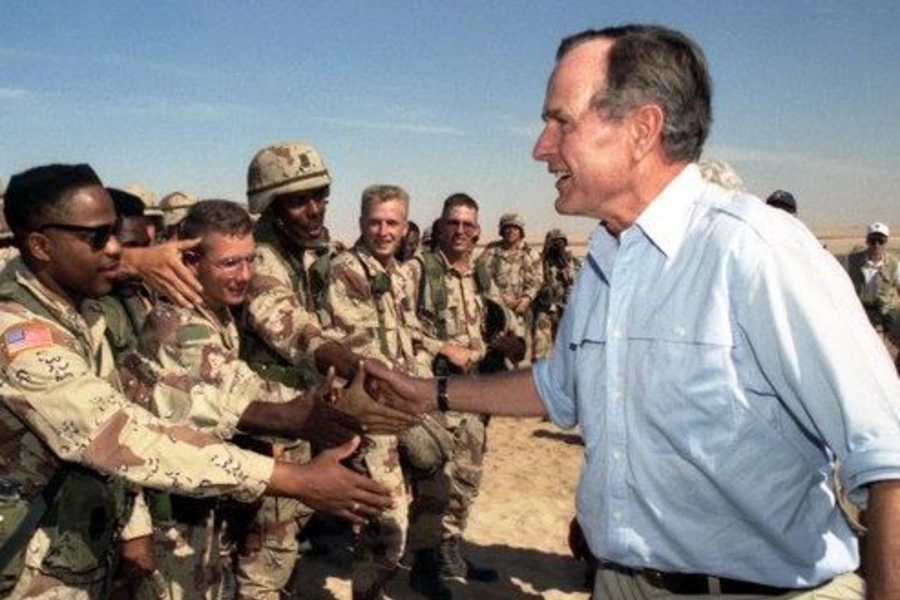 Year's end is a time for taking stock, counting successes, and assessing failures. It is also time for remembering those who are no longer with us. Here are ten Americans who died in 2018 who through their vision, service, intellect, or courage made a mark on U.S. foreign policy. They will be missed.
George H.W. Bush (b. 1924) was the forty-first president of the United States. Born in Massachusetts, Bush grew up in Connecticut, the son of an investment banker who later became a two-term U.S. senator. He graduated high school six months after the Japanese attack on Pearl Harbor and enlisted in the Navy as an aviator. Two years later, his plane was shot down in the Pacific. After the war, he attended Yale and then moved to Texas to work in the oil industry. He eventually turned to politics, holding a variety of posts: two-term U.S. representative, ambassador to the United Nations, chairman of the Republican National Committee, envoy to the People's Republic of China, director of the Central Intelligence Agency, and vice president under Ronald Reagan. Elected president in 1988, he conducted the most successful foreign policy of any modern president, most notably assembling a broad international coalition to win the Gulf War, managing the collapse of the Soviet Union, and midwifing the reunification of Germany. Voters weren't impressed by these successes, however, and he lost his re-election bid in 1992. Bush holds several presidential distinctions: he is the only president besides John Adams to also be the father of a president; he was the first sitting vice president to be elected president since Martin van Buren accomplished that feat in 1836; and he is the only president to go sky-diving in his nineties.
Frank C. Carlucci (b. 1930) was a Foreign Service officer who became national security adviser and then secretary of defense in the Reagan administration. Born in Scranton, Pennsylvania, he attended Princeton, where he was roommates with Donald Rumsfeld. Carlucci served in the Navy for two years before becoming a Foreign Service Officer in 1956. He was posted to South Africa, Belgian Congo, Zanzibar, and Brazil. Carlucci then served in a variety of government posts in the Nixon, Ford, Carter and Reagan administrations. In 1983, he left government for the private sector. Three years later he returned to become President Reagan's national security adviser after John M. Poindexter resigned over his involvement in the Iran-Contra Affair. The following year, Reagan named Carlucci secretary of defense. During his time at the Pentagon, Carlucci pushed through $33 billion in budget cuts. He served for fourteen months before joining the Carlyle Group, where he was chairman from 1993 to 2003. Among other activities during his retirement, Carlucci chaired the selection committee for the Council on Foreign Relations' Military Fellowship program for many years.
Karen Dawisha (b. 1949) was a Russia expert whose research detailing the ill-gotten wealth of Russian President Vladimir Putin and his inner circle provoked a publishing controversy. Dawisha, whose maiden name was Hurst, was born in Colorado Springs. She studied at the University of Colorado and Britain's Lancaster University as an undergraduate before earning her Ph.D. from the London School of Economics. She joined the political science department at the University of Maryland in 1985, where she stayed until joining the faculty of Miami University in Ohio in 2000. She wrote several highly regarded books about the Soviet Union and Russia. In 2013, she submitted a manuscript on corruption by Putin and his cronies to her longtime publisher, Cambridge University Press. It decided against publication, arguing that Britain's libel laws made it too easy for anyone named in the manuscript to sue for defamation. Dawisha lamented that Cambridge would "cower and engage in pre-emptive book-burnings as a result of fear of legal action." In 2014, Simon & Schuster published Putin's Kleptocracy: Who Owns Russia? in the United States, which has far stricter libel rules, to generally favorable reviews.
Ron Dellums (b. 1935) was the first African-American and anti-war activist to chair the House Armed Services Committee. Born and raised in Oakland, California, Dellums dreamed of becoming a professional baseball player. After high school, he joined the Marine Corps, serving for two years. He then earned a bachelor's degree from San Francisco State College and a master's degree in social work from the University of California, Berkeley. His political career began with a successful run for the Oakland city council in 1967. Four years later he was elected to Congress. During his thirteen terms in Congress, he was a fierce progressive voice calling for less military spending and more social spending. He voted against nearly every military budget and opposed every U.S. military intervention except for Operation Restore Hope, which provided humanitarian relief to Somalia. He wrote the 1986 legislation imposing economic sanctions on apartheid South Africa, which became law after Congress overrode President Reagan's veto. His one term as chair of the House Armed Services Committee coincided with the beginning of the post-Cold War build down of U.S. military forces. Dellums was out of step with many of his colleagues, particularly those on the other side of the aisle. They nonetheless admired his conviction and professionalism. "Ron is as good a man as you will find in Congress. He tells you where he stands, and his word is always good," is how one Republican member put it. Dellums retired from the House in 1998, but had one more go at politics. From 2007 to 2011 he served as mayor of Oakland.
Millie Dunn Veasey (b. 1918) served in the 6888th Central Postal Directory Battalion, the only all-black Women's Army Corps unit to serve overseas during World War II. Born as Millie Dunn in Raleigh, North Carolina, she was one of six children. Like many Americans after Pearl Harbor, she wanted to serve her country. But as a black woman, her options were severely limited. She joined the Women's Army Corps and was initially dispatched to Texas to conduct administrative duties. She was then selected for the "six triple eight," which had been directed to deploy to Britain. The battalion's job was to work its way through a mountain of mail intended for soldiers on the front lines that had instead piled up in dilapidated, rat-infested warehouses in Birmingham, England. The six triple eight accomplished its mission and then, after the war ended, it deployed to France for nine months to carry out similar duties. Dunn left the Women's Army Corps as a staff sergeant, earned her bachelor's degree on the GI bill, married, and worked for much of her life at her alma mater, St. Augustine's University in Raleigh. One of the many tributes to Dunn Veasey and fellow members of the six triple eight noted: "It didn't matter that the country didn't want what they had to offer. They offered it anyway."
Charles Krauthammer (b. 1950) was a Pulitzer Prize-winning columnist and conservative commentator. The son of Jewish immigrants from Europe, Krauthammer was born in New York City and raised in Montreal. After earning his undergraduate degree from McGill and spending a year at Oxford studying political theory, he went to Harvard Medical School. He completed his medical studies on time and began practicing psychiatry despite a diving accident that left him largely paralyzed from the neck down. His writings on politics led to a job as a speech writer for Vice President Walter Mondale and then as a columnist at the New Republic. In 1987, he received the Pulitzer Prize for his columns in the Washington Post. From 1990 to 2013 he was a panelist on the PBS show Inside Washington. Late in his career he became a regular on Fox News. A proud and skilled proponent of neoconservative foreign policy views, Krauthammer is credited with originating the term "the Reagan Doctrine" to describe Ronald Reagan's foreign policy. Krauthammer's parting words to readers are worth contemplating: "I believe that the pursuit of truth and right ideas through honest debate and rigorous argument is a noble undertaking. I am grateful to have played a small role in the conversations that have helped guide this extraordinary nation's destiny."
Princeton Lyman (b. 1935) was a diplomat for more than forty years who helped bring about the peaceful end to apartheid and the birth of an independent South Sudan. Lyman was born in San Francisco to Jewish immigrants from Lithuania. Although his parents named him after Princeton University, he attended the University of California, Berkley as an undergraduate and Harvard University, where he earned his Ph.D. He entered the Foreign Service in 1961and initially served in South Korea. His career path, though, took him to Ethiopia, triggering what became a life-long interest in Africa. He served as U.S. ambassador to Nigeria from 1986 to 1989, and then as U.S. ambassador to South Africa from 1992 to 1995. When he arrived in Pretoria the negotiations to end white minority rule "were in total disarray." He played a critical role in facilitating talks between Nelson Mandela and South African President F.W. de Klerk that led to a peaceful transition to a new democratic state. In the mid-1990s, Lyman served as assistant secretary of state for international organizations. After leaving the Foreign Service, he was a senior fellow at the Council on Foreign Relations from 2003 to 2010, working, as always, on African issues and inspiring his colleagues with his warmth, compassion, and commitment. He returned to government in 2011 to become special envoy to Sudan, leading the negotiations that eventually led to South Sudan's independence from Sudan.
John S. McCain III (b. 1936) was a Vietnam War hero, U.S. senator from Arizona, and the 2008 Republican nominee for president. Born at Coco Solo Naval Air Station in the Panama Canal Zone, McCain had the U.S. Navy in his blood—he was the son and grandson of admirals. He attended the U.S. Naval Academy where he excelled in the boxing ring but not the classroom. A naval aviator, McCain was shot down on his twenty-third combat mission in Vietnam. He ejected, landing in Truc Bach Lake in Hanoi. McCain spent the next five-and-a-half years in Hao Lo prison—what American POWs called the "Hanoi Hilton"—where he rejected an opportunity for early release despite repeated torture that left him with life-long injuries. McCain returned to active duty after being released in 1973, but his sights soon turned to politics. In 1982, he was elected to the U.S. House of Representatives from Arizona. Four years later, he won a Senate seat. He quickly established himself as a leading Republican voice on foreign policy, eventually rising to chair the Senate Armed Services Committee. He ran for president in 2000 and then again in 2008, but never reached the Oval Office. McCain remained a staunch defender of American global leadership and of the liberal international order, frequently criticizing President Donald Trump, who wasn't invited to his funeral. In his final message to the country, McCain told his fellow Americans: "Do not despair of our present difficulties but believe always in the promise and greatness of America, because nothing is inevitable here."
Peter G. Peterson (b.1926) was a businessman, secretary of commerce, philanthropist, and longtime chair of the board of directors at the Council on Foreign Relations. Peterson was born and raised in Kearney, Nebraska. His parents were Greek immigrants who ran a diner, the Central Café, in Kearney. Peterson graduated summa cum laude from Northwestern University in 1947. After earning an MBA from the University of Chicago in 1951, he rose rapidly through the ranks of the business world. By the time he was thirty-four, he was president of Bell & Howell, a camera and audiovisual-equipment manufacturer. Two years later he was the company's CEO. In 1971, President Richard Nixon made Peterson a presidential assistant on international economic affairs. A year later he was appointed commerce secretary. He left government in 1973 to become chair of the investment firm Lehman Brothers. In 1985, he co-founded the Blackstone Group, which today is the world's largest private equity firm. Deeply troubled by the growing U.S. national debt—which today exceeds $20 trillion—Peterson advocated tirelessly for fiscal responsibility. Among the seven books he wrote was the bestseller Running on Empty: How the Democratic and Republican Parties Are Bankrupting Our Future and What Americans Can Do About It. A generous philanthropist, Peterson created the Peter G. Peterson Foundation to make the case to the American people for addressing the country's long-term fiscal challenges. He also gave generously to the Peterson Institute for International Economics and to CFR, where he chaired the board at CFR for twenty-two years, the longest tenure in our history.
Michael A. Sheehan (b. 1955) was a counterterrorism expert who warned before September 11 of the danger that al Qaeda posed. Born and raised in New Jersey, Sheehan graduated from West Point in 1977. As a Green Beret he led special-forces missions in places like Panama, El Salvador, Colombia, and Honduras. In the 1990s, while still on active duty, he served on the staff of the National Security Council as director for Global Issues and Multilateral Affairs, where he was responsible for issues ranging from peacekeeping to international affairs financing to terrorism. In 1998, shortly after retiring from the military as a lieutenant colonel, he became the State Department's chief of counterterrorism. He immediately began warning about the need to confront al Qaeda. His efforts gained little traction within the Clinton administration, however. "What's it going to take to get them to hit Al Qaeda" he asked in 2000. "Does Al Qaeda have to attack the Pentagon?" After 9/11, Sheehan became assistant secretary general of the United Nations, overseeing peacekeeping operations. From 2003 to 2006 he ran the New York Police Department's new counterterrorism bureau. After five years running his own security firm, he served as assistant secretary of defense for special operations and low intensity conflict. Sheehan was beloved by everyone who worked with him or for him because he always lived, as my colleague Bruce Hoffman put it, with "verve, daring, and unrelenting energy and good humor."
Other Americans who had an impact on foreign policy and who died in 2018 include: Ted Achilles was an advocate for girls' education and founded a boarding school in Kabul soon after the U.S. invasion of Afghanistan. Anthony Bourdain was a celebrity chef, author, and TV personality who used his love for food to introduce people to other cultures. Francis Bator was an economist who urged President Lyndon Johnson to improve U.S. relations with the Soviet Union. Alan Bean was the fourth person to walk on moon. Landrum Bolling was a college president and peace activist who acted as an unofficial go-between for Jimmy Carter on Middle East issues. Paul Booth was a leading organizer of the march on Washington against the Vietnam War in 1965. Elizabeth Connell worked to improve the reproductive health of women globally. Adrian Cronauer was a U.S. Air Force disc jockey whose experiences in Saigon in 1965 inspired the movie Good Morning, Vietnam. Alfred Crosby was the "Father of Environmental History."
Alan Diaz won the 2001 Pulitzer Prize for breaking news photography for his photo of federal agents seizing Elián Gonzalez from his relatives' home in Miami. Max Desfor won the Pulitzer Prize for photography in 1951 with his photos of the Korean War. James W. Downing was the second oldest survivor of the attack on Pearl Harbor. Alene Duerk became the first woman to attain the rank of rear admiral in the U.S. Navy. David Douglas Duncan was a great combat photographer who also photographed Pablo Picasso's life. Naomi Parker Fraley was the "real Rosie the Riveter" and the inspiration for the Navy's "We Can Do It" poster. Aretha Franklin was the "Queen of Soul" whose music touched people around the world. Murray Fromson helped found the Reporters Committee for Freedom of the Press. Max Fuchs was a rifleman in the First Infantry Division at Omaha Beach who subsequently led the first Jewish religious service broadcast from Germany since Adolf Hitler came to power. Billy Graham was a Christian evangelist who counseled presidents and foreign heads of state.
John Gavin was U.S. ambassador to Mexico and actor who appeared in Psycho, Spartacus, and Thoroughly Modern Millie. Anna Mae Hays was the U.S. military's first female general. Fred Kovaleski was an international tennis player and CIA spy. Constance E. Lawn was the longest serving White House correspondent. Robert D. Ray was the governor of Iowa who in the 1970s welcomed thousands of Southeast Asian refugees into his state. Stansfield Turner was a U.S. Navy admiral who served as CIA director in the Carter administration. John Young was commander of the first space shuttle mission. Togo West Jr. served as secretary of the army and secretary of veteran affairs. David S. Wyman was a leading authority on how the United States responded to the Holocaust. John Young was NASA's longest serving astronaut, having both walked on the moon and commanded the first space shuttle flight.
Corey Cooper, Angela Peterson, Patrice Narasimhan, and Sofia Ruiz assisted in the preparation of this post.
Other posts in this series:
Ten Foreign Policy Notables Who Died in 2020
Ten American Foreign Policy Notables Who Died in 2019
Ten American Foreign Policy Influentials Who Died in 2017
Ten American Foreign Policy Influentials Who Died in 2016
Ten American Foreign Policy Influentials Who Died in 2015
Ten Americans Who Died in 2014 Who Shaped U.S. Foreign Policy
Ten Americans Who Died in 2013 Who Shaped U.S. Foreign Policy