Why Indonesia's Youth Hold the Key to its Tech Sector Progress
To capitalize on the promise of its burgeoning tech industry, Indonesia needs a greater focusing on developing the human talent that powers innovation and allows pioneering companies to grow.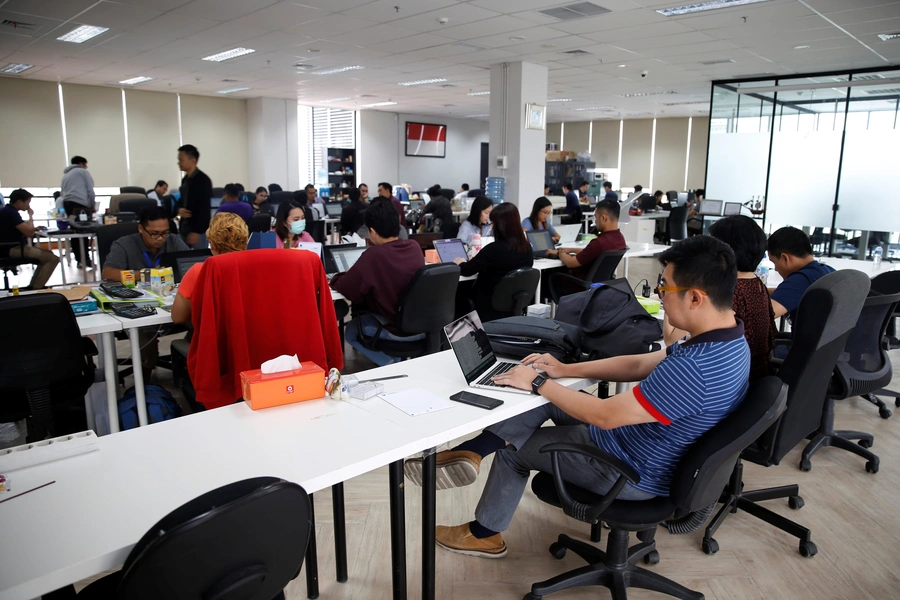 Kayla Goode is a research analyst at Georgetown University's Center for Security and Emerging Technology (CSET), where she works on the CyberAI Project.
Heeu Millie Kim is a semester research analyst at Georgetown University's Center for Security and Emerging Technology (CSET), where she works on the CyberAI project.
Indonesia's technology sector has undergone explosive growth over the last five years, partly due to a burgeoning middle class and broad smartphone adoption that facilitate e-commerce. With nearly two hundred million active internet users, Indonesia's artificial intelligence (AI) and AI-enabled startups have thrived, many earning "unicorn" status as startups valued over $1 billion, attracting international investors, and expanding operations overseas. The "digital archipelago" is on the cusp of an AI boom, but human capital is central to addressing the gap between Indonesia's AI ambitions and reality.
As our recent report from Georgetown University's Center for Security and Emerging Technology (CSET) outlines, Indonesia's government is seeking to leverage AI to build a stronger economy and a more technologically resilient society. As the second Association of Southeast Asian Nations (ASEAN) nation to publish a national AI strategy, Indonesia is pushing for rapid and comprehensive AI integration in both its public and private sectors, particularly in health services, education and research, and transportation. In 2019, Indonesia ranked third among Southeast Asian countries for the number of academic-corporate peer-reviewed AI publications. Now, Indonesia has the highest number of AI-related scientific publications in Southeast Asia. At the current rate, AI is expected to contribute $366 billion to the country's GDP by 2030. Indonesia is certainly charging ahead to become a prominent AI hub in the region. With the government striving to be at the helm, Indonesia will seek to nurture an environment ripe for AI development and integration.
However, ambitious goals and promising data points rarely tell the entire story. Indonesia faces numerous hurdles in its AI journey: its struggle to install internet infrastructure across the archipelago, anti-competitive and market inhibiting policies, and lagging cybersecurity that trails peer states such as Vietnam, Malaysia, and Thailand. Perhaps the most crucial factor is Indonesia's inability to cultivate and grow a strong domestic AI talent base. Without competitive talent, Indonesia cannot transform itself into an AI powerhouse.
Today, most of Indonesia's youth receive only a high school education, work in blue-collar or low-level service jobs, and earn an average monthly income of $150. In 2018, the proportion of Indonesians over twenty-five years old with a bachelor's degree was 9.3 percent, the lowest among polled ASEAN states. Perhaps more concerning, Indonesia has fallen further behind in recent years. The country ranked 75th on the Global Innovation Index for having 19.4 percent of tertiary graduates in science and engineering in 2020, which was markedly lower than 68th in 2019 and 54th in 2018. In the category of "knowledge workers," or high-level workers who apply analytical knowledge to product development, Indonesia ranked 125th of 131 countries, which demonstrates a clear weakness in finding advanced talent for innovation.
Demand for digital literacy and skills such as software engineering and data science is only expected to rise with the growth of Indonesia's tech sector. Foreign companies have recognized the need to address the country's AI talent gaps and its sizable pool of potential young workers. For example, in 2020 Google supported Indonesia's fight against youth unemployment by granting $10 million to micro, small, and medium-sized enterprises (MSMEs) and $1 million to young job seekers. Yet, these investments are only a drop in the bucket of what will likely be needed for improving youth IT skills. China's telecommunication giant Huawei dedicated $1 million to talent development in 2011 and has provided training and internship opportunities to Indonesian students since 2009. Huawei also collaborates with multiple Indonesian ministries to give roughly one thousand students vocational training in information and communications technology (ICT) infrastructure. Both Amazon Web Services and Alibaba Cloud Indonesia, a subsidiary of China's Alibaba Group, are competing to roll out cloud training programs targeting Indonesian students.
The U.S. government also lends a hand in education and workforce development in Indonesia. The State Department's "American Corners Indonesia" public diplomacy program maintains partnerships between the U.S. embassy in Indonesia and nine Indonesian universities, including some of the top AI research institutes in the country. These partnerships provide Indonesian students with English-language learning resources, opportunities to study in the United States, massive open online courses (MOOC) offered by U.S. universities, and access to makerspace activities, such as 3D printing and invention kits. Additionally, the State Department's Fulbright-Indonesia Research in Science and Technology (FIRST) exchange program, with $15 million in scholarships, allows both Indonesians and Americans to study, teach, and conduct research in priority science and technology fields.
While these initiatives are a good start, they still fall short of meeting the human capital demands of Indonesia's technology strategy, which envisions a comprehensive strengthening of vocational education and research at technology-based universities. To ensure no potential is left untapped, talent pipelines will need to go well beyond a few ad hoc partnerships and establish comprehensive ties that integrate both public and private sector efforts throughout Indonesia's universities, schools, and companies.
Indonesia's growing commercial AI sector and its desire for a stronger AI talent base present opportunities for the United States to help nurture the next generation of Indonesia's AI innovators. U.S. universities, vocational schools, and community colleges that offer courses in computer science and engineering can become more visible and accessible to the Indonesian market through the State Department's EducationUSA fairs. Educational consultants that seek to connect with prospective Indonesian students can facilitate study exchanges and visa applications for study and research in technology.
To realize its ambitions as a regional—if not global—leader in tech, Indonesia must invest in its youth and cultivate talent pipelines. Indonesia's startup scene may resemble China's tech scene from ten years ago, but Indonesia's current workforce lacks the tools, education, and training to successfully transition to a digital economy. Investments and training programs facilitated by foreign partners are not enough to cast a wide net to develop and leverage talent throughout the country. Indonesia's government and leading tech companies will need to increase accessibility to tech, invest in programs to boost skills, and promote digital education at scale. Indonesia's window of opportunity is here, and the possibility to take its tech sector to the next level is within reach.