Background Brief: Meet the U.S.-India "2+2"
The upcoming U.S.-India "2+2" dialogue marks a new configuration for an existing dialogue begun in the Barack Obama administration. Here's how the consultation has evolved.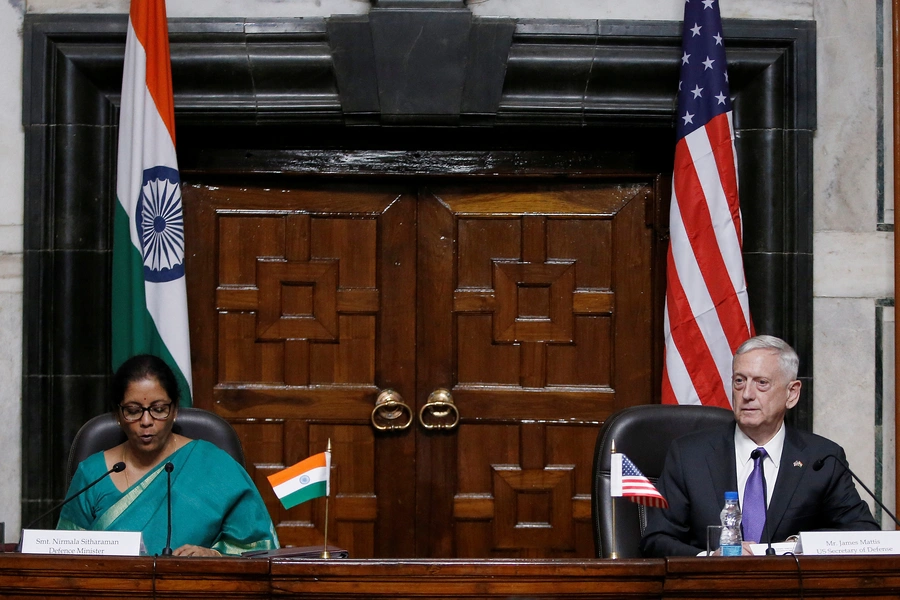 Someone sent me an email newsletter that used the phrase "historic talks" to describe this week's "2+2" meeting with India.
Let me be blunt. These talks are not historic, and overstating their significance creates an unhelpful perception. Former President Bill Clinton's trip to India in 2000 was historic—the first visit by a U.S. president in twenty-two years. The U.S.-India civil nuclear agreement during the George W. Bush administration in 2005 was historic, overcoming what had been the single greatest hurdle to cooperation for three decades. Former President Barack Obama's visit to India for Republic Day in 2015 was historic, the first time India honored an American president as chief guest for the celebration. A new format for a standing dialogue, on the other hand, is just that—a new format.
When U.S. Secretary of State Mike Pompeo and U.S. Secretary of Defense Jim Mattis meet their counterparts, External Affairs Minister Sushma Swaraj and Defense Minister Nirmala Sitharaman, in India later this week, they will convene a new configuration of a standing cabinet-level (or "ministerial-level") dialogue created in 2009 by then U.S. Secretary of State Hillary Clinton and her counterpart, Indian External Affairs Minister S.M. Krishna of the previous Congress-led government. During Clinton's July 2009 visit to India, she and Minister Krishna agreed to set up an annual dialogue at their more elevated level—previous standing U.S.-India consultations had been at the undersecretary level—to provide a regular structure for high-level consultation and a focal point for other bilateral dialogues to inform.
As background on these talks, I have assembled the relevant U.S. government documents (Indian government documents exist as well via www.mea.gov.in) to illustrate the evolution of these consultations over the past nine years.
Following the 2009 agreement to convene an annual "Strategic Dialogue" between the United States and India, the first took place in Washington, DC, in June 2010. Secretary Clinton and Minister Krishna co-chaired the dialogue, along with a wide range of senior officials across both governments:
Minister Krishna was accompanied by Minister for Human Resource Development, Shri Kapil Sibal, Deputy Chairman, Planning Commission of India, Dr. Montek Singh Ahluwalia, Minister of State for Science and Technology, Shri Prithviraj Chavan and high ranking officials of the Government of India.

Secretary Clinton was joined by Commerce Secretary Gary Locke, FBI Director Robert Mueller, NASA Administrator Charles Bolden, the President's Advisor for Science and Technology Dr. [John] Holdren, USAID Administrator Rajiv Shah, Deputy National Security Advisor Michael Froman, and other high ranking U.S. Government officials.
President Obama made remarks at an evening reception, and the discussions overall resulted in a lengthy joint statement emphasizing cooperation in security, counterterrorism, disarmament, nonproliferation, trade and economics, high technology, clean energy and climate change, agriculture, education, health, and development. The statement formed a pattern for subsequent joint statements issued after each consultation.
The July 2011 Strategic Dialogue, convened in New Delhi, involved homeland security officials in addition to officials focused on energy, innovation, science and technology, and human resource development. Another long joint statement (I worked on this iteration, along with those in 2012 and 2013) acclaimed cooperation in "global stability and prosperity," defense and counterterrorism, civil nuclear cooperation, export control cooperation, trade and prosperity, women's empowerment, innovation, education, science, and space.
In July 2012 the dialogue returned to Washington, DC, for its third meeting, with officials focused on health, science and technology, homeland security, economics and trade, development, innovation, women's empowerment, higher education, and other subjects.
In June 2013 Secretary of State John Kerry traveled to India for his first Strategic Dialogue. Officials focused on clean energy and climate change, defense, trade and economics, development, homeland security, space, innovation, and science and technology.
In July 2014 the dialogue held in Washington, DC, brought members of India's new Bharatiya Janata Party–led government to the table. Along with Secretary Kerry and his new Indian counterpart, Minister Sushma Swaraj, the cabinet-level heads of both countries' commerce agencies (the U.S. Department of Commerce and the Indian Ministry of Commerce and Industry) joined, as did other officials from across the range of government departments.
In 2015 this format evolved into the "Strategic and Commercial Dialogue," which institutionalized the participation of both the secretary of state and secretary of commerce in the United States, and minister of external affairs and minister of commerce and industry in India. I wrote about the shift to an "S&CD" back in 2015 here. This format met once again in 2016. In effect, this was also a "2+2" dialogue.
Following the transition in the United States to the Donald J. Trump administration, no formal cabinet-level dialogue anchored by the State Department convened in 2017, but Prime Minister Narendra Modi and President Trump agreed to create the "2+2" format, bringing together the State and Defense Departments as the core. Both sides set a date for April 2018, but that had to be postponed following former Secretary of State Rex Tillerson's March departure. A date in early July then got postponed so Pompeo could visit Kim Jong-un in North Korea, bringing the long-delayed meeting to September 6.
We will learn more on Thursday about how this new format will advance diplomatic and defense consultation. From my perspective, its most important contribution lies in keeping a regular cabinet-level meeting on the diplomatic calendar. The intensified U.S.-India relationship does not have the extensive diplomatic interactions that occur with longstanding U.S. allies and partners, where gatherings have continued over decades to build a level of deep understanding. In my view, the precise shape of the format matters less than the commitment of both sides to keep it going.
My book about India's rise on the world stage, Our Time Has Come: How India Is Making Its Place in the World, was published by Oxford University Press in January. Follow me on Twitter: @AyresAlyssa. Or like me on Facebook (fb.me/ayresalyssa) or Instagram (instagr.am/ayresalyssa).