Campaign Foreign Policy Roundup: Biden Versus Sanders
Each Friday, I look at what the presidential challengers are saying about foreign policy. This week: the Democratic field narrows, and Joe Biden and Bernie Sanders square off.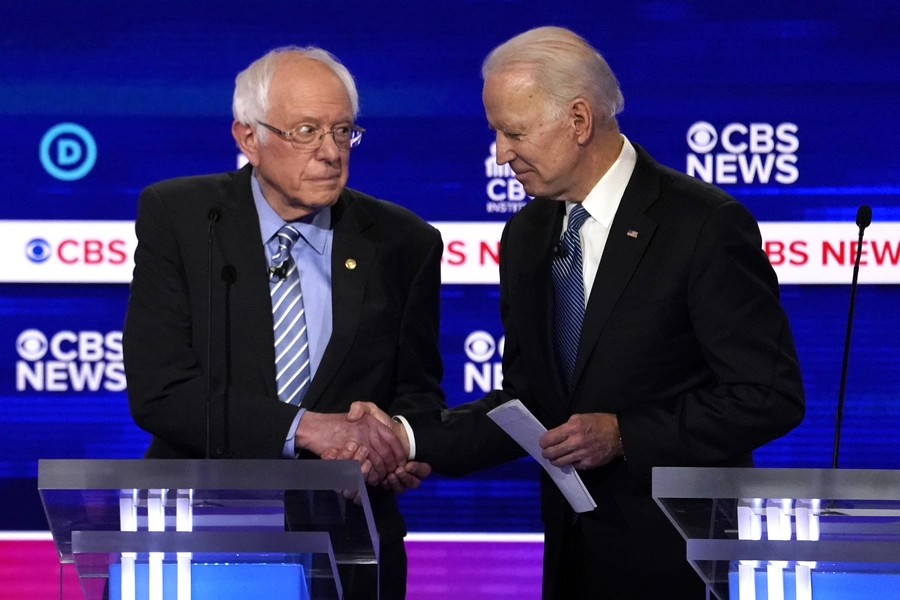 South Carolina and Super Tuesday did what they were always expected to do—winnow the Democratic field. Pete Buttigieg and Amy Klobuchar both departed the race after disappointing showings in the Palmetto State. Mike Bloomberg and Elizabeth Warren did likewise after failing to notch victories in any of the fourteen states up for grabs on Tuesday. Of the twenty-eight Democrats who declared for the presidency since John Delaney was the first to throw his hat in the ring on July 28, 2017, just three candidates officially remain in the race: Joe Biden, Bernie Sanders, and Tulsi Gabbard. With Gabbard lagging far, far behind in the delegate count and having no realistic chance of closing the gap, the once wide-open contest has boiled down to a two-man race. The former vice president and the Vermont senator have distinctly different foreign policy views. We'll likely be hearing a lot more about those differences in the weeks to come.
The Candidates in Their Own Words
Sanders made it clear when he spoke to reporters this week that he hopes to use Biden's foreign policy track record against him:
Joe is going to have to explain to the people, and the union workers in the Midwest, why he supported disastrous trade agreements like NAFTA and PNTR with China, which have cost this country millions of good-paying jobs, and in fact have resulted in a race to the bottom where people are now earning lower wages.
Joe is going to have to explain to the American people who are so tired of endless wars, which have caused us too many lives, destabilized many regions around the world, have cost us trillions of dollars, why he was a leader in getting us involved in the war in Iraq at a time when half of our people are living paycheck to paycheck and struggling to make ends meet.
Michigan might offer a quick test of the effectiveness of this line of criticism. Sanders won the Michigan primary back in 2016, and Michiganders are presumed to be hostile to existing trade deals given the importance of the auto industry to the state's economy.
While Sanders this week repeated his commitment to halting "endless wars," he declined to endorse the Trump administration's recent deal with the Taliban, even though it would seem to make a step toward that very goal.
Well, I don't have enough details…and that peace agreement, needless to say, is going to have to go through the Afghan government. We don't know what's going to happen. One of the difficulties, to be very honest…in dealing with Trump, it is very hard to believe anything that he says, whether it's the coronavirus, whether what's going on in Afghanistan.
Sanders also did not back down in the face of criticism of his decision to decline to speak to the annual AIPAC conference last week because he believes it provides a platform for "leaders who express bigotry and oppose basic Palestinian rights." He repeated his longstanding view that being pro-Israel doesn't require accepting how the Israeli government treats Palestinians.
I will do everything I can to protect the independence and the security and the freedom of the Israeli people. But what we need in this country is a foreign policy that not only protects Israel, but deals with the suffering of the Palestinian people as well. You've got 70 percent youth unemployment in Gaza. People can't even leave that district, that area, major, major crises. It is not sustainable that we continued conflict in the Middle East until the United States develops an even handed policy.
Biden spoke to the AIPAC conference through a video message. He stressed his belief that
the two-state solution is the best way to ensure a secure and peaceful Israeli future for the Jewish and democratic state of Israel. …Israeli lives each day are moving forward with tremendous courage but under threat. That's why I've always been adamant that Israel must be able to defend itself … But we cannot fully safeguard Israel without peace—peace is indispensable. And it's also the best way to meet the legitimate aspirations—the legitimate aspirations—of the Palestinian people to expand economic opportunity, pursue justice, and protect their dignity.
The former vice president went on to warn that Israel
has to stop the threats of annexation and settlement activity, like the recent announcement to build thousands of settlements in E1. That's going to choke off any hope for peace. And to be frank, those moves are taking Israel further from its democratic values, undermining support for Israel in the United States, especially among young people of both political parties.
Biden didn't say what he would do if, as has been speculated, Israel moves ahead with plans to annex the Jordan Valley.
What the Pundits Are Saying
Al Jazeera summarized some of Biden's and Sanders's foreign policy positions, while the Nikkei Asian Review did the same for their views on trade policy.
Kuang-shun Yang reviewed Biden's record on U.S. policy toward China and Taiwan, concluding that the former vice president "represents generations of U.S. policymakers who believed in the 'China engagement' policy and strategic ambiguity on the 'Taiwan question.'" 
Daniel Drezner briefly recapped Biden's recent essay titled "Why America Must Lead Again" and his foreign policy speech from last summer. Drenzer argued that "Biden's foreign policy message is a pretty popular one, particularly with Democratic voters. For Sanders to come back, he'll need to hope that voters either do not care about foreign policy or that his more progressive foreign policy platform starts to attract new voters, and right quick."
Robbie Gramer profiled Matt Duss, Sanders's chief foreign policy adviser. Duss, a former journalist and blogger at the Center for American Progress, joined Sanders's Senate staff three years ago. Gramer concluded that Duss "personifies a small but increasingly vocal group of experts on the left who are challenging their own party's foreign-policy orthodoxies, including heavy defense spending, staunch support for Israel, longstanding U.S. ties with autocratic regimes such as Saudi Arabia and Egypt, and expansive free trade agreements."
Campaign Updates
The next Democratic debate is on March 15 in Phoenix, Arizona. That's five days after primary voters in Idaho, Michigan, Mississippi, Missouri, North Dakota, and Washington go to the polls, but two days before they do so in Arizona, Florida, Illinois, and Ohio. CNN and Univision will host the debate. Both Biden and Sanders have qualified. Although Gabbard remains in the race—and has won two delegates—she won't be joining them. The Democratic National Committee announced this afternoon that candidates must earn 20 percent of the total pledged delegates by 9 a.m. on March 15 to make the debate. Gabbard needs roughly 370 more delegates to meet that threshold. That's more than the total number of delegates up for grabs next Tuesday.
Here's where the Democratic delegate totals stood as of this afternoon. California and several other Super Tuesday states are still counting votes, so these numbers will change over the next few days. It takes 1,991 delegates to win the nomination on the first ballot.
Some 352 delegates—or 8.8 percent of the total—will be allocated by the six states voting this coming Tuesday. Another 577 delegates—or 14.5 percent of the total—will be allocated on Tuesday, March 17. By the end of this month, roughly two-thirds of the delegates will have been awarded.
The Democratic National Convention opens in Milwaukee on July 13, which is 129 days away. The Republican National Convention opens in Charlotte, North Carolina, on August 24, which is 171 days away. Election Day is 242 days away.
Margaret Gach assisted in the preparation of this post.