Campaign Foreign Policy Roundup: The Las Vegas Democratic Debate
Each Friday, I look at what the presidential challengers are saying about foreign policy. This week: foreign policy is AWOL in Las Vegas; Bloomberg and Warren talk about Latin America; and foreign policy advisors.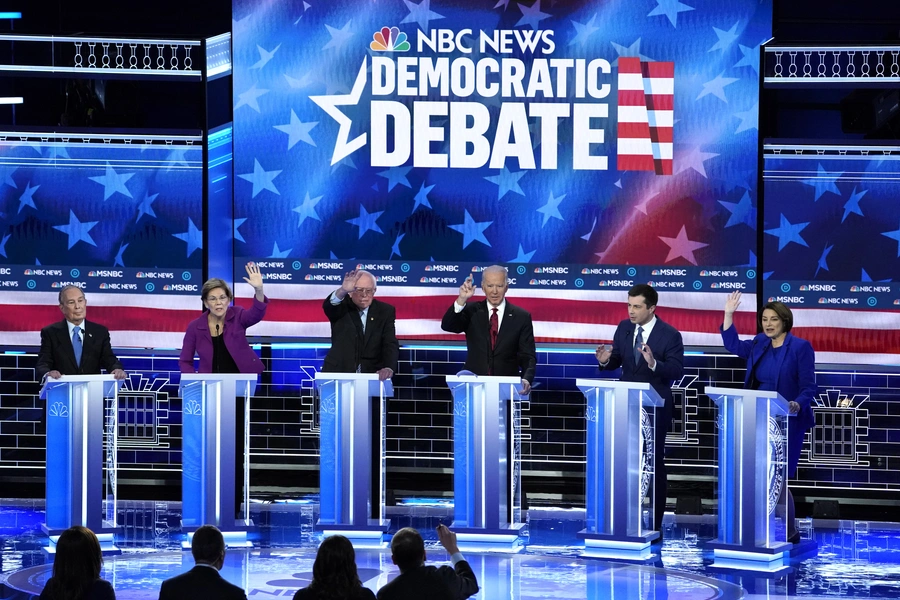 The Las Vegas Democratic debate could be a metaphor for foreign policy's role in the 2020 campaign. Other than a foray into whether Amy Klobuchar didn't know or simply forgot the name of the president of Mexico and pledges by Joe Biden and Michael Bloomberg to rejoin the Paris climate agreement, foreign policy was AWOL in the two-hour debate. There certainly was breaking foreign policy news worth discussing. After all, the world faces a potential pandemic, and the Trump administration is on the brink of striking a peace deal with the Taliban. But you wouldn't have known any of that from the questions the moderators chose to ask Wednesday night.
The Candidates in Their Own Words
Americas Quarterly asked the Democratic challengers to answer ten questions on U.S. policy toward Latin America. So far just Bloomberg and Elizabeth Warren have responded. Although their tone and framing sometimes differed, the former New York mayor and the Massachusetts senator agreed on a number of issues, including pushing Brazil to do more to protect the Amazon rainforest, lifting restrictions on Americans traveling to Cuba, and fighting corruption in Latin America.
Their most obvious disagreement came when they were asked if they would negotiate new free trade agreements. Bloomberg said he would "support new trade agreements with Latin American countries that include stronger labor and environmental standards and corruption-fighting commitments." Warren sidestepped the question, saying only that her trade policies would "aim to raise labor and environmental standards worldwide and bring down the price of drugs." The two candidates also disagreed on which Latin American country they would visit first after inauguration. Bloomberg said "Mexico" and Warren said "Central America."
What the Pundits Are Saying
Foreign Policy has begun a series looking at who is advising the Democratic presidential candidates on foreign policy. First up is a piece by Robbie Gramer on former Pentagon spokesperson Doug Wilson, who helps lead Pete Buttigieg's foreign policy team. Fun fact: sixteen years ago, Buttigieg worked for Wilson.
Foreign Policy isn't the only outlet looking at the candidates' advisors. The Nation's David Klion profiled one of Warren's foreign policy advisors, Sasha Baker. Klion described the thirty-seven-year-old Baker, who held several jobs in the Obama administration, including deputy chief-of-staff to the secretary of defense, as "a liberal opposed to endless war" who "is wary of being defined by ideology or doctrine."
The Washington Post's Greg Jaffe profiled how Biden's views on Afghanistan and the use of U.S. military force have evolved over the years. Jaffe concluded that the former vice president's approach to foreign policy "is guided largely by impulse and feeling rather than abiding philosophy. And it reflects a decades-long career in which Biden has been all over the map on the biggest questions of war and peace."
The Huffington Post's Akbar Shahid Ahmed examined Warren's foreign policy. He concluded that for all her many plans, "Warren's vision of global affairs can be hard to pin down. To some extent, that's by design. Conversations with more than a dozen Warren staffers and informal advisers reveal a strategy that doesn't seek to make national security a point of major contention in the Democratic primary."
Thomas Wright took a crack at parsing the differences between traditional U.S. foreign policy and a new progressive foreign policy. He found the distinctions more about labeling and framing than substance. As he puts it, "if you took the names off the foreign-policy articles written by any of the candidates, aside from a couple of flourishes, the differences would be difficult to detect."
Speaking of what a progressive foreign policy might look like, Matt Johnson assessed Sanders's answer to that question. Johnson noted that while the Vermont senator voted against the Iraq War and has called for stopping "endless wars," he also supported the Kosovo War and cosponsored a Senate resolution calling on the UN Security Council to take action in Libya.
Campaign Updates
And now it's down to eight. Senator Michael Bennet, former Massachusetts Governor Deval Patrick, and entrepreneur Andrew Yang all ended their presidential campaigns in the wake of the New Hampshire vote.
The Nevada caucuses are tomorrow. But Nevadans actually began voting last Saturday; that is, four days before the Las Vegas debate. The early round of voting closed on Tuesday, the day before the debate. If early voting in a caucus sounds strange, well, it is. This is the first time it's been tried. Initial reports suggested that as many as 70,000 Nevadans voted early; that compares with the 84,000 who participated in the caucuses four years ago. Nevadans seem to like voting early. Nearly 60 percent of them voted early in the November 2016 election. One consequence of the early vote is that Wednesday's contentious debate might not affect the results in Nevada as much as the post-debate commentary has suggested.
The tenth Democratic presidential debate will be held in Charleston, South Carolina, next Tuesday night. CBS and the Congressional Black Caucus Institute will be hosting. Candidates can make the debate stage in one of three ways: reach 10 percent in four national polls; hit 12 percent in two South Carolina polls; or win a delegate in Iowa, New Hampshire, or Nevada. Biden, Bloomberg, Buttigieg, Klobuchar, Sanders, and Warren have qualified.
Super Tuesday is just eleven days off. Election Day is 256 days away.
Margaret Gach assisted in the preparation of this post.