Five Movies Worth Watching About Revolts, Rebellions, and Revolutions
Each Friday this summer, we suggest foreign-policy-themed movies worth watching. This week: movies about uprisings.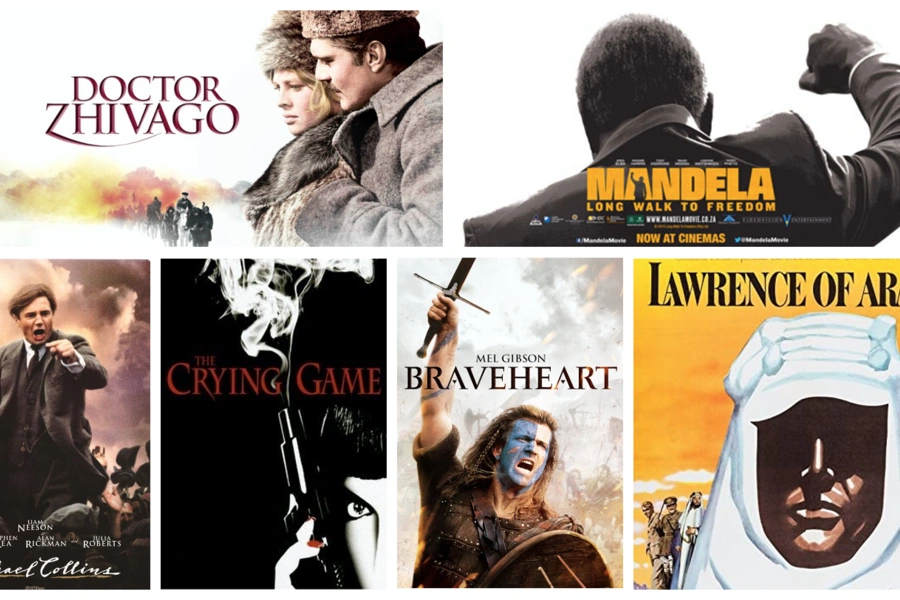 It's Friday, which means it's time for another set of foreign-policy movie recommendations. This week we are recommending movies about revolts, rebellions, and revolutions.  
We won't rehash the rules we're following in making our selections. Just know that we are picking films only once. Gandhi was on our list of movie biographies worth watching, so it's not on today's list. We are also sticking to our English-language-films-only rule, so the superb Oscar-winning The Battle of Algiers doesn't show up below. Neither does the unforgettable Battleship Potemkin. And we are sticking to revolts, rebellions, and revolutions in this world as opposed to those in imaginary ones. So as much as we love Star Wars Episode IV: A New Hope, Rogue One, Bananas, and Hunger Games: Catching Fire, they are not on today's list.
Here are our five recommendations, plus a bonus pick from one of our colleagues.
Braveheart (1995). Mel Gibson takes the helm as both star and director of Braveheart. The film chronicles the life of William Wallace, the real-life hero who led the Scots to victory over superior English forces at the Battle of Stirling Bridge in the First War of Scottish Independence and who was later betrayed by a fellow Scot and captured and executed by the English. Wallace has been a popular figure in Scotland for centuries. The fifteenth century epic poem commemorating his life, which inspired the film, was the second most popular book in Scotland after the Bible when it was published. Like the poem, the movie takes a lot of liberties with history. But if you can put the historical inaccuracies aside, Wallace's rallying cry for "Freedom!" will stay with you for days. Braveheart was nominated for ten Oscars and won five, including Best Picture and Best Director. You can find it on Amazon Prime, Google Play, or YouTube. 
Doctor Zhivago (1965). Doctor Zhivago is a tumultuous love story set against the backdrop of an equally tumultuous Russia during the early twentieth century. The film is based on Russian poet Boris Pasternak's 1955 novel, which the Soviet Union banned for its critical treatment of the 1917 revolution. When Pasternak snuck the manuscript into Italy, it quickly became a worldwide hit. The CIA then smuggled copies of the book back into the Soviet Union. Directed by David Lean and starring Omar Sharif and Julie Christie, the movie was a box office sensation. It was nominated for ten Oscars, including Best Picture—it was edged out for that honor by The Sound of Music—and won five. The American Film Institute ranked Doctor Zhivago as the seventh best romance movie of all time. The British Film Institute ranked it the twenty-seventh greatest British film of the twentieth century. You can watch Doctor Zhivago on Amazon Prime, Google Play, or YouTube. Have some tissues handy.
Lawrence of Arabia (1962). T.E. Lawrence was an unlikely leader for a revolt in the Middle East. The blue-eyed British officer united and rallied Arab forces in what is now Saudi Arabia against the Ottoman Empire, which was then allied with Germany during World War I. David Lean immortalized the charismatic and enigmatic Lawrence in this four-hour epic that claimed seven Oscars, including Best Picture. Lawrence of Arabia remains engaging despite the long run-time thanks to its stunning cinematography and an impressive cast that includes Peter O'Toole as Lawrence, along with Alec Guinness, Anthony Quinn, and Omar Sharif. The American Film Institute ranked Lawrence of Arabia seventh on its list of the greatest American films of all time. The British Film Institute ranked it third on its list of the best British films of the twentieth century. You can watch Lawrence of Arabia on Amazon Prime, Google Play, or YouTube. 
Mandela: Long Walk to Freedom (2013). Idris Elba tackles the role of South Africa's revolutionary leader and global icon, Nelson Mandela. The movie is based on Mandela's 1994 autobiography and covers his beginnings in a rural village, his rise as the leader of the anti-apartheid movement, his decades-long imprisonment, and his eventual release and election as the first democratically elected president of a post-apartheid South Africa. Director Justin Chadwick highlights the brutality of apartheid as Mandela struggles to challenge it through the law, armed resistance, and politics. Complementing Elba's commanding performance is Naomie Harris as Mandela's second wife Winnie, who helped keep the anti-apartheid movement alive during his twenty-seven years in prison. Mandela died in 2013 while his daughter and the British royal family were watching the movie's premiere in London. You can watch Mandela: Long Walk to Freedom on Amazon Prime or Google Play. 
Michael Collins (1996). Director Neil Jordan's biopic chronicles Irish patriot and revolutionary leader Michael Collins, cofounder of the Irish Resistance Army (IRA). Collins steadily wore down the British through an innovative campaign of urban guerilla warfare that would be echoed in revolts across the globe. But he chose to sign the controversial Anglo-Irish peace agreement in 1921, thereby creating the Irish Free State, rather than continue the fighting. Disagreement over the treaty plunged the country into civil war, led to Collins's assassination, and created divisions that rippled across the twentieth century. Liam Neeson employs his native Irish accent in the title role, supported by a talented cast that includes Alan Rickman and Julia Roberts. The movie broke box office records in Ireland. You can watch Michael Collins on Amazon Prime, Google Play, or YouTube. 
This week our bonus pick comes from our colleague Shannon O'Neil. Shannon is vice president, deputy director of studies, and the Nelson and David Rockefeller senior fellow for Latin America Studies at the Council. She chose: 
The Crying Game (1992). The Crying Game examines the intersection of politics, race, and gender and sexuality against the backdrop of the Troubles in Northern Ireland. Neil Jordan directed The Crying Game. Unlike his later effort with Michael Collins, it was a box office flop in Ireland. American movie audiences reacted differently. The Crying Game was nominated for six Oscars, including Best Picture, and won for Best Original Screenplay. The British Film Institute ranked it the twenty-sixth greatest British film of the twentieth century. Shannon says: "The Crying Game explores the intricacies of the British-Irish Troubles conflict from the point of view of an IRA militant, alongside a compelling and complex love story. In an added twist, the lead actor Stephen Rea, who received an Oscar nod for his performance, was once married to real life IRA militant and hunger striker Dolours Price." You can watch The Crying Game on Amazon Prime, Google Play, or YouTube. 
Next week we will recommend movies that feature journalists. A few films that could have shown up on today's list just might show up on that one. 
Check out our other foreign-policy-themed movie recommendations: