Ten American Foreign Policy Influentials Who Died in 2017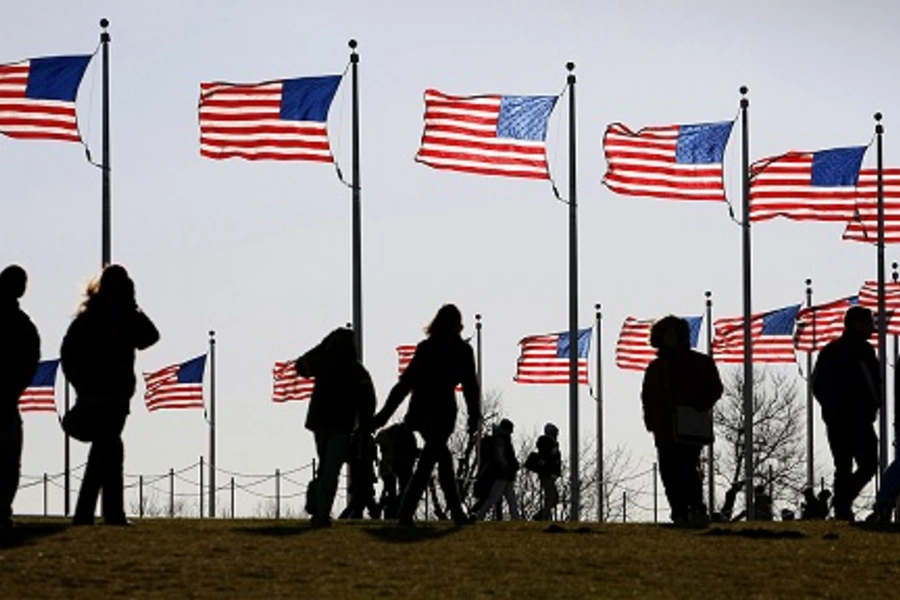 Year's end is a time for taking stock, counting successes, and assessing failures. It is also time for remembering those who are no longer with us. Here are ten Americans who died in 2017 who through their vision, service, intellect, or courage helped shape U.S. foreign policy. They will be missed.
Benjamin Barber (b. 1939) was a political scientist who wrote Jihad vs. McWorld among other books. Born and raised in Greenwich Village in New York City, Barber earned his undergraduate degree from Grinnell College and his Ph.D. from Harvard. He taught for three decades at Rutgers University, before joining the faculty at the University of Maryland in 2001. Jihad vs. McWorld was released in 1995, but it didn't become a bestseller until after September 11, 2001. It argued that two competing forces were shaping the world and threatening democracy—retribalization and globalization. As Barber later put it: "These two sets of forces could not avoid clashing and exploding; they were going to create nothing but death and explosion unless we did this third thing, and we didn't." The third thing was to create authentic democracies. How to advance and perfect democracy was a constant theme in Barber's writings. His other books included Strong Democracy: Participatory Politics for a New Age (1984) and The Conquest of Politics: Liberal Philosophy in Democratic Times (1988), and Fear's Empire: War, Terrorism, and Democracy (2003).
Chuck Berry (b. 1926) pioneered rock 'n' roll. Berry was born and raised in St. Louis, Missouri. He recorded his first song, "Maybellene," an adaptation of the country hit "Ida Red," in 1955. It was a smashing success. By the end of the 1950s, Berry had recorded seven more top forty hits. He was known for his distinctive guitar-playing techniques and his trademark "duck walk." (He said he developed it to "hide the wrinkles" in his suit.) The Beatles cited Berry as a critical influence, and they covered many of his songs. John Lennon once said, "If you tried to give rock 'n' roll another name, you might have called it Chuck Berry." In 1959, Berry was arrested for violating the Mann Act and sentenced to three years in prison. He served eighteen months. Berry recorded his biggest hit— "My Ding-a-Ling"—in 1972. Fourteen years later, Berry was voted in as a member of the inaugural class of the Rock and Roll Hall of Fame. Step into any bar in any city around the world and you realize how much the rock 'n' roll Berry helped create contributes to America's soft power.
George Bria (b. 1916) was a longtime reporter for the Associated Press (AP) who covered some of the biggest stories during World War II. Bria was born and raised in Waterbury, Connecticut. His parents were Italian immigrants. He earned his undergraduate degree from Amherst College and his master's from Middlebury College. He went into the newspaper business with the goal of becoming a foreign correspondent. He succeeded, but not before covering one of the biggest domestic news stories of the day. Shortly after joining the AP's Boston bureau in 1942, he reported on the horrific Cocoanut Grove fire, the deadliest nightclub fire in U.S. history and to this day the second deadliest U.S. building fire. Bria spoke French and Italian fluently, so in 1944 the AP sent him to Italy to cover the war. He followed U.S. troops as they marched up the Italian peninsula. In April 1945, he was one of the few reporters to view the body of the executed Italian dictator Benito Mussolini. The following month he reported on Germany's surrender in Italy. He subsequently covered the Nuremberg trials and the Berlin Airlift. Bria held a variety of editorial jobs at the AP later in his career, before returning to reporting in the early 1970s as the AP's correspondent to the United Nations. He retired from the news business in 1981 to grow vegetables. That led him to write periodic columns in the 1990s on the delights of gardening.
Zbigneiw Brzezinski (b. 1928), or "Zbig," was President Jimmy Carter's national security advisor. Born in Warsaw, his father was a Polish diplomat. In 1938, the elder Brzezinski was posted to Montreal, where the family avoided the German and Soviet invasion of Poland. The family stayed in Canada after the war, deterred by Poland's newfound place behind the Iron Curtain. These formative years informed his subsequent hardline anti-Soviet views. A top student, Brzezinski earned his Ph.D. in government at Harvard, where he taught before joining the faculty at Columbia. He advised the Kennedy, Johnson, and Humphrey campaigns, and, eventually Jimmy Carter, whom he met through the Trilateral Commission. As Carter's national security advisor, Brzezinski was on the frontline of the SALT II Treaty negotiations, the Camp David Accords, the Iran Hostage Crisis, the Soviet invasion of Afghanistan, and the establishment of diplomatic relations with China. He was often at odds with Secretary of State Cyrus Vance, a dynamic that helped precipitate Vance's resignation in 1980. After leaving the White House, Brzezinski returned to teaching and writing—lots of writing. He was a staunch critic of the invasion of Iraq. Carter memorialized Brzezinski as "brilliant, dedicated, and loyal," an appropriate description for an outstanding scholar and public servant.
Nancy Hatch Dupree (b. 1927) was a historian who dedicated her life to preserving Afghanistan's heritage. Dupree was born in Cooperstown, New York, and grew up in what is now Kerala, India. She went to high school in Mexico City, earned her undergraduate degree at Barnard College, and stayed on the Upper West Side long enough to earn her master's at Columbia. In 1962, she moved to Kabul with her then husband, who was the CIA station chief in the country under the guise of being the U.S. embassy's cultural attaché. There she met and fell in love with the anthropologist Louis Dupree. She divorced her husband and married Dupree. (Her former husband married Dupree's former wife.) She spent the next half century living in or near Afghanistan. She wrote five books and numerous articles on the country. When the communists came to power in 1978, they kicked the Duprees out of the country. They settled in nearby Peshawar, Pakistan. She traveled to Kabul frequently after the communist regime fell in an effort to persuade the Taliban not to destroy the country's cultural heritage; regrettably, she did not always succeed. Her final project was cataloging the thousands of photos that she and her husband took during their time in Afghanistan, providing invaluable insight into a world that no longer exists.
David Fromkin (b. 1932) wrote one of the great books about the creation of the modern Middle East, A Peace to End All Peace. He was born in Milwaukee, Wisconsin and earned his undergraduate and law degrees from the University of Chicago. After a distinguished career in private practice, Fromkin shifted gears and began writing. He would go on to write seven books on politics, history, and international relations. A Peace to End All Peace was published in 1989 to near universal acclaim. The book traced how the dissolution of the Ottoman Empire sowed the seeds for the conflict that continues to grip the Middle East today. In 1994, Fromkin started teaching at Boston University, where he directed the Center for International Relations. In 2000, he became the founding director of the Frederick S. Pardee Center for the Study of Longer-Range Future at BU, which today is known as the Pardee School of Global Studies. Fromkin retired from teaching in 2013.
Deane R. Hinton (b. 1923) was a career Foreign Service officer who served as U.S. ambassador to five countries and angered the Reagan administration with his insistence that El Salvador's security forces and right-wing "death squads" were committing human right abuses. Hinton was born in Missoula, Montana, and earned his undergraduate degree at the University of Chicago. He served in the U.S. Army during World War II, seeing service in North Africa and Italy. He joined the Foreign Service at the war's end. He eventually rose to the position of career ambassador, a status that requires Senate confirmation and that recognizes "especially distinguished service over a sustained period." Just fifty-six foreign-service officers have been so honored. Hinton was U.S. ambassador to Zaire, the European Communities (predecessor to the EU), El Salvador, Pakistan, Costa Rica, and Panama. Zairean President Mobutu Sese Seko suspected Hinton of involvement in a plot on his life in 1975 and declared him persona non grata. Hinton's response to the charge: "Total nonsense. My defense always was that if I'd been out to get him, he'd have been dead." As U.S. ambassador to El Salvador in the early 1980s, he repeatedly filed reports accusing Salvadoran soldiers and death squads of political killings and human rights abuses. President Ronald Reagan ignored Hinton's charges and certified that El Salvador met the human rights standards required to receive U.S. foreign aid.
David Rockefeller (b. 1915) was a businessman, philanthropist, longtime chair and patron of the Council on Foreign Relations, and the last surviving grandson of John D. Rockefeller, the founder of Standard Oil. David Rockefeller attended Harvard University, the London School of Economics, and the University of Chicago, where he earned his Ph.D. in economics. He enlisted in the army in 1942 and served in North Africa and France. After World War II ended, Rockefeller joined Chase National Bank, eventually becoming chairman of what became known as Chase Manhattan Bank. He painstakingly built personal relationships with heads of state and turned Chase into a global brand. Both Richard Nixon and Jimmy Carter asked him be secretary of the Treasury. He said no both times. Rockefeller's philanthropy was legendary. He mobilized the private sector to help save New York City from its fiscal crisis in the mid-1970s, chaired the Museum of Modern Art for several decades, and helped found the Trilateral Commission. He became a member of the Council on Foreign Relations in 1941 and served as its chairman from 1970 to 1985. He was extraordinarily generous in his support for the Council. Its think tank, which I have the privilege to direct, is named in his honor. Every day we try to meet the standard Mr. Rockefeller set with his commitment to enriching the public debate.
Richard H. Solomon (b. 1937) was a Sinologist and diplomat who helped engineer America's opening to China in the 1970s. Solomon was born in Philadelphia, Pennsylvania and earned his undergraduate degree in chemistry at the Massachusetts Institute of Technology (MIT). He stayed at MIT for graduate, but switched to international affairs generally, and China specifically, for his Ph.D. He was on the faculty of the University of Michigan in 1971 when Henry Kissinger recruited him to join the staff of the National Security Council (NSC). Solomon was integral to "Ping-Pong Diplomacy," which helped advance Richard Nixon's rapprochement with China. Solomon traveled with the Chinese table tennis team on their April 1972 visit to America. He left the NSC in 1976 to head up the RAND Corporation's political science department. He returned to government in 1986 to serve as the State Department's director of policy planning. President George H.W. Bush appointed Solomon as assistant secretary of state for East Asian and Pacific affairs in 1989. In 1992, he was made U.S. ambassador to the Philippines. Solomon left the U.S. government in 1993, becoming the president of the United States Institute of Peace. He held that position until 2012, when he rejoined RAND as a senior fellow.
Samuel V. Wilson (b. 1923) was a counterinsurgency specialist and the fifth director of the Defense Intelligence Agency (DIA). "General Sam" was born in Rice, Virginia, and lied about his age to join the National Guard at sixteen. During World War II, he worked for the Office of Strategic Services (the CIA's predecessor) and fought in Burma with Merrill's Marauders. It was there that he first became interested in counterinsurgency tactics He developed more nuanced ideas about counterinsurgency as director of the Army Special Forces School and later implemented them as a U.S. Army officer in Vietnam. He eventually was promoted to Lt. General. Along the way he served as deputy director of the Central Intelligence Agency and then as director of the DIA. At the end of his career he helped form Delta Force. He retired from the U.S. Army in 1977 but remained active. He chaired the special commission that reviewed the failed 1980 Iranian hostage rescue. He also became a professor at, and then president of, Hampden-Sydney College. He was a skeptic of the war on terror, saying "We are standing on the cusp of something new and we don't know exactly what it is." In his final years, Wilson provided expert commentary for Ken Burns and Lynn Novick's epic PBS documentary on the Vietnam War.
Other Americans who had an impact on foreign policy and who died in 2017 include: Richard Cavazos was the first Hispanic four-star general in the U.S. Army; Leon Cooper was a veteran of the Battle of Tarawa during World War II and who went on to advocate for the site's preservation; John H. Cushman was a highly decorated U.S. Army Lt. General who sought to overhaul how the U.S. military conducts its planning; Professor Morton Deutsch founded the International Center for Cooperation and Conflict Resolution; Arthur Finkelstein was a conservative political consultant who worked for candidates in the United States and abroad; Wesley L. Fox was awarded the Medal of Honor for his valor during the Vietnam War; Myles Frechette was a career foreign service officer who served as U.S. ambassador to Cameroon and Colombia; Aijalon Gomes created an international incident in 2009 when he was arrested for sneaking into North Korea.
Howard Hart was a CIA officer who oversaw the agency's clandestine program of arming Afghan fighters against the Soviets; Thomas J. Hudner Jr was awarded the Medal of Honor during the Korean War for his effort to rescue the Navy's first black pilot; Arthur J. Jackson was awarded the Medal of Honor for leading a one-man assault at the Battle of Peleliu during World War II; Charles Jenkins was a U.S. army sergeant who defected to North Korea in 1965 and spent the next four decades living there; Thomas James Kinsman was awarded the Medal of Honor during the Vietnam War for throwing himself on a grenade to protect his fellow soldiers; William L. Kirk was a four-star Air Force general and an expert in electronic warfare; Hugh Montgomery was the CIA's longest-serving operative; Hal Moore was a highly decorated U.S. Army Lt. Gen. who co-wrote the 1992 bestseller, We Were Soldiers Once…and Young, about the Battle of Ia Drang during the Vietnam War.
Glenn D. Paige was a distinguished political scientist who co-founded the Center for Global Nonkilling; Leonard H. Perroots directed the Defense Intelligence Agency during the Reagan administration; Lawrence Pezzulo was a career Foreign Service officer who served as U.S. ambassador to Uruguay and Nicaragua; Dr. Jeffrey T. Richelson was a national security scholar and an expert on the Freedom of Information Act; Wilburn K. Ross was awarded the Medal of Honor for his bravery during World War II; Edward L. Rowny was a Lt. General and U.S. arms control negotiator who resigned from the U.S. Army to protest the SALT II Treaty; Howard Bruner Schaffer was a career Foreign Service officer who specialized in South Asia and who served as U.S. ambassador to Bangladesh during the Reagan administration; Alfred Stepan was a leading scholar of Latin American politics; Jeremy Stone was a mathematician who became the longtime leader of the Federation of American Scientists; Sam Summerlin was a longtime foreign correspondent for the AP; Harry E.T. Thayer was a career Foreign Service officer who served as U.S. ambassador to Singapore in the early 1980s; Edward Tipper was a World War II veteran who was depicted in Band of Brothers; John P. White was deputy secretary of defense during the Clinton administration; Jerry Yellin flew the last U.S. air combat mission in World War II.
Corey Cooper, Rodolfo Martinez-Don, Madison Phillips, and Benjamin Shaver contributed to the preparation of this post.
Other posts in this series:
Ten Foreign Policy Notables Who Died in 2020
Ten American Foreign Policy Notables Who Died in 2019
Ten American Foreign Policy Influentials Who Died in 2018
Ten American Foreign Policy Influentials Who Died in 2016
Ten American Foreign Policy Influentials Who Died in 2015
Ten Americans Who Died in 2014 Who Shaped U.S. Foreign Policy
Ten Americans Who Died in 2013 Who Shaped U.S. Foreign Policy