Ten American Foreign Policy Notables Who Died in 2021
As 2021 comes to a close, here are ten influential U.S. foreign policy figures who passed away this year.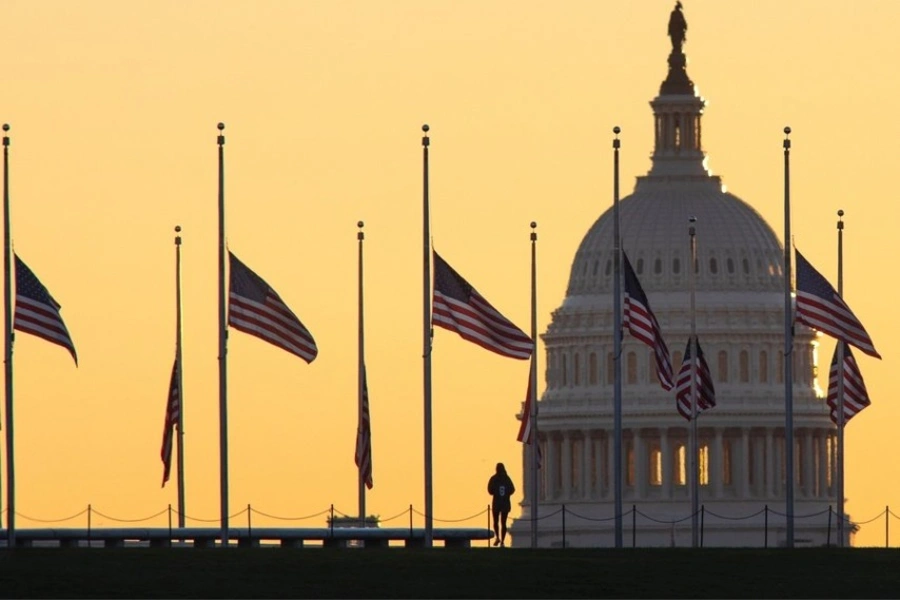 Year's end is a time to take stock, count successes, and assess failures. It is also a time for remembering those who are no longer with us. Here are ten Americans who died in 2021 who through their vision, service, intellect, or courage helped shape U.S. foreign policy. They will be missed.
Bob Dole (b. 1923) was a Republican presidential and vice-presidential candidate known for his sharp wit who served in Congress for more than thirty years. Born in Russell, Kansas, Dole was the first member of his family to attend college. He left the University of Kansas in 1942 to enlist in the U.S. Army. While fighting in Italy in April 1945, just weeks before the war's end, Dole was grievously wounded. He spent more than three years in military hospitals recovering from his wounds and never regained full use of his right arm. He eventually returned to college on the G.I. bill. In 1960, Dole was elected to the U.S. House. Eight years later he was elected to the Senate, serving there for twenty-seven years. In 1976, he was the vice-presidential candidate in Gerald Ford's unsuccessful bid for the presidency. Dole served as the Republican Senate leader from 1984 until he left Congress twelve years later to run for president, where he lost to Bill Clinton. Clinton awarded Dole the Presidential Medal of Freedom in 1997. Dole remained in Washington after retirement and took part in advocacy work, helping to raise $175 million for the creation of the World War II Memorial at the National Mall. He became increasingly critical of the Republican Party in the final decade of his life, but in 2016 he was the only living Republican presidential nominee to endorse Donald Trump for president. In 2018, Dole was awarded the Congressional Gold Medal.
Vartan Gregorian (b. 1934) served as president of the New York Public Library, Brown University, and the Carnegie Corporation of New York. Born in Tabriz, Iran, to Armenian parents, Gregorian was a brilliant student who learned to speak several languages. He ran away from home at fifteen after his father remarried and attended school in Beirut, Lebanon. He won a scholarship to attend Stanford University as an undergraduate. A fellowship from the Ford Foundation enabled him to study around the world before returning to Stanford to earn his PhD. Gregorian taught European and Middle Eastern history at several universities before joining the University of Pennsylvania in 1972. There he rose to become its twenty-third provost from 1978 to 1981. After being passed over to be Penn's president, he left to become the president of the New York Public Library. In his eight years there, Gregorian pulled the library out of its decade-long fiscal crisis, raising more than $327 million for renovations that reinvigorated the institution. He made similar contributions to Brown University as its president from 1989 to 1997. Gregorian then accepted leadership of the Carnegie Corporation, one of the country's oldest grantmaking foundations. During his tenure, he more than doubled the corporation's endowment and championed grants to support work on international security, global development, and education around the world. In 2004, Gregorian was awarded the Presidential Medal of Freedom for his contributions to higher education, the revitalization of the New York Public Library, and his philanthropic work.
Walter LaFeber (b. 1933) was a professor of history at Cornell University known for his often critical assessments of U.S. foreign policy. He was born in Walkerton, Indiana, a small town southwest of South Bend, where he was a high school basketball star. He graduated from Hanover College in southern Indiana, then earned his master's degree at Stanford University and his PhD from the University of Wisconsin. LaFeber was part of the "Wisconsin School" of diplomatic history founded by the revisionist scholar William Appleman Williams. These scholars challenged the contention that the United States was an exceptional nation in the practice of its foreign policy and focused on the economic motivations driving U.S. foreign policy choices. LaFeber's version was notable for its moderation and embrace of context and nuance. LaFeber joined Cornell's faculty in 1959 and never left. He became famous for teaching a two-semester course on the history of U.S. foreign relations. Students packed the course even though it was taught on Saturday mornings. An impressive number of those students went on to hold prominent foreign policy positions, including Samuel Berger and Stephen Hadley, who both served as national security advisor. LaFeber's farewell lecture in 2006 drew more than three thousand people. Over the course of his career, LaFeber authored and edited twenty books. Their subject matter ranged from The New Empire: An Interpretation of American Expansion, 1860–1898 to Michael Jordan and The New Global Capitalism.
Dianna Ortiz (b. 1958) was a Roman Catholic nun who became an advocate for torture survivors after being tortured herself by U.S.-backed Guatemalan security forces. Sister Ortiz grew up in Grants, New Mexico. In 1977, she joined the Ursuline Sisters of Mount St. Joseph. A decade later she moved to Guatemala, then in the midst of a civil war, to teach Indigenous children. Sister Ortiz was abducted by Guatemalan security forces on November 2, 1989. She was gang raped, burned with cigarettes, and forced to kill another prisoner. Her torture ended only after a man with an American accent arrived and ordered her release. U.S. and Guatemalan officials at first denied her account of being kidnapped and tortured. After a lengthy recovery, she pressed to uncover the details of her abduction. In 1996, she staged a five-week hunger strike outside the White House. Her protest helped lead to the release of heavily redacted documents that spurred a broad review of U.S. foreign policy in Guatemala under the Reagan, Bush, and Clinton administrations. That review revealed that the U.S. government had consistently looked the other way as Guatemalan security forces committed atrocities. President Bill Clinton formally apologized to Guatemalans in 1999 for U.S. complicity in Guatemala's "dirty war." Sister Ortiz cowrote a book about her experiences and helped found the Torture Abolition and Survivors Support Coalition and Coalition Missing, which raised awareness about the estimated 200,000 people killed or disappeared during Guatemala's civil war.
Henry Parham (b. 1921) was likely the last surviving member of the only all-Black unit to land at Normandy on D-Day. Born to a sharecropper in Emporia, Virginia, Parham moved to Richmond, the state capital, at the age of seventeen to work as a porter for a bus company. At twenty-one, he was drafted to fight in World War II. Upon joining the Army, he was assigned to the 320th Barrage Balloon Battalion. The unit, which was composed of about seven hundred men, was tasked with launching barrage balloons to float over Omaha and Utah beaches during the Normandy landings. The balloons limited the ability of German fighters to strafe the beaches and forced them to fly higher, where they were more vulnerable to anti-aircraft fire. Parham's unit landed at Omaha Beach just hours after the first wave of Allied forces hit the shore. He spent two months there, living out of a foxhole. After the war, Parham lived in a small town outside of Pittsburgh, working as a heavy equipment operator. After his retirement, he spent time volunteering at local Veterans Affairs hospitals. Parham's story remained unknown until 2009 when President Barack Obama met with William G. Dabney, who was believed to be the only living veteran of the 320th, to mark the seventy-fifth anniversary of D-Day. The news of their meeting prompted Parham to share his story. He was then made a chevalier of the French Legion of Honor, an honor the French government has bestowed on American service members who fought in the two world wars.
Colin Powell (b. 1937) was the first African American to serve as chairman of the Joint Chiefs of Staff and as secretary of state. Born in Harlem to two Jamaican immigrants, Powell was raised in the South Bronx. At sixteen, he enrolled in the City College of New York and joined ROTC. After graduating in 1958, he began a thirty-five-year career in the U.S. Army. He served two tours in Vietnam, earning a Purple Heart in his first and a Soldier's Medal in his second. He rose rapidly in the ranks and served as deputy national security advisor and then national security advisor under President Ronald Reagan. In 1989, President George H.W. Bush nominated Powell to be the chairman of the Joint Chiefs of Staff, making him the youngest person to be chairman. During his tenure, he was a critical figure in Operation Desert Storm, the invasion of Panama, and the end of the Cold War. He received the Congressional Gold Medal and the Presidential Medal of Freedom for his leadership in the Gulf War. He retired from the Army in 1993 and later founded America's Promise, an organization to help at-risk children. He returned to government service in 2001 as President George W. Bush's first secretary of state. Powell personally doubted the wisdom of invading Iraq but nonetheless delivered a forceful speech to the United Nations in February 2003 accusing Iraq of possessing weapons of mass destruction. Much of what he said turned out to be based on faulty evidence, damaging his reputation. Powell declined repeated calls to run for president. However, in 2016, three "faithless electors" in Washington State cast their electoral votes for him.
Megan Rice (b. 1930) was a Roman Catholic nun who dedicated the last two decades of her life to the cause of nuclear disarmament. Sister Rice was raised in Manhattan in a progressive Catholic family. In 1947, she took her vows to join the Society of the Holy Child Jesus. She studied biology at Villanova University and Boston College. She then moved to Africa where she taught elementary and secondary school students in Nigeria and Ghana for more than four decades. She returned to the United States in 2003, eventually settling in Nevada. She joined the Nevada Desert Experience, an anti-nuclear organization based in Las Vegas, and began regular protests at U.S. military bases. Inspired by a fellow nun who was arrested for trespassing on a nuclear submarine base, she decided to do something similar at the Y-12 National Security Complex in Oak Ridge, Tennessee. In 2012, at the age of eighty-two, she joined two other activists in hiking overnight to the edges of the complex. After cutting through several fences, they splashed blood and spray-painted biblical messages on the wall of a storage facility known as the "Fort Knox" of uranium. Their intrusion highlighted Y-12's lax security, prompting a two-week shutdown, internal investigations, and congressional hearings. Sister Rice and her two accomplices were arrested, charged, and convicted of trespassing, destroying government property, and sabotage. The three spent two years in prison. After her release from prison in 2015, Sister Rice said: "Good Lord, what would be better than to die in prison for the antinuclear cause?"
Donald Rumsfeld (b. 1932) was the only secretary of defense to serve two nonconsecutive terms and both the youngest and oldest person to serve in the position. Raised in the Chicago suburbs, he was a star wrestler and football player at Princeton University. He joined the U.S. Navy after graduation. He left active duty in 1957 to go work as a congressional aide. Just three years later he won the first of four terms as a congressman himself. President Richard Nixon appointed him to head the Office of Economic Opportunity in 1969 and then, four years later, to be ambassador to NATO. In 1974, President Gerald Ford made Rumsfeld his chief of staff and then appointed him secretary of defense in 1975. In his fourteen months in the post, he oversaw the wind down from the Vietnam War. Rumsfeld served as President Ronald Reagan's Middle East envoy and worked in the private sector before President George W. Bush named him defense secretary. Rumsfeld's plans to modernize the U.S. military were cut short by the September 11, 2001, attacks. He oversaw the 2001 invasion of Afghanistan and pushed for the 2003 invasion of Iraq. As the U.S. death toll mounted in the face of the Iraqi insurgency, Rumsfeld was widely criticized for failing to craft a plan for postwar Iraq and for responding slowly and ineffectively to the insurgency. Bush accepted Rumsfeld's resignation after the Democrats regained control of Congress in the 2006 midterm elections. Rumsfeld continued to insist after leaving office that the invasion of Iraq was the right decision.
Neil Sheehan (b. 1936) was an award-winning author and journalist best known for breaking the Pentagon Papers story for the New York Times. Cornelius "Neil" Mahoney Sheehan was born in Holyoke, Massachusetts, to Irish immigrants and grew up on the family's dairy farm. He attended Harvard University on a full scholarship and graduated in 1958. He then joined the army. After a stint as a pay clerk in Korea, he landed an assignment as a journalist for an army newspaper. Within two weeks of his discharge from the military in 1962, Sheehan was hired by United Press International and sent to Vietnam to cover U.S. efforts to aid the South Vietnamese government battling the Viet Cong insurgency. He arrived in Saigon firmly believing that the U.S. mission was just. However, during his four years in Vietnam, which saw the introduction and rapid buildup of U.S. combat forces, he soured on the war. He famously worked with Daniel Ellsberg, a former Defense Department analyst who had also come to oppose the war, to leak the Pentagon Papers. The trove of classified government documents revealed that the U.S. government had misled the public about the scope and success of U.S. involvement in Vietnam. The Times won the 1972 Pulitzer Prize for breaking the story. Sheehan wrote four books, the best known of which was A Bright Shining Lie, a recounting of the U.S. war in Vietnam that won the 1988 National Book Award for Nonfiction and the 1989 Pulitzer Prize for General Nonfiction.
George P. Shultz (b. 1920) was one of only three Americans to head up three different cabinet agencies and one of only five Americans to serve as both secretary of state and secretary of the treasury. Shultz was born in Manhattan and raised in New Jersey. After graduating from Princeton in 1942, he served in the Marine Corps in the Pacific during World War II. He earned his PhD at MIT in 1949 and then started teaching there. In 1955, he served as a senior staff economist in President Dwight D. Eisenhower's Council of Economic Advisers. In 1957, he joined the faculty at the University of Chicago, where he remained until President Nixon named him secretary of labor in 1969. He was made director of the Office of Management and Budget (OMB) in 1970 and treasury secretary in 1972. He resigned in 1974 and worked in the private sector until 1982, when President Ronald Reagan named him secretary of state. Shultz served in the post for more than six years and was best known for improving relations with the Soviet Union and negotiating the Intermediate Nuclear Forces Treaty. He frequently clashed with Caspar Weinberger, his former deputy at OMB, who had become secretary of defense, and he was excluded from the discussions that produced the disastrous Iran-Contra affair. Reagan awarded Schultz the Medal of Freedom in 1989 for his government service. Shultz spent his retirement years in California, where he joined the Hoover Institution as a distinguished fellow and argued for reducing and eventually eliminating nuclear weapons.
Other Americans who left a mark on U.S. foreign policy and who died in 2021 include: Janine Brookner was a former undercover CIA agent who sued the CIA for discrimination and won. Ramsey Clark was attorney general under President Lyndon B. Johnson and a staunch critic of U.S. foreign policy. Max Cleland, a Vietnam War veteran who lost three limbs when a grenade exploded at Khe Sanh, represented Georgia in the U.S. Senate and led the Department of Veterans Affairs. Charles Coolidge was the oldest living Medal of Honor recipient from World War II. Robert Divine was an award-winning historian of U.S. foreign policy and a former president of the Society for Historians of American Foreign Relations. Ian Fishback was a major in the U.S. Army who exposed the fact that fellow members of the 82nd Airborne were systematically abusing Iraqi prisoners. Joe Galloway was an award-winning war correspondent who coauthored the riveting 1992 book We Were Soldiers Once…and Young.
Edgar Harrell was the last surviving marine who served on the final voyage of the USS Indianapolis, the U.S. cruiser that was sunk in July 1945 by a Japanese submarine, leading to the greatest single loss of life in the history of the U.S. Navy. Fred Hiatt was a foreign correspondent and later editorial page editor for the Washington Post. Charles Hill was a diplomat and senior advisor to George Shultz who later helped found Yale University's influential Grand Strategy program. James Hormel became the United States' first openly gay ambassador when he was confirmed by the Senate in 1999 to represent the United States in Luxembourg. Michael Hudson, a Georgetown University professor, was a leading expert on Middle East politics. Robert Jervis was a path-breaking international relations scholar whose work drew on history, sociology, psychology, and political science. Roman Kent was a Polish-born American Holocaust survivor and president of the International Auschwitz Committee. Carl Levin, a six-term Democratic senator from Michigan, chaired the Senate Armed Services Committee for ten years and opposed the Iraq War. Richard Marcinko was a highly decorated Vietnam veteran who was the founding commander of Navy SEAL Team 6. Janice McLaughlin was a nun who was jailed by Rhodesia's white minority government for shedding light on human rights abuses against Black citizens. Montgomery Meigs was a four-star army general who commanded the U.S. Army in Europe and organized the NATO peacekeeping effort in Bosnia. Walter Mondale was vice president under Jimmy Carter and the 1984 Democratic presidential candidate.
Raymond T. Odierno was a four-star army general who helped orchestrate the 2007 surge of U.S. troops in Iraq. John A. Rizzo was a CIA lawyer who approved the agency's torture program, euphemistically referred to as "enhanced interrogation," in the years immediately following the September 11 attacks. Gilbert Seltzer was one of the last survivors of the "Ghost Army" of World War II, which fooled German forces into believing that U.S. troops were present where they were not. Dave Severance was a former Marine Corps officer who commanded the platoon that famously raised an American flag on Mount Suribachi in the Battle of Iwo Jima. Edward Shames was the last surviving "Band of Brothers" officer. Martin J. Sherwin was a historian who won the 2006 Pulitzer Prize for his biography, coauthored with Kai Bird, American Prometheus: The Triumph and Tragedy of J. Robert Oppenheimer. Margaret "Peg" C. Snyder was known as the United Nations' "first feminist" for her efforts to add women's empowerment under the organization's development arm. Jonathan D. Spence was a longtime Yale University history professor who was a recipient of a MacArthur fellowship and wrote the classic book The Search for Modern China. Carl Spielvogel was a journalist turned advertising executive who became a U.S. ambassador to Slovakia. John W. Warner was a former U.S. senator and navy secretary. Ernest West received the Medal of Honor for his heroism in saving three of his army comrades during the Korean War.
Margaret Gach, Charlotte Peterson, and Anna Shortridge assisted in the preparation of this post.
Other posts in this series:
Ten American Foreign Policy Notables Who Died in 2020
Ten American Foreign Policy Notables Who Died in 2019
Ten American Foreign Policy Influentials Who Died in 2018
Ten American Foreign Policy Influentials Who Died in 2017
Ten American Foreign Policy Influentials Who Died in 2016
Ten American Foreign Policy Influentials Who Died in 2015
Ten Americans Who Died in 2014 Who Shaped U.S. Foreign Policy
Ten Americans Who Died in 2013 Who Shaped U.S. Foreign Policy