Ten American Foreign Policy Notables Who Died in 2019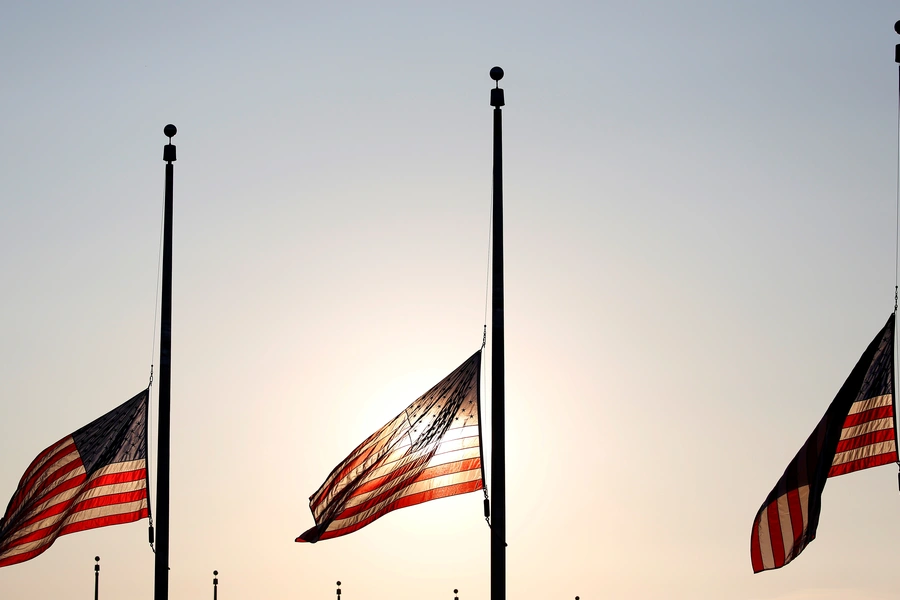 Year's end is a time for taking stock, counting successes, and assessing failures. It is also time for remembering those who are no longer with us. Here are ten Americans who died in 2019 who through their vision, service, intellect, or courage helped shape U.S. foreign policy. They will be missed.
Robert Bernstein (b. 1923) built Random House into a publishing giant and founded Human Rights Watch. Born and raised in Manhattan, Bernstein graduated from Harvard in two-and-a-half years and then served three years in the Army Air Forces. After being discharged, he spent several years at Simon & Schuster. In 1956, the legendary Bennett Cert hired him at Random House. A decade later Bernstein was the company's president, and shortly thereafter, its CEO. Random House's revenues grew more than twenty-fold under his quarter century of leadership as it acquired other imprints such as Alfred A. Knopf, Crown, and Vintage. Random House also distinguished itself as a champion of free expression; its various imprints published the work of Andrei Sakharov, Jacobo Timerman, Václav Havel, and other political dissidents. In 1975, Bernstein founded the first of several human-rights monitoring groups that merged in 1988 to become Human Rights Watch. By the time he stepped down as chair in 1998, Human Rights Watch had become a global presence. In 2009, Bernstein accused Human Rights Watch of being biased against Israel. The two sides eventually reconciled. Even so, in 2011, Bernstein founded yet another group, Advancing Human Rights.
Harold Brown (b. 1927) was the first scientist to serve as U.S. secretary of defense. A child prodigy, Brown entered Columbia University at the age of sixteen. In five years he earned his bachelor's, master's, and doctorate. In 1952, he joined Livermore Laboratory, where he was a protégé of Edward Teller, the "father" of the hydrogen bomb, and worked on nuclear weapons designs. From 1961 to 1965, Brown was one of Secretary of Defense Robert McNamara's "whiz kids," serving as the Pentagon's director of defense research and engineering. From 1965 to 1969, he was secretary of the Air Force. Brown then returned to academia, serving as president of the California Institute of Technology for eight years. In 1977, Jimmy Carter named him secretary of defense. During his tenure, Brown oversaw the development of new generations of ballistic missiles, long-range bombers, and nuclear submarines, helped negotiate the SALT II Treaty, and helped plan the failed Iran hostage rescue. After leaving the Pentagon in 1981, Brown lectured at the Johns Hopkins Nitze School of Advanced International Studies and became a partner at the investment firm Warburg Pincus. Brown wrote in his memoir that he "considered the failed rescue attempt my greatest regret and most painful lesson learned."
Frances Crowe was a long-time peace activist. Born Frances Hyde in Carthage, Missouri, she decided as a young girl that she opposed killing after her hometown handed out tickets for a public hanging. She married Thomas Crowe in 1945, the same year that the bombings of Dresden and Hiroshima convinced her "war was not the answer." By the late 1960s, she had committed herself to peace activism by counseling draft-age men about how to register as conscientious objectors. Her list of causes eventually expanded to include opposing apartheid in South Africa, the B-1 bomber, and environmental destruction. When asked late in life how many times she had been arrested, she answered: "Not enough." In 1984, she spent a month in federal prison for painting "Thou Shalt Not Kill" on missile tubes at a naval base in Rhode Island. In her later years, she refused to pay federal taxes because the money would support defense spending; the government responded by garnishing 15 percent of her Social Security check each month. Asked if she looked forward to turning one hundred, Crowe answered: "I don't want a party. I want an action that will accomplish something."
Leslie Gelb (b. 1937) was a scholar, journalist, public servant, and a former president of the Council on Foreign Relations. Born and raised in New Rochelle, New York, to Hungarian immigrants, Gelb worked his way through Tufts University as a parking attendant and dishwasher. He then earned a Ph.D. in government from Harvard. After working as an executive assistant to Senator Jacob K. Javits (R-NY), he spent two years in the Department of Defense, where he led the team that compiled the Pentagon Papers. From 1969 to 1973, he was a senior fellow at the Brooking Institution, where he co-wrote the award-winning book, The Irony of Vietnam. He then spent four years as the New York Times' diplomatic correspondent, before joining the Carter administration as assistant secretary of state and director of the Bureau of Politico-Military Affairs. Gelb rejoined the Times in 1981, serving first as national security correspondent and then in a variety of other positions, including columnist. In 1986, he was part of a team that won the Pulitzer Prize in explanatory journalism for reporting on the Strategic Defense Initiative. From 1993 to 2003, Gelb served as president of the Council on Foreign Relations, where he greatly expanded the range and depth of its think tank, among his other accomplishments.
Georgie Anne Geyer (b. 1935) was a foreign correspondent and syndicated columnist. Born and raised on the far south side of Chicago, Geyer graduated from Northwestern University's Medill School of Journalism. She then went on a Fulbright Scholarship to Vienna, where she saw firsthand Hungarians fleeing the Soviet suppression of the Hungarian Revolution. Geyer returned to Chicago to work as a journalist, eventually joining the Chicago Daily News. She worked on local stories at first, but in 1964 she was assigned to cover Latin America, making her a rarity at a time when foreign correspondents were overwhelmingly men. In 1966, she became one of the first American reporters to visit Cuba to interview Fidel Castro. Over the years she interviewed a wide range of other world figures, including Yasser Arafat, Saddam Hussein, Ayatollah Khomeini, Juan Peron, and Muammar Qaddafi. In 1974, Geyer left the Daily News and set up shop in Washington, DC, as a syndicated columnist. Later in life, she became a critic of U.S. immigration policy, warning that the United States risked national and cultural disintegration because, in her view, new immigrants were resisting assimilation. Geyer wrote five books, including one on cats.
L. Bruce Laingen (b. 1922) was a career diplomat and the highest-ranking U.S. official held during the Iran Hostage Crisis. Born and raised in rural Minnesota, Laingen served in the U.S. Navy in World War II. After being discharged, he earned an undergraduate degree at St. Olaf College and a master's degree in international relations at the University of Minnesota. He then joined the Foreign Service. His first assignment was in Germany processing visa requests. His second assignment was Iran, and his time there coincided with the overthrow of Prime Minister Mohammed Mossadegh. Laingen rose steadily up the diplomatic ranks, eventually becoming U.S. ambassador to Malta. In June 1979, he returned to Iran on temporary assignment after the U.S. ambassador stepped down in the wake of the Iranian revolution. On November 4, Laingen was at the Iranian Foreign Ministry when the U.S. embassy was seized. He and two other U.S. officials spent most of the hostage crisis, which lasted 444 days, as captives inside a diplomatic reception room at the Foreign Ministry. After his release, Laingen served as the vice president of the National Defense University and retired from the Foreign Service in 1987.
Richard Lugar (b.1932) served in the U.S. Senate for thirty-six years and helped create a landmark program to secure and destroy surplus Soviet nuclear material. Born in Indianapolis, Lugar was an Eagle Scout, president of his graduating class at Dennison University, and a Rhodes Scholar. After finishing his studies at Oxford, Lugar joined the U.S. Navy. After completing his military service, he returned home. In 1964, he was elected to the Indianapolis Board of School Commissioners. He then served two terms as mayor of Indianapolis before being elected to the U.S. Senate in 1976. In the Senate, he served on the Foreign Relations Committee, twice chairing it. His greatest legacy was his co-sponsorship with Senator Sam Nunn (D-GA) of the Nunn-Lugar Cooperative Threat Reduction Program. It funded efforts by former Soviet republics to dismantle nuclear weapons and related infrastructure. The program is credited with deactivating more than 7,600 nuclear weapons. Lugar also led a successful 1985 Senate effort to override Ronald Regan's veto of sanctions on South Africa, and he persuaded Reagan not to recognize Ferdinand Marcos's fraudulent victory in the 1986 Philippines elections. In 2012, Lugar's bid for a seventh Senate term ended when he lost to a Tea Party candidate in the Republican primary.
Eva Mozes Kor (b. 1934) survived sadistic genetic experiments at the Auschwitz death camp and committed her later years to educating people about the Holocaust. Eva Mozes was born in a village in north Transylvania, then part of Romania and now part of Hungary. In 1944, the Mozes family was deported to Auschwitz. There Eva and her twin sister, Miriam, were subjected to gruesome, pseudoscientific experiments conducted by the infamous Dr. Josef Mengele. Both girls survived their tortures, but the rest of their family perished at Auschwitz. After being freed, Eva moved first to Israel and after that, Indiana. She remained quiet for decades about what she had experienced at Auschwitz. That changed after she watched NBC's 1978 miniseries "Holocaust." In 1984, she and her sister created an organization called Candles that linked survivors of Mengele's experiments. In 1995, she established the Candles Holocaust Museum and Education Center in Terre Haute. In 2004, she released her memoir Echoes of Auschwitz. Four years later, she launched the Forgiveness Project, which tells the stories of both perpetrators and survivors of atrocities. Kor's commitment to the power of forgiveness was so great that she once returned to Auschwitz with one of the doctors who had worked there.
Ross Perot (b. 1930) was a businessman and third-party presidential candidate who famously said the North American Free Trade Agreement (NAFTA) would create a "giant sucking sound" as American jobs moved to Mexico. Born and raised in Texarkana, Texas, Perot graduated from the U.S. Naval Academy. After fulfilling his naval obligation, he went on to work at IBM. Not seeing a future for himself there, he founded Electronic Data Systems (EDS) in 1962. After the company went public in 1968, Fortune Magazine called him the "fastest, richest Texan." After leaving the business world, Perot ran as an independent presidential candidate in the 1992. He dropped out of the race in July, a decision he blamed on the Republican Party's "dirty tricks." He subsequently rejoined the race and won 19 percent of the popular vote—more than any other third-party candidate in history. His attacks on NAFTA were a big part of his appeal. Perot ran for president again in 1996, but won only 8 percent of the vote. He likened that defeat to a skinned knee, "painful but superficial." When asked in 2016 what he wanted to be remembered for, Perot responded: "Aw, I don't worry about that."
Joseph Wilson (b. 1949) was a career diplomat who in 2003 charged the George W. Bush administration with misrepresenting intelligence information to justify the invasion of Iraq. Wilson was born in Bridgeport, Connecticut, lived mostly in California, and went to high school in Europe. He graduated from the University of California, Santa Barbara in 1971 and took a job as a carpenter. He eventually joined the Foreign Service and spent the early part of his career in various African countries. In 1988, Wilson went to Iraq as deputy chief of mission, a post he held until 1991. Wilson later served simultaneously as U.S. ambassador to two countries—Gabon and São Tomé and Príncipe —and then worked as senior director for African affairs on the National Security Council staff. In July 2003, Wilson wrote a New York Times op-ed revealing he had conducted a diplomatic mission for the Bush administration in Africa that undercut one of the justifications President George W. Bush had used for invading Iraq. A week later, a nationally syndicated columnist used information leaked by an administrational official to reveal that Wilson's wife was a CIA operative. The subsequent investigation led to the conviction of a top aide to Vice President Dick Cheney for perjury.
Other Americans who had an impact on foreign policy and who died in 2019 include: Geraldyn M. Cobb was blocked from becoming the first woman astronaut and so instead used her skills to fly humanitarian missions. Richard E. Cole was the last surviving member of the Doolittle raiders who carried out the first U.S. attacks on Japan after Pearl Harbor. Maurice Ferre was Miami's first Latino mayor and denounced the detention of Haitian migrants. Donald Fraser was a former Minnesota congressman who exposed a South Korean conspiracy to influence U.S. foreign policy. Paul Findley was a former Illinois congressman who helped write the War Powers Resolution and criticized what he saw as the excessive power of the pro-Israel lobby. Robert J. Friend was one of the Tuskegee Airmen and the director of Project Blue Book. William Hughes was a former congressman from New Jersey and the former ambassador to Panama. Walter B. Jones was a former congressman and staunch opponent of the Iraq War. Alan Krueger was an acclaimed economist who worked as an aide to Presidents Clinton and Obama. Gerhard "Jerry" Loewenberg was a political scientist at the University of Iowa who championed comparative legislative studies and founded the journal Legislative Studies Quarterly.
Warren H. Philips was the publisher of the Wall Street Journal. John O. Marsh was the former secretary of the Army and an advisor to Presidents Nixon, Ford, and Reagan. Rosemary Mariner was one of the U.S. Navy's first female pilots and the first woman to command a naval aviation squadron. Charles McCarry was a CIA officer who wrote spellbinding spy novels. I.M. Pei was one of the world's greatest architects, having designed buildings around the world, including the East Building of the National Gallery of Art in Washington, DC, and the Louvre's glass pyramid. Ogden Reid worked as editor of the New York Herald Tribune, represented New York in Congress, and served as U.S. ambassador to Israel. Alice Rivlin was an economist and long-time senior fellow at the Brookings Institution who was rightly regarded as the "queen of Washington's budget wonks." Cokie Roberts covered a range of domestic and international issues as a correspondent for ABC and NPR. Steve Sawyer was the executive director of Greenpeace. Ellen Tauscher was a former California congresswoman and diplomat. Paul Volcker was the chairman of the Federal Reserve who is credited with breaking the inflationary spiral of the early 1980s. Albert Vorspan was a civil rights activist for Judaism.
Margaret Gach, Caroline Kantis, and Anna Shortridge assisted in the preparation of this post.
Other posts in this series:
Ten Foreign Policy Notables Who Died in 2020
Ten American Foreign Policy Influentials Who Died in 2018
Ten American Foreign Policy Influentials Who Died in 2017
Ten American Foreign Policy Influentials Who Died in 2016
Ten American Foreign Policy Influentials Who Died in 2015
Ten Americans Who Died in 2014 Who Shaped U.S. Foreign Policy
Ten Americans Who Died in 2013 Who Shaped U.S. Foreign Policy