Ten Americans Who Died in 2013 Who Shaped U.S. Foreign Policy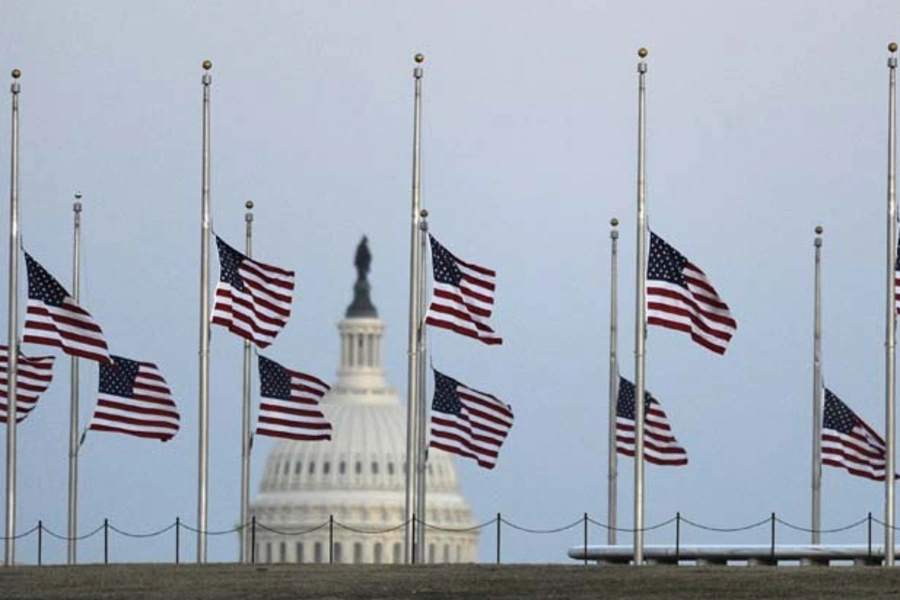 Year's end is a time for taking stock, counting successes, and assessing failures. It is also a time for remembering those who are no longer with us. Here are ten Americans who died in 2013 who through their vision, service, intellect, or courage helped shape U.S. foreign policy. They will be missed.
William P. Clark (b. 1931) was a longtime aide to Ronald Reagan and served as deputy secretary of state and national security adviser. A native of Oxnard, California and a fifth-generation Californian, Clark worked on Reagan's 1966 gubernatorial campaign. He did such a good job that Reagan made him his chief of staff when he became governor. Reagan subsequently appointed Clark to a state judgeship; for the rest of his life Clark preferred to be called "Judge." When Reagan became president, he overlooked Clark's lack of foreign policy experience and made him deputy secretary of state. In January 1982, Clark moved over to the White House to become national security adviser, a post he held until October 1983. As national security adviser, Clark pushed for a hardline foreign policy. He lobbied for higher defense spending, resisted making arms control concessions to the Soviet Union, and pressed for greater U.S. efforts to stop leftist governments and groups in Central America. Clark's bond with Reagan prompted Time magazine to label him "the second most powerful man in the White House." Among the mementos Clark kept in his White House office was a Colt .45 revolver that his sheriff grandfather had used to put down a cattle war in California. Clark saw the weapon, which was known in the old West as the "Peacemaker," as a symbol of the good that American power could accomplish. Reagan's decision to name the MX nuclear missile the Peacekeeper was inspired by Clark's family heirloom.
Thomas S. Foley (b. 1929) served for thirty years in the U.S. House of Representatives, eventually becoming Speaker of the House, and then after his congressional career ended, U.S. ambassador to Japan. Foley practiced law before starting his political career in 1960 as an aide to Senator Henry "Scoop" Jackson (D-WA). Four years later, Foley threw his own hat into the ring and won the first of what would become fifteen House elections. His reputation for bipartisanship was earned even before he set foot in Washington; he held a reception in honor of the eleven-term Republican congressman whose seat he had won. Foley's willingness to reach across the aisle sometimes frustrated his Democratic colleagues. Speaker of the House Tip O'Neill once complained that Foley could "argue three sides of every issue." As speaker, Foley oversaw the passage of legislation such as the "pay-as-you-go" budget plan, Medicaid and Head Start expansion, the Americans with Disabilities Act, and the North American Free Trade Agreement. Foley was swept out of office in the 1994 Republican landslide, making him the first speaker in 132 years to lose reelection. President Bill Clinton subsequently appointed Foley chair of the Foreign Intelligence Advisory Board and then U.S. ambassador to Japan, a country Foley had visited almost thirty times. Foley had long been captivated by Japanese history and culture; he often commented on how at six-foot-four he stood out whenever he visited Japan.
General David C. Jones (b. 1921) was the chairman of the Joint Chiefs of Staff during the Carter and Reagan administrations. Jones was born in South Dakota and raised in North Dakota. In 1942 he joined what was then known as the Army Air Corps, or what today is the U.S. Air Force. He spent the war stateside training other pilots. He subsequently flew 300 hours of bombing missions in Korea. During the Vietnam War, he was vice commander of the Seventh Air Force. In 1974, he was appointed chief of staff of the Air Force. Four years later, he was named chairman of the Joint Chiefs of Staff, where he served the maximum two, two-year terms. A low point in his career came in 1980 with the botched attempt to rescue American hostages from Iran. Jones was a critic of how the Joint Chiefs operated and he pushed for changes in the military command structure that would strengthen the hand of the chairman while reducing inter-service rivalries and encouraging long-term planning. His vision became a reality with the passage of the Goldwater-Nichols Act of 1986, the most significant defense legislation of the last fifty years.
Max Kampelman (b. 1920) was an American diplomat who helped to negotiate several major treaties with the Soviet Union. Born into a Jewish family in New York but heavily influenced by Quakerism, Kampelman registered as a conscientious objector during World War II. He still contributed to the war effort, however, by volunteering for an experiment in Minnesota on the physical and psychological effects of starvation. After the war, he began his public service career as an aide to Hubert H. Humphrey, then the mayor of Minneapolis. He followed Humphrey to Washington after Humphrey was elected to the U.S. Senate. Kampelman left politics in 1955 to practice law in the nation's capital. He reentered government service in 1980 when President Carter appointed him ambassador to the Madrid Conference on Security and Cooperation in Europe, which was intended to strengthen the 1975 Helsinki Accords. In 1985, President Reagan sent Kampelman to Geneva to continue arms control negotiations with the Soviet Union. Kampelman's work there set the stage for the 1987 Intermediate-Range Nuclear Forces Treaty and the 1991 Strategic Arms Reduction Treaty. Devoted to promoting human rights and international peace, he chaired Freedom House for ten years and received a Presidential Medal of Freedom in 1999.
Stanley Karnow (b.1925) was a Pulitzer-prize winning journalist and historian who wrote extensively about Southeast Asia. After graduating from Harvard, Karnow moved to Paris where he reported for Time, the first of the more than eight different publications and news services he would write for. He eventually made his way to Asia, which became the focus of his reporting and writing. He said later in life that "Asia gets into your blood, your psyche…It was a perpetual excitement about its diversity." Karnow's extensive reporting on Vietnam, which he first visited in the 1950s, culminated in the 1983 publication of Vietnam: A History. The book was turned into an Emmy-winning PBS documentary. Karnow then turned to writing a history of the Philippines. The resulting book, In Our Image: America's Empire in the Philippines, won him a Pulitzer Prize in 1990.
Henry A. Prunier (b. 1921) was a U.S. Army private who helped train Ho Chi Minh, Vo Nguyan Giap and other Viet Minh to fight the Japanese. Born and raised in Worcester, Massachusetts, Prunier joined the Army at age twenty-three. His superiors noticed his knack for languages and sent him to language school at the University of California to study Vietnamese. While at Berkeley, he was asked to volunteer for a secret mission that the Office of Strategic Services (OSS), the forerunner to the Central Intelligence Agency, had planned in Indochina. Prunier declined after being told that his chances of surviving the mission were fifty-fifty. After completing cryptology school, he was assigned to an infantry division in France. The night before he shipped off, he was informed that the proposed OSS mission was no longer voluntary. In July 1945, Prunier and six other American members of "Deer Team" parachuted into northwest Vietnam, charged with training the Viet Minh to help fight the Japanese. Deer Team worked with the future leader of North Vietnam, Ho Chi Minh (who might have died if not for the treatment the Americans provided), and the future architect of the historic battle of Dien Bien Phu, Vo Nguyan Giap (whom Prunier described as a "ball of fire"). The ties that Deer Team developed with Minh and Giap raise the tantalizing question of how history might be different if President Harry Truman had pursued Minh's request, sent through Deer Team, that the United States support Vietnam's independence. In 2009, Prunier donated all of his artifacts from the Deer Team mission to the Military History Museum in Hanoi. The U.S. Army awarded him a Bronze Star in 2011 in recognition of his service.
James Robinson Risner (b. 1925) was a U.S. Air Force pilot who was a prisoner of war (POW) for nearly eight years in the "Hanoi Hilton." A native of Arkansas, Risner volunteered for the Army Air Corps in 1943, but didn't see combat duty during World War II. That changed during the Korean War, where he shot down eight enemy fighters and established himself as one of the Air Force's top fighter pilots. In 1957 the Air Force chose him to mark the thirtieth anniversary of Charles Lindbergh's famous transatlantic flight by flying the same route in an F-100F Super Sabre jet; he covered the route in one-fifth the time it took Lindbergh and set a record for the fastest flight across the Atlantic in the process. Risner returned to combat in 1965 in Vietnam, where he flew missions as part of Operation Rolling Thunder and was shot down twice. The first time, he ejected from his damaged plane and was rescued. The second time, he was not so lucky. He was captured by the North Vietnamese and sent to Hoa Lo Prison, the formal name for what U.S. POWs dubbed the Hanoi Hilton. Risner, who was a Lt. Colonel when he was shot down, was the highest ranking U.S. POW for most of his imprisonment, and therefore responsible for leading and motivating other captured Americans—a responsibility that often made him the target of abuse by his North Vietnamese guards. In one memorable instance in 1971, Risner defied the North Vietnamese by leading a church service for the prisoners. As he was hauled off to solitary confinement, his fellow Americans sang the Star Spangled Banner; Risner later said that at that moment he felt "like I was nine feet tall and could go bear hunting with a switch." To honor his bravery, a nine-foot tall statue of Risner now stands on the grounds of the U.S. Air Force Academy. In a statement released after Brig. Gen. Risner's death, Senator John McCain, a fellow prisoner at the Hanoi Hilton, called him "an inveterate communicator, an inspiration to the men he commanded, and a genuine American hero."
John Temple Swing (b. 1929) was a former executive vice president of the Council on Foreign Relations (CFR) and in 1985-86 its president pro tempore. Swing earned his bachelor's degree at Harvard and his law degree from Yale. After initially practicing law in Connecticut, he joined the CFR staff in 1963. Among his other accomplishments, he oversaw the creation of CFR's International Affairs Fellowship (IAF) program, which is still going strong nearly a half century later. The IAF program, which gives younger academics practical experience in government and government officials a chance to take a year away from their job to reflect, includes among its illustrious alumni Condoleezza Rice, James Steinberg, Graham Allison, Robert Keohane, Kurt Campbell, and Ivo Daalder. Swing's intellectual passion was creating better governance of oceans. He wrote widely on the topic, helped to negotiate the UN Convention on the Law of the Sea, and formed the Rule of Law Committee for the Oceans to promote the convention. In 1993, Swing was named president of the Foreign Policy Association, a post he held until 1996.
William H. Sullivan, (b. 1922) was a career Foreign Service officer who oversaw a secret bombing campaign while he was U.S. ambassador to Laos and who witnessed the Iranian revolution firsthand as the last U.S. ambassador to Iran. Sullivan joined the Foreign Service in 1947 after serving as a naval officer during World War II. He was posted to Laos in 1964 to oversee Operation Barrel Roll, the secret bombing campaign against Laotian communist insurgents. In 1969, Sullivan was named deputy assistant secretary of state for East Asian and Pacific Affairs and participated in negotiations for the Paris Peace Accords. In 1973, he was named U.S. ambassador to the Philippines, where he helped to coordinate the refugees arriving from Vietnam. Four years later, he was appointed U.S. ambassador to Iran, where opposition to the Shah was gathering steam. In February 1979, shortly after the Shah fled Iran, the U.S. embassy came under attack from Iranian militants. Sullivan authorized the Marine security detachment to defend the embassy with force if necessary: "If you need to protect yourselves, you may fire. If you can arrange to surrender, do so." No shots were fired even though the embassy was overrun and Sullivan and his colleagues briefly detained. The incident prompted him to drastically cut embassy staff, a decision that proved prescient when the Iran Hostage Crisis began that fall. By that time, however, Sullivan had left Tehran, having resigned his ambassadorship and retired from the Foreign Service because of what he saw as the Carter administration's weak and inconsistent policy toward Iran.
Kenneth Waltz (b. 1924) was a prominent scholar whose ideas profoundly shaped the academic study of international relations. Waltz served in the U.S. Army during World War II. After the war ended, he earned his undergraduate degree at Oberlin College and entered the political science Ph.D. program at Columbia University. His dissertation became a classic book in the field, Man, the State, and War: A Theoretical Analysis. His 1979 book, Theory of International Politics, written while he was a professor at the University of California, Berkeley, is another classic international relations text. It sets forth the theory of structural realism, the idea that the structure of the international system shapes and constrains state behavior (much like markets shape firm behavior). Perhaps Waltz's most controversial idea was his argument that nuclear proliferation would make the world safer. Just last year, he wrote in article in Foreign Affairs entitled, "Why Iran Should Get the Bomb." The gist of his argument was that a nuclear Iran would stabilize the Middle East by providing a counterweight to the region's other nuclear power, Israel.
Other Americans who made significant contributions to U.S. foreign policy and who died in 2013 include: Edgar M. Bronfman, the longtime chairman of the Seagram Company and president of the World Jewish Congress; Colonel Earl S. Browning, a counterintelligence officer in postwar Germany who fought unsuccessfully to stop the U.S. military from using Gestapo chief Klaus Barbie, "The Butcher of Lyon," as a paid informant; Paul Cellucci, a former governor of Massachusetts and U.S. ambassador to Canada; Thomas G. Clines, a CIA covert operative whose role in the Iran-Contra affair led to his conviction for tax fraud; Arthur J. Collingsworth, a former UN official and international student exchange executive; Michael Hastings, an award-winning reporter whose Rolling Stone profile of General Stanley McChrystal prompted McChrystal to resign; Chris Kyle, a U.S. Navy Seal who earned the reputation in Iraq as the most deadly sniper in U.S. military history; Vernon McGarity, who was awarded a Medal of Honor for his heroism at the Battle of the Bulge; Wayne Miller, a photographer famous for his photos of World War II and the city of Chicago; Colonel Benjamin Purcell, the highest ranking Army POW during the Vietnam War; William W. Scranton, former Republican governor of Pennsylvania and former U.S. ambassador to the United Nations; Ike Skelton, who served seventeen terms in the U.S. House of Representatives and who chaired the House Armed Services Committee; Anne Smedinghoff, a twenty-five year-old American Foreign Service officer killed in a bombing in Afghanistan; Helen Thomas, who became known as the "dean of the White House press corps" after reporting on ten presidents from Kennedy to Obama; and Richard S. Williamson, a former senior policy adviser to John McCain's and Mitt Romney's presidential campaigns.
Other posts in this series:
Ten Foreign Policy Notables Who Died in 2020
Ten American Foreign Policy Notables Who Died in 2019
Ten American Foreign Policy Influentials Who Died in 2018
Ten American Foreign Policy Influentials Who Died in 2017
Ten American Foreign Policy Influentials Who Died in 2016
Ten American Foreign Policy Influentials Who Died in 2015
Ten Americans Who Died in 2014 Who Shaped U.S. Foreign Policy