Remembering Ten Americans Who Died in 2022
As 2022 comes to a close, here are ten Americans we lost this year who made a mark in foreign policy.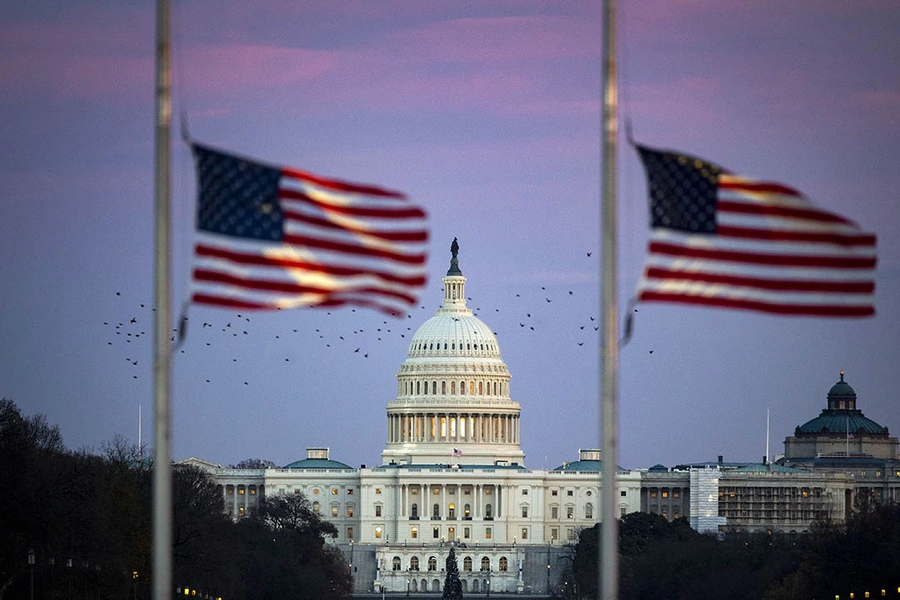 Year's end is a time to take stock, count successes, and assess failures. It is also a time to remember those who are no longer with us. Here are ten Americans who died in 2022 who through their vision, service, intellect, or courage helped shape U.S. foreign policy. They will be missed. 
Madeleine Albright (b. 1937) was the child of Czech parents who first fled Nazi occupation and then communist rule and who became the first woman to be named U.S. secretary of state. Albright's father was a Czechoslovakian diplomat who took his family to London after Germany annexed Sudetenland in 1938. There the family converted from Judaism to Roman Catholicism, a fact that Albright did not discover until many years later. The family returned to Czechoslovakia after the war, only to go into exile once again after communists seized power in Prague in 1948. The family eventually settled in Denver, Colorado. Albright attended Wellesley College as an undergraduate, and then earned a master's degree and Ph.D. in international relations at Columbia University. In the 1970s, she worked as a legislative assistant to Sen. Edward Muskie (D-ME) and as a member of the staff of the National Security Council. She served as a foreign policy adviser to Democratic presidential candidates Walter Mondale (1984), Michael Dukakis (1988), and Bill Clinton (1992). Clinton named Albright U.S. ambassador to the United Nations during his first term and secretary of state in his second term. During her time in office she became known for favoring an assertive foreign policy and championing humanitarian interventions. Albright wrote or co-wrote seven books, including her 2003 memoir Madam Secretary. She also started the international consulting firm now known as the Albright Stonebridge Group, served on the board of directors of the Council on Foreign Relations, and was awarded the Presidential Medal of Freedom in 2012. 
Charles "Chuck" Boyd (b. 1938) was a U.S. Air Force pilot shot down over North Vietnam who went on to become the only American prisoner of war in Vietnam to be named a four-star general. Boyd was born in Rockwell City, Iowa. He fell in love with flying at an early age after taking a ride in a crop duster. He enrolled at Baylor University in 1957. Two years later, he joined the Air Force's Aviation Cadet Training Program and was commissioned as an Air Force pilot in 1961. Five years later, he volunteered to take out a surface-to-air missile site in North Vietnam. He was awarded the Air Force Cross for undertaking the mission that led to his capture. He spent nearly seven years as a prisoner in a variety of North Vietnamese prisons, including the infamous Hanoi Hilton. He spent part of his time in captivity in a cell next to future senator and presidential candidate, John McCain. Boyd returned to the United States in 1973 after the Paris Peace Accords were signed. He rose through the ranks and was eventually made a four-star general. He retired from the Air Force in 1995. He distinguished himself in his post-military career with his work as executive director of the Hart-Rudman Commission, which warned before the 9/11 attacks that the most significant threat facing the United States was a mass-casualty terrorist attack. Boyd was named senior vice president at the Council on Foreign Relations in 2001 and became president and chief executive officer of the Business Executives for National Security the following year. 
Ashton Carter (b. 1954) was a theoretical physicist and long-time Harvard professor who served as secretary of defense in the final two years of the Obama administration, where he opened up combat roles to women. Carter, known as "Ash" to his colleagues, grew up in a Philadelphia suburb. He attended Yale College where he double-majored in physics and medieval history. He was awarded a Rhodes Scholarship and earned a doctorate in physics at Oxford University. Drawn to the intersection of physics and public policy, Carter returned to the United States, where he participated in a major effort to assess the practicality of basing systems for the MX missile and criticized the wisdom of the Strategic Defense Initiative. That began a four-decade-long career assessing new defense technologies, much of which Carter did while a professor at what is now the Belfer Center for Science and International Affairs at the John F. Kennedy School of Government at Harvard University. In the 1990s, Carter was a principal adviser to the landmark effort by Senators Sam Nunn and Richard Lugar to create the Cooperative Threat Reduction program, which secured and decommissioned Soviet nuclear assets. Carter served in a variety of positions in the Department of Defense and on a range of Pentagon advisory boards before President Obama nominated him to be secretary of defense. Carter was a member of the board of the directors of the Council on Foreign Relations and the author of Inside the Five-Sided Box: Lessons From a Lifetime of Leadership in the Pentagon, which he recapped on an episode of The President's Inbox.  
Paul Farmer (b. 1959) was a modern-day Albert Schweitzer who spent his life working to improve public health around the world. Farmer was born in North Adams, Massachusetts, but moved around the country as a child. He attended Duke University as an undergraduate and then earned his M.D. and Ph.D. at Harvard University. His commitment to bringing quality health care to the world's poorest communities was sparked in part by his experience as a volunteer in Haiti early in medical school. His work to set up health clinics in Haiti led in 1987, while Farmer was still in medical school, to the establishment of Partners in Health, which works with national governments to provide health care and to strengthen public health systems. Besides his extensive humanitarian activities, Farmer was a professor at the Harvard Medical School, where he became chair of the department of global health and social medicine, and a division head at Brigham and Women's Hospital in Boston. He received numerous awards during this lifetime, including the so-called MacArthur genius grant in 1993 and the Berggruen Prize for Philosophy and Culture in 2020. Tracey Kidder profiled Farmer's heroic quest to provide healthcare to those without it in the 2003 book, Mountains Beyond Mountains: The Quest of Dr. Paul Farmer, a Man Who Would Cure the World. Many of Farmer's speeches calling for global health equity and social justice are collected in To Repair the World: Paul Farmer Speaks to the Next Generation. 
George Herring (b. 1936) was a longtime professor at the University of Kentucky who was a leading historian of the Vietnam War. He was born in Blacksburg, Virginia, where his father coached the wresting team at Virginia Tech. He earned his undergraduate degree at Roanoke College, then served in the U.S. Navy for two years. After completing his military service, he enrolled in graduate school at the University of Virginia, where he earned a Ph.D. in history. After four years at Ohio University, he moved to the University of Kentucky, where he spent the remainder of his career. His early work examined U.S. aid to Russia, but he soon turned his attention to the Vietnam War. In 1979, his book America's Longest War: The United States and Vietnam, 1950-1975 was published. It quickly became a staple in college courses with its straightforward description of how the United States entered and fought a war it ultimately decided was a mistake. The book is now in its sixth edition. Later in his career, Herring turned his talents to writing a comprehensive history of U.S. foreign policy. The result was the monumental From Colony to Superpower: U.S. Foreign Relations Since 1776, published in 2008, which came in at a shade over one thousand pages. It was named a finalist for a National Book Critics Circle Award. During his career, Herring served a term as president of the Society of Historians of American Foreign Relations and was an editor of its flagship publication, Diplomatic History. 
Michael Krepon (b. 1946) was an arms control advocate and scholar who co-founded the Stimson Center. Krepon was born in Boston, Massachusetts, and earned his undergraduate degree at Franklin & Marshall College. He then earned a master's degree at Johns Hopkins School of Advanced International Studies before doing additional studies at the American University in Cairo. In the 1970s, he worked first as a legislative assistant to a Democratic member of the U.S. House of Representatives and then at the Arms Control and Disarmament Agency at the U.S. State Department. He was pushed out of the latter job when Ronald Reagan became president. It was a serendipitous firing. Krepon turned his attention to writing, and his first book, Strategic Stalemate: Nuclear Weapons and Arms Control in American Politics, was released in 1984. Krepon went on to write twenty-twenty more books and innumerable articles and op-eds. In all of his writings he stressed that deterrence and arms control should be viewed as mutually reinforcing, and his writing influenced the crafting of the Chemical Weapons Treaty and the Open Skies Treaty as well as the thinking of many nuclear scholars. In 1987, he and Barry Blechman founded the Stimson Center, which seeks to promote international security and stability. In 2015, the Carnegie Endowment for International Peace awarded Krepon the Thérèse Delpech Memorial Award for his "tireless efforts and lasting achievements" on behalf of the nongovernmental nuclear policy community. His last book was Winning and Losing the Nuclear Peace: The Rise, Demise, Revival of Arms Control, which he recapped on an episode of The President's Inbox.  
Robert "Bud" McFarlane (b. 1937) was a decorated Marine Corps officer and Vietnam veteran who became a central figure in the Iran-Contra Affair during his time as Ronald Reagan's national security advisor and pled guilty to four misdemeanor counts of lying to Congress about the scandal. McFarlane was the son of a Texas congressman and grew up in Washington, D.C. He graduated from the U.S. Naval Academy and was commissioned as a Marine Corp officer upon graduation. He served two combat tours in Vietnam and was awarded a Bronze Star and Navy Commendation Medal. He was subsequently assigned to the White House Office of Legislative Affairs and then served as a military aide to National Security Advisor Henry Kissinger. McFarlane retired from the Marine Corps in 1979 as a lieutenant colonel. He became an aide for Republican Sen. John Tower of Texas before joining the Reagan administration. He worked first at the State Department and then at the White House. In October 1983, he was named national security advisor, a position he held until he resigned in December 1985 because of differences with other members of the Reagan foreign policy team. McFarlane backed efforts to sell weapons to Iran, and after leaving government, participated in a secret mission that delivered parts for Hawk antiaircraft parts to Tehran. McFarlane's parting gift was a cake topped with a key made from chocolate icing, a symbol of a new era in U.S.-Iran relations. After news of the Iran-Contra Affair broke, McFarlane attempted suicide. His wife saved him. President George H.W. Bush pardoned McFarlane on Christmas Eve 1992. 
Charles McGee (b. 1919), one of the last surviving members of the Tuskegee Airmen, flew 409 combat missions over the course of three wars. McGee was born in Cleveland, Ohio. His family moved repeatedly during his childhood. He went to high school in Chicago, became an Eagle Scout, and enrolled at the University of Illinois. In October 1942, he enlisted in the U.S. Army and was ordered to attend pilot training at Tuskegee Army Airfield in Alabama. The U.S. military was officially segregated at the time, and President Franklin Delano Roosevelt had ordered that a special detachment of African Americans be trained as Army pilots and support personnel. McGee passed his training to be a fighter pilot, and in 1944, his squadron was dispatched to Italy. Their mission was to escort U.S. heavy bombers conducting strategic bombing raids and to launch strafing runs against enemy targets. McGee flew some 130 missions in World War II and shot down a German fighter in dogfight. After the war, he remained in the Army Air Forces, which became the U.S. Air Force in 1947. President Harry Truman ordered the desegregation of the U.S. military in 1948, which expanded McGee's options. He flew one hundred combat missions in the Korean War and 179 combat missions in the Vietnam War. He retired in 1979 with the rank of colonel, having flown the third most combat missions of any Air Force pilot. Shortly after his hundredth birthday in 2019, Congress passed, and President Donald Trump signed into law, a measure promoting McGee to brigadier general.  
Phyllis E. Oakley (b. 1934) was an American diplomat whose time as a Foreign Service officer was derailed for sixteen years because she married. Oakley was born in Omaha, Nebraska, and grew up there as well as in Columbus, Ohio, and St. Louis, Missouri. She graduated Phi Beta Kappa from Northwestern University in 1956. After earning a master's degree from the Fletcher School of Law and Diplomacy at Tufts University the following year, she joined the Foreign Service. There she met Robert Oakley. The two young Foreign Service officers fell in love and married. In keeping with expectations at the time, which held that female Foreign Service officers could not be married, she resigned her position. As she noted years later, women at that time "accepted that discrimination without batting an eye lash." For the next sixteen years, she followed her husband to various diplomatic posts, with the exception of Vietnam where families were forbidden to follow. Through her many moves, Oakley nursed her dream of rejoining the Foreign Service. In 1974, that dream came true. In 1979, she worked for the United States Information Agency in Zaire, where her husband was the ambassador. It marked the first time a husband-and-wife team worked at the same embassy. From 1986 to 1989, she was the State Department's deputy spokesperson, making regular appearances on television. Her last position before retiring from Foreign Service in 1999 was assistant secretary of state for intelligence and research. 
Samuel Sandoval (b. 1924) was one of the last surviving Navajo Code Talkers of World War II whose unrivalled ability to secretly communicate battlefield information played a significant role in the defeat of Japan. Sandoval was born in the tiny town of Nageezi, New Mexico, located in the state's northwestern corner. As a child he attended a school that discouraged him from speaking Navajo, his native language. In 1943, he enlisted in the U.S. Marine Corps. He was selected along with other Navajo men to participate in a secret program in which the Navajo language was used as the basis for a code to communicate information. The program was inspired by a practice that the U.S. military had used occasionally during World War I. The system was much faster than the code-breaking machines available at the time. It was also a system that Japanese cryptologists could not break, giving the Marines Corps a decided advantage. Sandoval and his fellow Code Talkers regularly communicated critical information about troop deployments, battlefield tactics, and other military matters that enabled U.S. combat forces to evade and surprise Japanese forces. In great part because of the program's success, Sandoval and his fellow Code Talkers were forbidden to discuss what they had done until the program was declassified in 1968. Only then could they tell their stories. In all, some 461 Navajo were Code Talkers. Thirteen were killed in action. Only three Navajo code talkers remain alive. 
Other Americans who died in 2022 after leaving a mark on U.S. foreign policy include: Clifford Alexander, Jr. was a graduate of Yale Law School who became the first African American to be named secretary of the Army. Lawrence N. Brooks served in the mostly Black 91st Engineer General Service Regiment and was the oldest living American veteran of World War II. John Canley was the first living Black Marine to be awarded Medal of Honor, fifty years after his heroism in the Vietnam War. Kenneth O. Chilstrom was one of the U.S. Air Force's first test pilots. Samuel Folsom fought at the Battle of Guadalcanal and was one of the last surviving WWII Marine Corps fighter pilots. Kurt Gottfried was a theoretical physicist who became a critic of nuclear weapons and founder of the Union of Concerned Scientists. 
Gail Halvorsen became known as the "Berlin Candy Bomber" after he started the practice of dropping candy, chocolate, and chewing gum to German children as U.S. planes landed at Tempelhof Airport during the Berlin Airlift. David Kay led the effort after the United States ousted Saddam Hussein that determined that Iraq did not in fact have weapons of mass destruction as the George W. Bush administration had argued. Ngo Vinh Long left South Vietnam for the United States in 1964 to escape arrest for criticizing the war and worked tirelessly to persuade his adopted country of the war's futility. Don Luce was a civilian aid worker in Vietnam who exposed the South Vietnamese government's use of so-called tiger cages to imprison and torture critics as well as enemy soldiers.  
James A. McDivitt was a Korean War fighter pilot, graduate of the University of Michigan, and commander of the Apollo 9 space mission. David MacMichael was a CIA analyst who resigned his position in 1983 to accuse the Reagan administration of grossly exaggerating the communist threat in Central America. Romano Mazzoli was a Democratic representative from Kentucky who helped write the last major piece of immigration legislation, the 1986 Simpson-Mazzoli Act. Mel Mermelstein survived Auschwitz and later in life won a $90,000 legal judgment against Holocaust deniers. Hiroshi Miyamura was an Army corporal who was awarded the Medal of Honor for his valor during the Korean War, becoming the first living Japanese American to receive America's highest military honor. 
John Prados was a celebrated military and intelligence historian who helped found the National Security Archive. Gary Schroen was a CIA operative who led the first clandestine mission into Afghanistan after the September 11 attacks to recruit support for the pending U.S. invasion. Robert Simanek was awarded the Medal of Honor in 1952 after he threw his body on top of a live grenade to save his fellow Marines. John Singlaub resigned his position as a major general in the U.S. Army in 1978 to criticize President Jimmy Carter's defense policies and champion anti-communist causes. John Vinocur was a foreign correspondent for the Associated Press and the New York Times, and executive editor of the International Herald Tribune. Hershel Williams was awarded the Medal of Honor for his valor at Iwo Jima and was the last living World War II Medal of Honor recipient.  
Sinet Adous, Elia Ching, John David Cobb, and Margaret Gach assisted in the preparation of this post. 
Other posts in this series: 
Ten American Foreign Policy Notables Who Died in 2021 
Ten American Foreign Policy Notables Who Died in 2020 
Ten American Foreign Policy Notables Who Died in 2019 
Ten American Foreign Policy Influentials Who Died in 2018 
Ten American Foreign Policy Influentials Who Died in 2017 
Ten American Foreign Policy Influentials Who Died in 2016 
Ten American Foreign Policy Influentials Who Died in 2015 
Ten Americans Who Died in 2014 Who Shaped U.S. Foreign Policy 
Ten Americans Who Died in 2013 Who Shaped U.S. Foreign Policy