Ten American Foreign Policy Influentials Who Died in 2015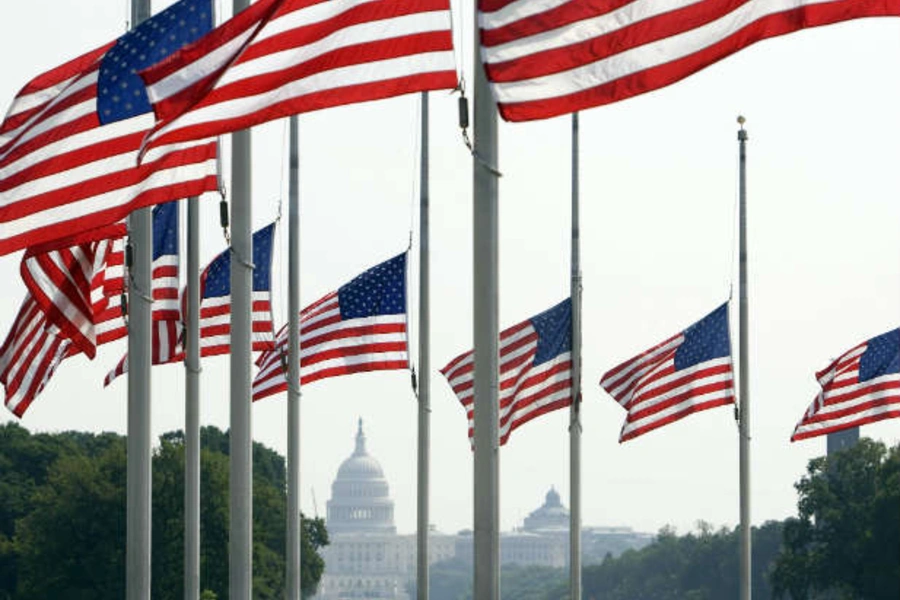 Year's end is a time for taking stock, counting successes, and assessing failures. It is also a time for remembering those who are no longer with us. Here are ten Americans who died in 2015 who through their vision, service, intellect, or courage helped shape U.S. foreign policy. They will be missed.
Samuel R. Berger (b. 1945) was national security adviser during President Bill Clinton's second term. A graduate of Cornell University and Harvard Law School, Berger became a successful trade lawyer in Washington, DC. He also was deeply involved in Democratic Party politics. His first government service came during President Jimmy Carter's presidency, when he served as deputy director of policy planning at the State Department. Berger was a long-time friend of Bill Clinton; the two first met working at a McGovern-for-President rally at the Alamo in 1972. When Clinton became president, Berger was named deputy national security adviser. At the start of Clinton's second term, Berger succeeded Anthony Lake, who had also been his boss at the Office of Policy Planning, as national security adviser. The appointment rankled some experts who preferred a career foreign-policy person in the job; Henry Kissinger said that "you can't expect a trade lawyer to be a global strategist." In 2005 Berger pled guilty and was fined $10,000 for illegally removing classified documents from the National Archives two years earlier. The day before he died, the World Food Program USA honored Berger with its first Global Humanitarian Award.
Arnaud de Borchgrave (b. 1926) was a distinguished foreign correspondent, best-selling novelist, and newspaper editor whose life sounds like a movie. The son of a Belgian count, he fled Belgium after the Nazi invasion in 1940, diving off the freighter that was supposed to take him to freedom because the captain was instead sailing for Germany. Rescued by a British naval destroyer, he went to school in England before eventually persuading his grandmother to lie about his age so he could join Britain's Merchant Navy just in time to be wounded in the D-Day invasion. After the war he worked briefly for United Press before moving to Newsweek as foreign editor. He covered at least seventeen wars—he was wounded while reporting from Vietnam—and claimed to have kept "the starched combat fatigues of 12 nations" in his apartment in Switzerland. (He also told friends "all he needed to bring when he travelled on assignment was a tuxedo and a safari suit.") Newsweek fired de Borchgrave in 1980 because it concluded that his conservative opinions were seeping into his coverage of the Soviet invasion of Afghanistan. That same year his best-selling novel, The Spike, co-written the journalist Robert Moss, made the best-seller list. The pair followed up with another best-seller, Monimbo, in 1983. In 1985, de Borchgrave became editor of the Washington Times, a post he held until he stepped down in 1991. In addition to his journalistic efforts, de Borchgrave was a long-time senior advisor at the Center for Strategic and International Studies.
Robert DeVecchi (b. 1930) was the head of the International Rescue Committee (IRC) and a fellow here at the Council on Foreign Relations (CFR). A graduate of Yale University, DeVecchi served in the Air Force before getting his MBA from Harvard Business School. He then joined the U.S. Foreign Service, holding a variety of posts in Europe. After leaving the Foreign Service and working at two non-profits, he joined the IRC. His first task was helping to lead its efforts to resettle Vietnamese refugees, which the IRC says is "the largest refugee resettlement effort in American history." In 1985, DeVecchi was named the IRC's executive director; from 1992 to 1997 he was the group's president and chief executive. After retiring from the IRC, DeVecchi continued to champion refugee issues as an adjunct senior fellow at CFR, a position he held until he retired in 2004. His many accolades include the Peacemakers Award from the Episcopal Diocese of Washington and an honorary doctorate from Yale.
Arthur A. Hartman (b. 1926) was a career Foreign Service officer who holds the distinction of being Washington's longest-serving ambassador to the Soviet Union. A native of Flushing, Queens, Hartman served in the Army Air Corps during World War II. After the war he graduated from Harvard University and then enrolled at Harvard Law School. He quit after a year to work on the administration of the Marshall Plan in Europe. He then joined the U.S. Foreign Service, where he distinguished himself in a variety of postings. In 1977 Jimmy Carter named him to be the U.S. ambassador to France, making him only the second career Foreign Service officer named to the post since the end of World War II. Four years later, Ronald Reagan named him U.S. ambassador to the Soviet Union. During his six years in Moscow, Hartman worked with four different Soviet leaders and dealt with a variety of crises, including the downing of Korean Air Lines Flight 007 by a Soviet fighter jet in 1983, the killing of Major Arthur Nicholson by a Soviet sentry in East Germany in 1985, and the Chernobyl nuclear disaster in 1986.
Stanley Hoffmann (b. 1928) was a premier scholar of international relations and a co-founder and long-time head of the Center for European Studies at Harvard University. Hoffmann was born in Vienna but moved to France when he was one. He finished first in his class at the Institut d'Etudes Politiques, but because he was not a French citizen he was cut off from government career opportunities. He opted to attend graduate school, and spent a year as a visiting student at Harvard. (His fellow students included Zbigniew Brzezinski, Samuel Huntington, and Henry Kissinger.) He made quite an impression, especially on McGeorge Bundy, then a professor in the Government Department. When Bundy became dean, he invited Hoffmann back to Harvard as faculty member, where he stayed for the next six decades. During the Vietnam War, Hoffman became a critic of both his mentor (Bundy) and his former colleague (Kissinger). Hoffmann wrote extensively on French politics as well as American foreign policy and international relations. His nineteen books include Gulliver's Troubles: or, the Setting of American Foreign Policy (1968), Primacy or World Order: American Foreign Policy since the Cold War (1980), and Gulliver Unbound: America's Imperial Temptation and the War in Iraq (2004). It's fair to say that Hoffmann was "one of the great professors of our time."
Andrew Kohut (b. 1942), one of America's great pollsters, was the founding director of the Pew Research Center. A New Jersey native, Kohut earned his undergraduate degree at Seton Hall University and was working on a graduate degree at Rutgers University when he landed a part-time job at Gallup. He never looked back. He eventually became president of Gallup before leaving to start Princeton Survey Research Associates. In 1990, he became the founding director of surveys for the Times Mirror Center for the People and the Press. Three years later, the Times Mirror Center became the Pew Research Center for the People & the Press, the forerunner to the Pew Research Center. Kohut was a driving force behind the Pew Global Attitudes Project, which remains the best source of data on public opinion around the world. Kohut wrote four books and was the past president of the American Association of Public Opinion Research, which in 2005 gave him its award for Exceptionally Distinguished Achievement.
William Pfaff (b. 1928) was a syndicated columnist and long-time critic of U.S. foreign policy. Born in Iowa, Pfaff grew up in Georgia and graduated from the University of Notre Dame. He served in the U.S. Army in Korea. His first book, written with Edmund Stillman, was The New Politics: America and the End of the Postwar World. He went on to write seven more books, including Power and Impotence: The Failure of America's Foreign Policy (1966), Barbarian Sentiments: How the American Century Ends, (1989), and The Irony of Manifest Destiny: The Tragedy of America's Foreign Policy (2010). Pfaff's syndicated column, which ran in the International Herald Tribune for twenty-five years, expounded on the theme that ran through his books: American foreign policy was too often naïve, short-sighted, and dangerous. He also wrote extensively for the New Yorker and the New York Review of Books. Pfaff's wife said that "he lashed out at America because he loved it, but he became sadder and sadder about the nation that was so great, yet was belittling itself. He wanted America to stay home and fix its own country."
John Steinbruner (b. 1941) was an influential political scientist and long-time head of the Foreign Policy Studies Program at the Brookings Institution. A graduate of Stanford University, Steinbruner earned his Ph.D. in political science at MIT. His dissertation eventually became The Cybernetic Theory of Decision, one of the classic works on foreign-policy decision-making. Steinbruner joined the Brookings Foreign Policy Studies Program in 1978 and directed its work for the next eighteen years. In 1999, he left Brookings to become a professor public of policy at the University of Maryland and to lead its Center for International and Security Studies (CISS). Over the course of his career, Steinbruner wrote widely and well on a range of issues, including nuclear command and control, defense spending, biological weapons, and the consequences of climate change. He also shaped several generations of foreign policy analysts. As a statement on the CISS website puts it, "Dr. Steinbruner rarely passed up an opportunity to engage in a spirited conversation about security policy, listening carefully to questions and different points of view, and challenging others to rethink the assumptions that lay beneath their analysis."
Robert E. White (b. 1926) was a career Foreign Service officer and staunch defender of human rights in Latin America. He served widely in the region, including a stint as U.S. ambassador to Panama, before being named as the U.S. ambassador to El Salvador in 1980. That December, four churchwomen, two of whom had been White's guests at the U.S. embassy the night before, were kidnapped, raped, and murdered. He quickly (and correctly) concluded that they had been killed by government death squads. But his insistence on that point and his broader reputation as a human-rights crusader put him at odds with the Reagan administration, which took office in January 1981 looking to do more to aid the El Salvadoran government in its fight against leftist rebels. White was recalled to Washington by Secretary of State Al Haig a week after Inauguration Day. When he then gave congressional testimony criticizing the El Salvadoran government, he was forced out of the U.S. Foreign Service. White subsequently became president of the Center for International Policy, a research and advocacy group that promotes transparency and accountability in U.S. foreign policy.
John C. Whitehead (b. 1922) was deputy secretary of state from 1985 to 1989. Whitehead was once called the "chairman of the establishment," and it's easy to see why. A graduate of Haverford College and Harvard Business School, as well as a veteran of D-Day and Iwo Jima, he joined Goldman Sachs in 1947, eventually rising to become chairman. He retired from that position in 1984, with plans to write a book. But several months later, then-Secretary of State George Shultz persuaded him to join the State Department. Whitehead focused particularly on relations with Eastern Europe, and his penchant for speaking bluntly rather than diplomatically occasionally got him in trouble with the White House. After leaving the State Department, he served on the boards of numerous organizations, including as chairman of the United Nations Association of the USA and chairman of the Brookings Institution. After 9/11, he chaired the Lower Manhattan Development Corporation, which has led the rebuilding of lower Manhattan in the wake of the 9/11 attacks.
Other Americans who had an impact on foreign policy and who died in 2015 include: Emma Didlake, the oldest known World War II veteran; Robert Herzstein, a historian who helped uncover UN General Secretary Kurt Waldheim's ties to Nazi war crimes; Rev. Theodore Hesburgh, the long-time president of the University of Notre Dame whose extensive activities included being the Vatican's representative to the International Atomic Energy Agency from 1956 to 1970; George "Meadowlark" Lemon, a Harlem Globetrotter who epitomized American "soft power" by entertaining millions of people around the world; Henry Rowen, a former president of the RAND Corporation who resigned after a RAND copy of the Pentagon papers was leaked; Tibor Rubin, a Hungarian-born survivor of the Mauthausen concentration camp whose Medal of Honor was delayed fifty-five years because of ant-Semitism; Marlene Sanders, one of the first women to report on the Vietnam war from the ground; and Howard J. Wiarda, a leading scholar of comparative politics in Latin America.
Other posts in this series:
Ten Foreign Policy Notables Who Died in 2020
Ten American Foreign Policy Notables Who Died in 2019
Ten American Foreign Policy Influentials Who Died in 2018
Ten American Foreign Policy Influentials Who Died in 2017
Ten American Foreign Policy Influentials Who Died in 2016
Ten Americans Who Died in 2014 Who Shaped U.S. Foreign Policy
Ten Americans Who Died in 2013 Who Shaped U.S. Foreign Policy