What's Worth Reading This Summer?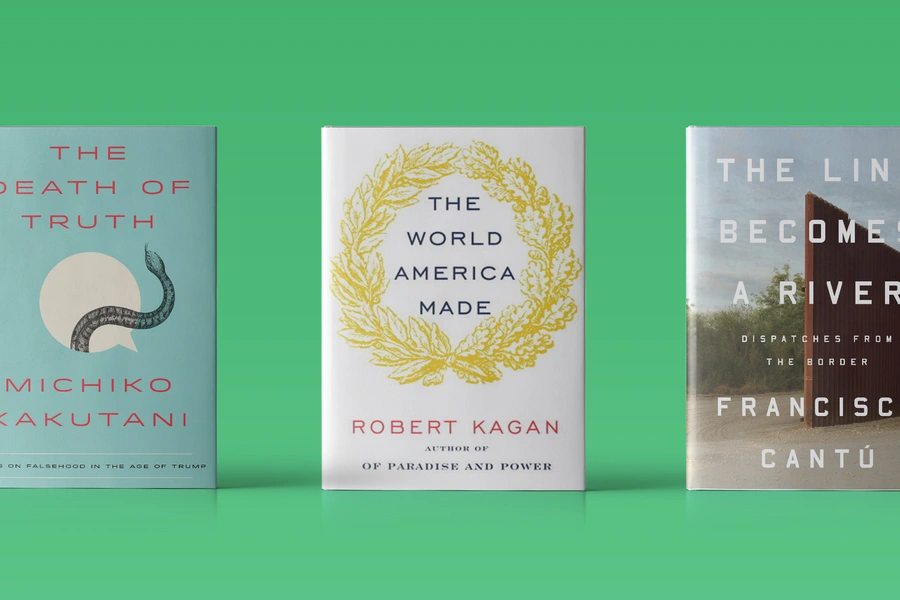 CFR.org editor Bob McMahon and I recorded our annual summer reading episode of CFR's "The World Next Week" podcast. Carlos Lozada, the nonfiction book critic at the Washington Post, joined us for the conversation. We spent a fair bit of time asking Carlos questions about his craft. We eventually moved on to discuss a book we have read, a book we intend to read, and a book to take to the beach. That at least was the plan. As you can see below, we strayed from our guidance.
Carlos's picks were:
What He Has Read. The Line Becomes a River: Dispatches from the Border, by Francisco Cantú. In this memoir of his nearly four years as a border patrol agent, Cantú describes the violence at America's southern border. It's full of moving personal experiences and argues against building a wall.
The List: A Week-by-Week Reckoning of Trump's First Year, by Amy Siskind. What started as a list among friends turned into a viral sensation and now this book. Siskind, a former Wall Street executive, compiled a weekly list of actions taken by the Trump administration that she thinks pose a threat to American democracy. The list includes stories that dominated the front page as well as smaller but equally consequential decisions that otherwise would have gone unnoticed or been forgotten.
The Plot Against America, by Philip Roth. In this novel, Roth imagines an alternative history in which Charles Lindbergh defeats FDR in the 1940 election. The book follows a family in Newark, New Jersey living in an America led by an isolationist and anti-Semitic Lindbergh.
What He Plans to Read. The Death of Truth: Notes on Falsehood in the Age of Trump, by Michiko Kakutani. How did the truth become endangered in modern America? Kakutani, the former chief book critic for the New York Times, seeks to answer this question by identifying the trends underpinning the current flood of "fake news," conspiracy theories, and information warfare. It's a provocative diagnosis of America's current political discourse.
Beautiful Country Burn Again: Trump's Rise to Power and the State of the Country that Voted for Him, by Ben Fountain. Fountain argues that America may be in the midst of an existential crisis. But it wouldn't be the first time. He identifies the Civil War and Great Depression as two other moments where America had no choice but to reinvent itself. This book is about the 2016 election that Americans are still grappling to understand intimately fused with lessons from history.
What He Plans to Read at the Beach. Magpie Murders: A Novel, by Anthony Horowitz. Who doesn't love a good mystery? Susan Ryeland is a book editor working on yet another crime novel. However, she soon becomes a detective herself as she suspects that the novel she's editing may not be fiction after all.
The Journalist and the Murderer, by Janet Malcolm. Originally published in two parts in The New Yorker, this book is about Jeffrey McDonald's lawsuit against the true crime author Joe McGinniss. Malcolm uses the case to assess a much larger theme: ethics in journalism.
The Power Broker: Robert Moses and the fall of New York, by Robert A. Caro. Caro won the Pulitzer Prize for his story of Robert Moses—a giant of New York politics and urban planning in the mid-twentieth century.
Carlos will also be reading some classic children's books with his family, including Harriet the Spy and The Long Secret by Louise Fitzhugh. These stories following the adventures of a young, but bright spy named Harriet.
His Favorite Agatha Christie Book. The Secret Adversary, by Agatha Christie. This classic detective novel introduces readers to Tommy Beresford and Prudence "Tuppence" Cowley who start a business in post-World War I London called "The Young Adventurers." Their first assignment? Finding an American millionaire's lost cousin.
Bob's picks were:
What He Has Read. Grant, by Ron Chernow. A New York Times bestseller, Grant sheds light on the often misunderstood life and career of the Union general turned president, Ulysses S. Grant. Chernow's biography breaks down urban legends and dispels rumors to provide the complete story of how an ordinary man turned extraordinary.
What He Plans to Read. Tailspin: The People and Forces Behind America's Fifty-Year Fall—and Those Fighting to Reverse It, by Steven Brill. Brill asks perhaps the most pressing question of the moment: "Is the world's greatest democracy and economy broken?" He lays out what is broken in America from income inequality to infrastructure. But he doesn't just identify the problems, he also suggests who might be able to fix them.
What He Plans to Read at the Beach. Lagos Noir, edited by Chris Abani. This collection of thirteen short stories takes readers on a journey through the bustling coastal city of Lagos, Nigeria. There they get to see both the bright and dark sides of Africa's largest city.
A Book He Has Read More Than Once: The Lord of the Rings by J. R. R. Tolkien. This fantasy trilogy with its epic story of good versus evil in the quest for the One Ring never seems to lose its relevance or popularity.
My picks were:
What I Have Read. The World America Made, by Robert Kagan. Back in 2012, Kagan warned that if the United States turned its back on problems abroad to focus on problems at home it risked committing "preemptive superpower suicide." His slim volume makes an even more compelling read today in light of President Donald Trump's hostility to America's post-World War II foreign policy.
What I Plan to Read. Stalin: Waiting for Hitler, 1929-1941, by Stephen Kotkin. The first volume of Kotkin's planned trilogy of Stalin was named a finalist for the Pulitzer Prize. The second volume details how Stalin consolidated power and found himself hurtling toward a confrontation he wanted to avoid with Adolf Hitler.
What I Plan to Read When It Is Published in September. The Jungle Grows Back: America and Our Imperiled World, by Robert Kagan. Due out on September 18, The Jungle Grows Back continues the argument Kagan made in The World America Made: an American retreat from global leadership will mean a more dangerous and less prosperous world.
What I Plan to Read at the Beach. Heat: An Amateur's Adventures as Kitchen Slave, Line Cook, Pasta-Maker, and Apprentice to a Dante-Quoting Butcher in Tuscany, by Bill Buford. Buford quit his job at the New Yorker to go work at an upscale Italian restaurant in New York City. His story of what he learned as he tried to master the complexities of his new profession won rave reviews when it was published back in 2006.
A Book I Have Long Wished to Read. Middlemarch by George Eliot. Mary Ann Evans, who wrote under the pen name of George Eliot, set her "study of provincial life" in the fictitious town of Middlemarch in the English Midlands during the early nineteenth century. Its many characters encounter timeless issues, like marriage, politics, religion, and societal expectations.
If you are looking for good books to read this summer, you should also consider reading one of these terrific recent books by my CFR colleagues:
You can find past summer reading lists here, here, here, here, here, and here.
Corey Cooper and Angela Peterson assisted in the preparation of this post.