Campaign Foreign Policy Roundup: President Trump's New Land-Mine Policy
Each Friday, I look at what the presidential challengers are saying about foreign policy. This week: Democrats vow to reverse the Trump administration's new land-mine policy, the candidates participate in CNN "town hall" meetings, and the New York Times unveils the results of its candidate foreign policy questionnaire.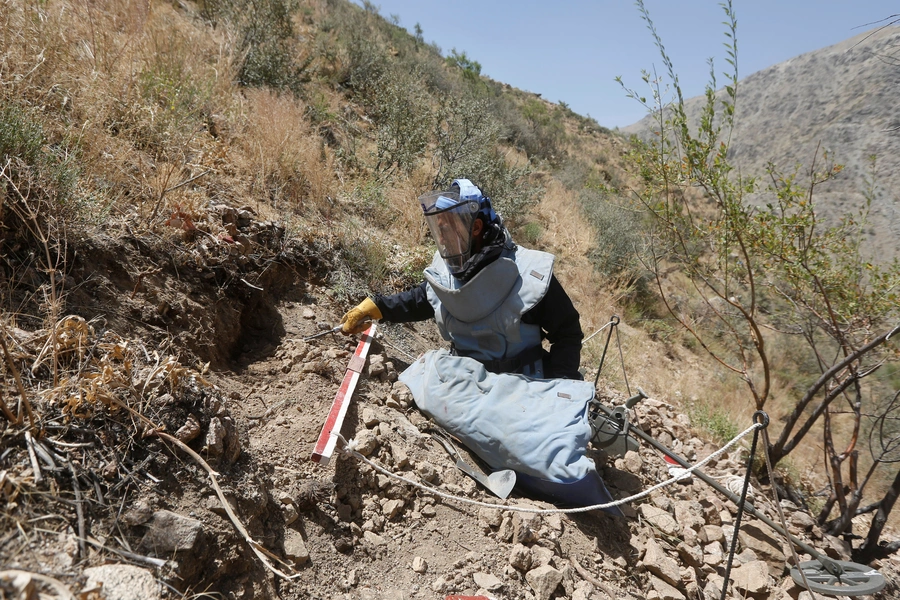 Lost in last week's speculation about who might win the Iowa caucuses and what President Donald Trump might say in the State of the Union address was Friday's announcement that the administration has "canceled the Obama administration's policy to prohibit United States military forces from employing anti-personnel landmines outside of the Korean Peninsula." The new policy authorizes regional "combatant commanders, in exceptional circumstances, to employ advanced, non-persistent landmines specifically designed to reduce unintended harm to civilians and partner forces." 
The Obama administration moved in 2014 to limit the U.S. military's use of land mines to the Korean Peninsula. The decision partly reflected doubts about their utility. The United States hasn't used land mines in either Afghanistan or Iraq because of the calculation that the threat they posed to U.S. troops on a fluid battlefield outweighed any benefits. The decision also reflected a desire to close the diplomatic gap that had emerged on the topic between the United States and most of its friends and allies. One hundred and sixty-four countries have signed the 1997 Convention on the Prohibition of the Use, Stockpiling, Production and Transfer of Anti-Personnel Mines and on their Destruction, better known as the Ottawa Treaty. The United States, however, which encouraged the treaty's negotiation, hasn't signed it. (Neither has China, Iran, or Russia.) President Barack Obama said back in 2014 that "we're going to continue to work to find ways that would allow us to ultimately comply fully and accede to the Ottawa Convention." 
Most of the Democratic challengers were quick to condemn the Trump administration's policy shift and vowed to reinstate the Obama policy should they make it to the White House. Elizabeth Warren's reaction was typical. She tweeted: 
Innocent civilians are the main casualties of landmines. This is an abhorrent decision that won't make America any safer, and could cause untold damage. As president, I will reverse this decision and work with our allies to eliminate landmines. https://t.co/eeGtthsNfE

— Elizabeth Warren (@ewarren) February 1, 2020
Less clear is which, if any of the candidates, would sign the Ottawa Treaty. In practice, it hardly matters. The odds that any Democratic president could get the sixty-seven votes needed to secure the Senate's advice and consent is vanishingly small.
Candidates in Their Own Words
CNN held "town hall" meetings this week in New Hampshire with eight Democratic candidates. Pete Buttigieg, Deval Patrick, and Bernie Sanders weren't asked any foreign policy questions. Joe Biden, Amy Klobuchar, Tom Steyer, Andrew Yang, and Warren each got at least one. When asked about Russian interference in U.S. elections, Biden said that the United States should "respond in kind" and then went on to say that he isn't worried just about the Russians:
We also have to make it clear the Chinese, the Chinese are engaging in similar practices, not nearly as in depth, not nearly as significant, but they're real. We have to stand up and organize the world. The world is not a self-organizing operation. It requires American leadership.

And what's happened is we've lost our credibility around the world to convince our allies and our friends that, in fact, we are on the right page, that we should all work together, because we've walked away from them.
 Steyer was asked if he had the resume to be president. He answered:
Well, the only thing I can think you're talking about is foreign policy. I've traveled all over the world and done business all over the world with governments and with big business people. So when I think about what's going to be necessary to achieve, it's going to have the judgment and experience to understand how the world works. And actually, I do have that experience….

And when I look at what's happened in terms of the foreign policy establishment in Washington, D.C., over the last 20 years, I feel as if what we really need is judgment, the kind of judgment that Barack Obama had as a state senator from Illinois as opposed necessarily to the kind of experience being in the foreign policy establishment in Washington, D.C.
Warren was asked if she would move the U.S. embassy in Israel back to Tel Aviv. Rather than offer a yes/no answer, she laid out her vision of how to broker a peace between Israelis and the Palestinians:
We need to encourage both Israel and the Palestinians to negotiate with each other. The United States should not be putting a thumb on the scale, should not be saying in these negotiations, "We stand only with one party." We should recognize that Israel has a right to its security. The Palestinians have a right to self-determination and to be treated with respect.

The two-state solution has been the official policy of the United States and of Israel for nearly 70 years now. How do you make that happen? You want to be a good friend to Israel and to the Palestinians. Keep pushing them to the negotiating table. Let them negotiate, for all of the pieces they want, how they create a long-term, sustainable home for Palestinians and a safe, stable home for the Israelis.

But we–our job is to get them to the negotiating table and stop handing out for political reasons just favors to one side and hurting the other. That does not in the long run move that region closer to peace and it does not treat the people in the region with the respect they deserve.
Given speculation that Israel may move soon to annex large parts of the West Bank, it's an open question how much will be left to negotiate should Warren make it to the White House.
Yang was asked how he viewed the killing of Iranian General Qasem Soleimani. Yang used the question to make the case for Congress's war powers:
General Soleimani was a disproportionate step in a conflict between us and Iran that led us to the brink of war, again, a war that virtually no American wanted any part of.

So I would never have put us in that position in the first place. I would certainly never escalate conflicts based upon a provocative action that was not commensurate with what had happened before. I would tear up the AUMF [the authorization to use military force] and return the power to declare war back to Congress, where it belongs in our Constitution.

The Congress clearly has the ability to declare war in our Constitution, but Congress has given up that authority to the executive branch for the last 19 years and counting. We have to return to first principles and say that it should be an act of Congress to declare war, and then invest in diplomacy and alliances around the world so that our allies know that we're not going to act abruptly or unilaterally without being in partnership with them.
No one asked the tech entrepreneur how he would write the use-of-force legislation so that it empowers the president to meet the threat in question but also prevents the president from using that authority in ways Congress never intended. That, after all, has been the core criticism of the authorizations to use military force that Congress passed for Afghanistan in 2001 and Iraq in 2002.
Klobuchar was asked whether she would increase or decrease the number of U.S. troops in the Middle East. She responded:
Well, overall, I think we need less. And one of my major priorities will be to bring our troops home from Afghanistan. This president has said he would do it, but he hasn't done it. And, in fact, what he did do was send out an ill-fated tweet inviting the Taliban to Camp David and then decided that wasn't a good idea.

And I think the key is to show some leadership, instead of just doing tweets. And that means the negotiations between the Ghani administration in Afghanistan and, of course, the Taliban, that's what's going to have to happen. And for me, the guide post will be keeping the democracy reforms in place, trying to do all we can to keep those gains that they've made for women's rights in Afghanistan, and, of course, working with our allies, something that this president does not seem to be able to do very well. Including India and Pakistan could be helpful in the long term when it comes to keeping some of the gains that we've seen in Afghanistan.
A question worth pondering is whether the objectives Klobuchar outlined are compatible. The Taliban could well come to power after U.S. forces leave Afghanistan, and they aren't likely to respect either women's rights or democratic reform.
Besides speaking with CNN, Klobuchar also appeared on New Hampshire Public Radio's The Exchange. She was asked how she "would repair the damage the Trump administration has done to relationships with our international allies." She answered:
So in my first 100 days, I would meet with our allies, all of them. And this is a president that, look at the Iranian agreement, he got us out of the agreement and he let Europe hold the bag and then gave all the leverage to China and Russia. I would negotiate ourselves back into the Iranian nuclear agreement. I would take on the Russian agreements. One of them is going to be lapsing, the new START agreement, right when a new president comes in, that is critical for the world's safety.
Whether one agrees with Klobuchar's answer, it's a useful reminder that any Democrat who wins in November will need to be ready to hit the ground running come Inauguration Day. That's easier said than done. It can take a hundred days or more to fully staff a new administration.
What the Pundits Are Saying
The New York Times sent a foreign policy survey to the Democratic challengers. Almost all of the candidates responded. The topics included Afghanistan, China, Israel, Russia, and the use of military force. The award for brevity goes to Andrew Yang. He answered twenty-two questions with a simple "yes" or "no." The Times' David Sanger and Maggie Astor analyzed the responses. The title of their piece telegraphs their conclusion: "Democratic Candidates Reject Trump's Foreign Policy, But Don't Agree on Theirs."
Dominic Dudley reviewed where the Democratic candidates stand on arms sales to Saudi Arabia. Ten out of eleven explicitly oppose selling Riyadh more weapons. Michael Bloomberg has yet to say where he stands.
Josh Rogin argued that Sanders's "history of making common cause with socialist authoritarian regimes dating back to the 1980s" will come back to haunt him in any general election race against Trump.
Michael Hirsh offered a different take. He argued that Sanders's success in Iowa is reshaping the Democratic Party's approach to foreign policy and ushering "in a new era for both parties: the post-post-Cold War era."
Michael Tracey argued that Tulsi Gabbard's appeal in New Hampshire, where her support hovers in the mid-single digits, owes to the fact that "she has made fundamentally transforming U.S. foreign policy her central campaign theme."
Campaign Updates
Republican Joe Walsh ended his long-shot bid for the Republican presidential nomination today. He tweeted:
I'm suspending my campaign, but our fight against the Cult of Trump is just getting started. I'm committed to doing everything I can to defeat Trump and his enablers this November. I can't do it alone. Join me at https://t.co/d40HA9h2Kz.

— Joe Walsh (@WalshFreedom) February 7, 2020
The former Illinois congressman won just 1.1 percent of the vote on Monday night in Iowa's Republican caucuses. Bill Weld now stands as Trump's last remaining Republican challenger, not that he looks to pose a significant threat. The former Massachusetts governor fared only marginally better than Walsh in the Iowa caucuses, earning 1.3 percent of the vote.
The Democrats hold their eighth round of debates tonight at St. Anselm College in Manchester, New Hampshire. ABC, WMUR-TV (the local ABC affiliate), and Apple News are the hosts. The DNC announced last week it is removing the individual donor requirement previously needed to qualify for the debate stage. That change opens the door to Bloomberg, who is self-funding his campaign, to qualify for a debate. He now just needs to hit a polling threshold of 10 percent in a national poll—RealClearPolitics shows him hovering right around that mark—or 12 percent in a poll of Nevada or South Carolina. The Democrats are set to debate in Las Vegas on February 19 and Charleston on February 25. Bloomberg, however, isn't on the ballot in either state.
There are four days until the New Hampshire primary, and 270 days until Election Day.
Margaret Gach and Anna Shortridge assisted in the preparation of this post.