Five Movies Worth Watching About Conflict at Sea
Every summer Friday, we suggest foreign-policy-themed movies worth watching. This week: films about stormy relationships and battles at sea.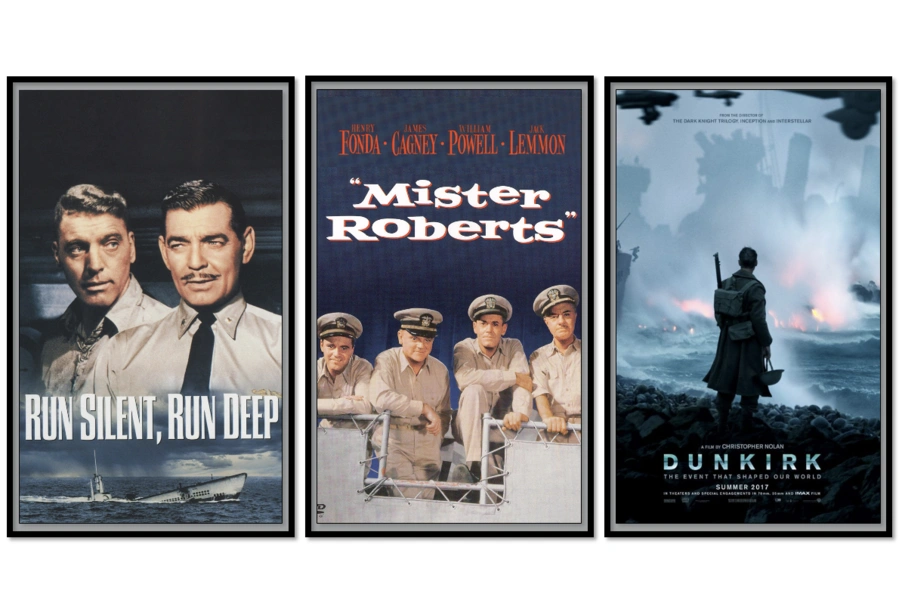 It's Friday and time for another set of foreign-policy-themed movie recommendations. Hopefully, you are spending some summer days relaxing at the beach or on the water. For when you head back inside, this week we're recommending films about less peaceful times at sea.  
In keeping with our rule to only pick a film once for these summer lists, you won't see Crimson Tide today as we recommended it last year. We are also sticking to English-language movies. So great films like Das Boot don't appear below either.
With that said, here are five movies about conflict at sea, plus a bonus pick from a colleague.
Mister Roberts (1955). Stationed in a quiet corner of the Pacific during the last days of World War II, the crew of the U.S. cargo ship Reluctant has spent more time cooling their heels under their domineering captain (James Cagney) than in combat. Unhappy that he is far from the fighting, Lieutenant (junior grade) Doug Roberts (Henry Fonda) wants to be transferred closer to the action. Meanwhile, the bored and bawdy crew play practical jokes as small acts of rebellion but become mystified when Roberts suddenly goes from challenging the overbearing captain to obeying him. Based on Thomas Heggen's 1946 novel and the 1948 Broadway play—in which Fonda also starred in the lead role—Mister Roberts offers a comedic look at the tedium of wartime and defiance of petty tyranny. John Ford directed half the film before Mervyn LeRoy took over. Jack Lemmon won the Oscar for best supporting actor for playing the bumbling Ensign Frank Thurlowe Pulver. Mister Roberts was also nominated for best picture and best sound. You can watch it on Amazon Prime, Google Play, or YouTube.
Run Silent, Run Deep (1958). Demanding submarine Commander P.J. Richardson (Clark Gable) is training a new crew for a sole purpose: to sink the Japanese destroyer that sank the last submarine he commanded. Defying orders, he ventures into the heart of Japan's Bungo Straits, which separates the Japanese home islands of Kyushu and Shikoku. Danger lurks for Richardson both above and below the ocean surface as his resentful executive officer (Burt Lancaster) and anxious crew rebel in the face of his obsession. Directed by Robert Wise, Run Silent, Run Deep was adapted from the 1955 novel of the same name by Captain Edward L. Beach, Jr., who also headed the first undersea circumnavigation of the world in 1960. You can stream Run Silent, Run Deep on Vudu.
The Hunt for Red October (1990). Rogue Soviet captain Marko Ramius (Sean Connery) decides to defect to the United States, taking the Soviet Union's latest high-tech nuclear submarine—the Red October—and its unsuspecting crew on a course toward the U.S. east coast. But Washington doesn't know what he has in mind. With the Soviet Navy soon in pursuit, CIA analyst Jack Ryan (Alec Baldwin) tries to persuade the U.S. Navy brass and then the skeptical captain of a U.S. fast-attack submarine tracking the Red October (Scott Glenn) that Raimus plans to defect to the West, not attack it. One wrong move could start all-out war. Based on Tom Clancy's debut 1984 novel, which led to the bestselling Jack Ryan series of books and film adaptations, The Hunt for Red October is a thrilling mix of Cold War espionage and action. Director John McTiernan's all-star cast also included Tim Curry, James Earl Jones, Sam Neill, Stellan Skarsgård, and Fred Thompson. The Hunt for Red October won the Oscar for best sound effects and was nominated for two others. You can find it on Google Play, Pluto, or YouTube.
Captain Phillips (2013). On April 8, 2009, four Somali pirates seized the cargo ship Maersk Alabama and its sailors. It was the first time since the early 1800s that pirates took control of a U.S.-flagged vessel. When the pirates discovered that they couldn't control the massive ship, they took Captain Richard Phillips hostage on a lifeboat, triggering a five-day standoff with the U.S. Navy. Director Paul Greengrass brought Phillips's harrowing story to the screen, with Tom Hanks playing the lead role. The movie is based on Phillips's 2010 memoir, A Captain's Duty: Somali Pirates, Navy SEALS, and Dangerous Days at Sea, coauthored with Stephan Talty. Although Phillips has been hailed as a hero, some of the Maersk Alabama's crew members have criticized him for endangering the ship and their lives by sailing too close to Somalia's coast despite warnings of possible pirate attacks. Still, Captain Phillips's nail-biting sequences of negotiation and action garnered it six Oscar nominations, including for best picture. You can watch it on Amazon Prime, Vudu, or YouTube.
Dunkirk (2017). Sometimes retreats are victories. In one of the most dramatic moments of World War II, more than 338,000 Allied soldiers were evacuated from the beaches of Dunkirk, France, over the course of nine days in late spring 1940. Their evacuation across the English Channel, which was pulled off by a motley fleet of Royal Navy ships, fishing crafts, yachts, and lifeboats, was rightly labelled a "miracle of deliverance" by British Prime Minister Winston Churchill. Dunkirk's writer, producer, and director Christopher Nolan chronicles the perilous operation through the eyes of the stranded British infantrymen, the fishermen who come to their rescue, and the pilots tasked with defending their escape. Filming on location at Dunkirk, Nolan ramped up the tension and realism with a script light on dialogue and an ensemble cast filled with young, relatively unknown British actors, such as Fionn Whitehead, Aneurin Barnard, and Barry Keoghan. Dunkirk won three Oscars for editing and sound and was nominated for five others, including best picture and Nolan's first nod for best director. You can find it on Apple TV, HBO Max, or YouTube.
This week we asked Paul Angelo to make a bonus pick. Paul is a fellow for Latin America Studies at CFR. He is also a proud graduate of the U.S. Naval Academy and a former active-duty naval officer who was deployed to posts across the world and continues to serve in the U.S. Navy Reserve. Paul chose:
The Caine Mutiny (1954). An unstable captain (Humphrey Bogart) drives his crew to the breaking point during World War II. The Caine Mutiny is based on the 1951 Pulitzer Prize-winning novel of the same name by Herman Wouk, who enlisted in the U.S. Navy after the attack on Pearl Harbor. Directed by Edward Dmytryk, the movie was nominated for seven Oscars, including best picture and best actor for Bogart. Paul says: "The conflict brewing in this classic takes place on board the minesweeper USS Caine, where an unpopular, ethically deficient, and mentally unfit captain is relieved by his executive officer during at-sea operations. The film offers a window into shipboard life and navy culture and customs, even though the U.S. Navy objected to the depiction of the crew's unprofessionalism. But it's most memorable because of the lessons it holds for those in management and leadership roles—especially when lives are on the line. My favorite quote, which embodies the surface navy's self-deprecating disposition: 'The first thing you've got to learn about this ship is that she was designed by geniuses to be run by idiots.'" You can stream The Caine Mutiny on Amazon Prime, Google Play, or YouTube.
Next week we will offer suggestions for films about human rights.
Check out our other recommendations from this summer:
And here are our recommendations from last summer:
Still looking for something to watch? You can find all film (and book) recommendations from The Water's Edge here.