Five Foreign-Policy Movies Worth Watching About Being in Combat
Every summer Friday, we suggest foreign-policy-themed movies worth watching. This week: films about the experience of war.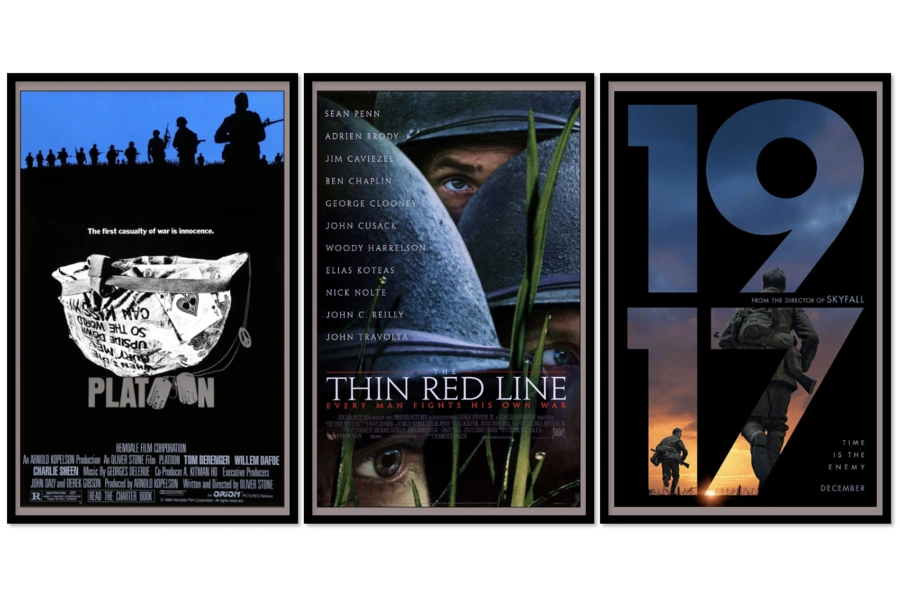 Another Friday brings another set of foreign-policy movie recommendations. This week we are looking at movies that capture the breadth of experiences and emotions of fighting in a war.
We won't rehash all the rules we follow in making our selections. Just know that we pick films only once. We have already recommended All Quiet on the Western Front, Born on the Fourth of July, Full Metal Jacket, Letters from Iwo Jima, M*A*S*H, Paths of Glory, The Best Years of Our Lives, The Deer Hunter, and The Outpost. So they aren't on today's list.
Here are five movies about being in combat, plus a bonus recommendation from an incoming colleague with personal experience with war.
Apocalypse Now (1979). Captain Benjamin Willard (Martin Sheen) is sent upriver to "terminate with extreme prejudice" rogue Special Forces officer Colonel Walter Kurtz (Marlon Brando). Kurtz, a decorated war hero now presumed to be insane, lives in neutral Cambodia, worshipped by Montagnard tribesmen as a demigod. But the further Willard travels into the jungle, the more what he sees and does erodes his humanity and reveals the callous absurdities of the war. Director Francis Ford Coppola says that Apocalypse Now doesn't qualify as an "anti-war" film because it includes "stirring scenes" that "inspire a lust for violence." A typhoon, Sheen's heart attack, an unprepared Brando, and other obstacles stretched the filming of the adaptation of Joseph Conrad's 1899 novel Heart of Darkness from the planned three months to more than a year. Coppola's persistence ultimately paid off. Apocalypse Now was nominated for eight Oscars, including best picture, and won two: best cinematography and best sound. The American Film Institute ranks Apocalypse Now the thirtieth best American film of all time. You can watch Coppola's final edit, released in 2019, on Amazon Prime, Google Play, or YouTube.
Platoon (1986). Director Oliver Stone, a Yale University drop out (twice) who enlisted in the Army and asked to be sent to Vietnam, wrote Platoon based on his own experiences as an infantryman. Arriving in Vietnam as a volunteer soldier, Chris Taylor (Charlie Sheen) is quickly thrust into the power struggles of his new unit. The main contenders are Sergeant Elias (Willem Dafoe), a tough but stabilizing leader, and Staff Sergeant Barnes (Tom Berenger), a violent and volatile man. Their struggle for control over the young Taylor and the rest of the platoon has deadly consequences. With the tagline, "the first casualty of war is innocence," Platoon examines the morality of the war and how it forever changes the people fighting it. Platoon was the first in Stone's trilogy of films about Vietnam and its aftermath, followed by Born on the Fourth of July in 1989 and Heaven & Earth in 1993. Platoon was nominated for eight Oscars and won four, including best picture and best director for Stone. The American Film Institute ranks it the eighty-sixth best American film of all time. You can watch Platoon on Pluto TV, Showtime, or YouTube.
The Thin Red Line (1998). After he goes AWOL in 1942, Private Robert E. Lee Witt believes he has found paradise among carefree villagers of the South Pacific who live off the land. But he is soon discovered and forced back into service. His new company is preparing to assault a critical Japanese outpost on Guadalcanal. Director Terrence Malick captures the spectrum of camaraderie and loneliness, ambition and fear among the soldiers before and during the invasion. Malick studies not only the relationships between people but also between people and nature as the soldiers fight their way into the lush and wild island. The impressive cast includes Jim Caviezel, Sean Penn, Adrian Brody, Nick Nolte, John Cusack, Woody Harrelson, and George Clooney. The Thin Red Line is inspired by James Jones's 1962 novel of the same name, which was in turn based on Jones's own experiences at Guadalcanal. The film was nominated for seven Oscars, including best picture and best director for Malick. You can watch The Thin Red Line on Amazon Prime, Hulu, or YouTube.
The Hurt Locker (2008). Adrenaline junkie Staff Sergeant William James (Jeremy Renner) treats bomb defusal as an exhilarating art. That puts him at odds with his new support team, led by Sergeant J.T. Sanborn (Anthony Mackie), who believes that following protocol gives them all a better chance of returning from Iraq alive. Director Kathryn Bigelow explores the chaos of combat and former war correspondent Chris Hedges's thesis that "war is a drug." Mark Boal drew on his experiences as a journalist embedded with a bomb squad in Baghdad to write the screenplay, though some veterans felt the movie sensationalized how bomb defusal teams actually operate. The Hurt Locker was nominated for nine Oscars and won six, including best picture. Bigelow also became the first woman to win an Oscar for best director. You can watch The Hurt Locker on Amazon Prime, Peacock, or YouTube.
1917 (2019). British Lance Corporals Tom Blake (Dean-Charles Chapman) and William Schofield (George MacKay) are tasked with a dangerous new mission: Cross no-man's land and enemy lines to stop the next morning's assault on German forces, which is actually a trap. Adding to the urgency is the fact that Blake's brother is one of the 1,600 men scheduled to take part in the ill-fated operation. The reluctant young heroes' race to the front—and against time—is also a battle between hope and fatalism and courage and fear. Director Sam Mendes and cinematographer Roger Deakins immerse viewers in Blake and Schofield's treacherous journey by filming what appears to be one continuous take, a feat that won 1917 the Oscars for best cinematography and best visual effects. 1917 also won the Oscar for best sound mixing and was nominated for seven others, including best picture. You can watch 1917 on Amazon Prime, Showtime, or YouTube.
This week we asked Colonel Myles B. Caggins III to make a bonus pick. Colonel Caggins is joining CFR next month to spend a year as a visiting U.S. Army fellow. He is currently the director of public affairs for the Army's III Corps at Fort Hood, Texas. He was previously the spokesperson for the U.S.-led Global Coalition to Defeat ISIS in Iraq and Syria, based in Baghdad, and served three combat tours in Iraq. Colonel Caggins chose:
Mosul (2019). During the Battle of Mosul, young Kurdish policeman Kawa (Adam Bessa) is trapped in a café by ISIS fighters, who have just killed his uncle. Kawa is narrowly rescued by the elite Nineveh Province SWAT team. The team's commander Major Jasem (Suhail Dabbach) invites Kawa to join their intensely personal—and dangerous—fight to rid their city of ISIS. Michael Matthew Carnahan was inspired to write and direct Mosul by New Yorker reporter Luke Mogelson's 2017 article profiling the actual SWAT team, "The Desperate Battle to Destroy ISIS." Colonel Caggins says: "Mosul takes you on a jarring journey, behind enemy lines, with the vaunted Mosul SWAT as they fight ISIS. Mosul reminds us that combat is much more than technology and ideology—it's about people driven by strength and honor. The world must never forget the valor of Arabs and Kurds who liberated their families from the scourge of ISIS." Yes, this pick breaks our rule to only choose English-language films; Mosul is primarily in Arabic, with English subtitles. You should still watch it on Amazon Prime or Netflix.
Next week we will offer recommendations for films about conspiracies.
Check out our other recommendations from this summer:
And here are our recommendations from last summer:
Still looking for something to watch? You can find all film (and book) recommendations from The Water's Edge here.