Eight More Foreign-Policy Movies Worth Watching
Every summer Friday, we suggest foreign-policy-themed movies worth watching. This week: non-English language films from around the world.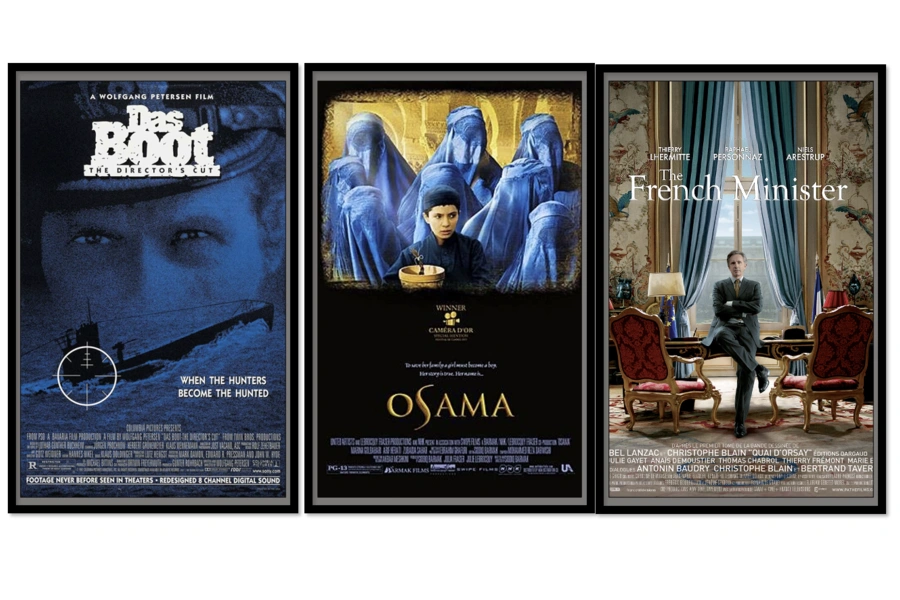 Spoiler alert! Summer is almost over. And so too is our series devoted to recommending foreign-policy-themed movies. We hope you have enjoyed our suggestions, and we wish you a wonderful Labor Day weekend. Perhaps you'll get to the beach, hang out with family and friends, fire up the barbecue, or all three. Whether you do or you don't, if you are thinking about watching a movie, we have some recommendations.  
As you know, in writing these weekly posts, we have (almost always) stuck to our rule to pick only English-language films. That wasn't because there aren't great movies in Arabic, Japanese, or Russian. There are. It's just that we aren't the best qualified to make those picks. However, we do know a lot of people who are superbly qualified, namely, the Council's many regional experts. So for our final post, we have asked several CFR fellows to recommend a film in a language other than English from their country or region of expertise. 
Because it's still our blog series, we each made a pick. Six of our colleagues also contributed a suggestion for a total eight non-English language films worth watching. 
Jim picked: 
Das Boot (1981). Sent to hunt Allied ships in the North Atlantic, the crew of the German submarine U-96, and the boat itself, are soon pushed to their limits. War correspondent Lieutenant Werner (Herbert Grönemeyer), charged with recording life on the U-boat, observes both the daily tedium and the constant threat of danger that tests the crew's physical and psychological strength. Captained by a man (Jürgen Prochnow) who is wholly unimpressed with how the Nazis are conducting the war, the U-96 encounters a series of misfortunes that cause fear and adrenaline to surge within its claustrophobic confines. Writer and director Wolfgang Petersen adapted Das Boot from Lothar-Günther Buchheim's 1973 novel of the same name, which in turn was based on Buchheim's experiences as a war correspondent aboard the U-96 and other subs. Das Boot was nominated for six Oscars, including best director and best adapted screenplay for Petersen. You can watch Das Boot on Amazon Prime, AMC On Demand, or Vudu. 
Margaret chose: 
Grave of the Fireflies (1988). The end of director Isao Takahata's wartime tragedy isn't a surprise: During the first minutes, we learn that young Japanese orphans Seiko and Setsuko have succumbed to starvation in the closing months of World War II. As Seiko's spirit reunites with his four-year-old sister's, he remembers their struggle for survival and their discovery that they can only rely on each other. Based on Akiyuki Nosaka's 1967 semi-autobiographical short story and Takahata's own wartime experience, Grave of the Fireflies is an intimate look at the victims of war and how conflict changes a society. The heart-wrenching subject is surprising considering that Grave of the Fireflies is an animated film from the legendary Studio Ghibli, which typically makes serious yet gentler children's films that audiences of any age can enjoy. But critics have hailed Grave of the Fireflies as "the most profoundly human animated film" and one of the "greatest war films" of all time. You can find Grave of the Fireflies on Apple TV or Vudu. 
Paul Angelo is a fellow for Latin America Studies at CFR. He recommends: 
Y Tu Mamá También (2001). Friends Tenoch Iturbide (Diego Luna) and Julio Zapata (Gael García Bernal) are restless after their high school graduation. In an effort to impress the beautiful Luisa Cortés (Maribel Verdú), they invite the older woman on a road trip from México City to Oaxaca to find a legendary beach. As the three travel through an evolving México, tensions simmer between the boys over their different socioeconomic statuses, competition for Luisa's affection, and relationship with each other. Director Alfonso Cuarón and his brother Carlos Cuarón received an Oscar nod for their original screenplay, and the film broke box office records in México. Paul says: "A well-known Mexican blockbuster, Y Tu Mamá También paints a portrait of the inequality, corruption, and crisis of masculinity that confronted México two decades ago as it transitioned from one-party rule to democracy and helps us understand why today México's promise still remains largely unfulfilled." You can watch Y Tu Mamá También on Amazon Prime, Google Play, or YouTube. 
Steven Cook is the Eni Enrico Mattei senior fellow for Middle East and Africa studies. He recommends:
Baran (2001). Iranian teenager Lateef (Hossein Abedini) serves tea for the workers at a construction site, many of whom are underpaid Afghan refugees who have fled the Taliban's first stint in power. One of the laborers, Nataf (Gholam Ali Bakhshi), injures his leg and sends his son Rahmat (Zahra Bahrami) to work in his place. But Rahmat is too weak to handle the heavy manual labor, and he is given Lateef's cushy position, incurring the teenager's resentment. When Lateef, however, finds himself drawn to Rahmat, he discovers an unexpected secret. Directed by Majid Majidi, Baran features the harshness of refugee life and difficulty of young love. Steven says: "Baran was a moving film. It gave an international audience, especially Americans, insight into Iran and Iranian culture to which they rarely have access. It was also beautifully filmed." You can rent Baran on Amazon Prime, Google Play, or Paramount+. 
Tom Graham is a distinguished fellow at CFR who studies Russia. He recommends:  
Leaving Afghanistan (2019). When a general's pilot son is kidnapped amid the Soviet withdrawal from Afghanistan in 1989, a unit of Soviet soldiers is sent into the mountains to rescue him before returning home. Leaving Afghanistan (whose Russian title, Bratstvo, translates to "brotherhood") follows their journey, highlighting the chaos and senseless violence of the final days of a decade-long war. Director Pavel Lungin based the film on the memoirs of veteran Nikolay Kovalyov. Though the Soviet parliament said the war was a "political mistake" shortly after its end, the Kremlin has recently been rebranding it as a victory. Tom says: Leaving Afghanistan "provides an honest portrayal of Soviet soldiers in combat, including the tensions among the soldiers and with the local population, and not only the acts of heroism that are generally portrayed in Russian/Soviet war movies. The film was controversial in Russia for that reason, with many critics blasting it as 'unpatriotic.'" You can find Leaving Afghanistan on Amazon Prime, Apple TV, or Vudu. 
Ian Johnson is the Stephen A. Schwarzman senior fellow for China studies at CFR. He recommends: 
A City of Sadness (1989). After Japan relinquished control of Taiwan to the Republic of China in 1945, the corruption and violence of the newly arrived Kuomintang (KMT) regime sparked anger across the island. The tension erupted on February 28, 1947, with mass protests that were brutally repressed by the KMT. Thirty-eight years of martial law followed. Director Hsiao-hsien Hou's A City of Sadness follows the story of the Lin family's three sons—played by Tony Chiu-wai Leung, Sung-young Chen, and Jack Kao—during the tumultuous first years of the Kuomintang's retreat to Taiwan from Mao Zedong's communist forces. Ian says: "Like his role model Yasujiro Ozu, Hou tells the story of huge social changes through one family, creating a lasting work that helps us understand why Taiwan and mainland China have drifted so far apart, and why reunification is impossible for many Taiwanese to imagine. This is a beautiful film with long, static shots where action unfolds—at first slowly but then suddenly into spasms of violence, an allegory for Taiwan's traumatic twentieth century." You can watch A City of Sadness on the Digital Archive. 
Matthias Matthijs is senior fellow for Europe at CFR. He considered recommending the German tragicomedy Good Bye Lenin!, but ultimately chose:  
The French Minister (2013). When young talent Arthur Vlaminck (Raphael Personnaz) lands a job as the speechwriter for the Minister of Foreign Affairs, he is ready to help shape France's image on the world stage. Under the confident but volatile Minister Alexandre Taillard de Vorms (Thierry Lhermitte), however, the scene he encounters is less bureaucratic efficiency and more unbridled chaos. Directed by Bertrand Tavernier, the comedy is based on the comic book Quai d'Orsay by Christophe Blain and Abel Lanzac. Matthias says: "The French Minister is a satirical take on France's decision in 2002-2003 to oppose the U.S.-led invasion of Iraq. The main character is based on French foreign minister at the time, Dominique de Villepin, and it shows you the inner workings of French diplomacy. It zeroes in on French diplomacy in the United Nations and how a once-great power is dealing with its declining influence. It really is hilarious." You can watch The French Minister on Amazon Prime. 
Manjari Chatterjee Miller is senior fellow for India, Pakistan, and South Asia at CFR. She recommends: 
Osama (2003). Directed by Siddiq Barmak, Osama was the first film produced entirely in Afghanistan after the fall of the Taliban in 2001. When an all-woman family struggles under the Taliban's restrictions against women in public life, the preteen daughter (Marina Golbahari) is persuaded to disguise herself as a boy named Osama to get a job. The desperate ruse is dangerous, and discovery is just a misstep away. Osama won the Golden Globe for best foreign language film. Manjari says: "Osama is a hauntingly beautiful movie and a must-watch for anyone who wants to know what day-to-day life under a Taliban government looked like. It reminds us that while current Taliban leaders may try to reassure the international community on human rights, this message needs to percolate down to their rank-and-file fighters to make a difference to the lives of ordinary Afghans." You can watch Osama on Amazon Prime, Hoopla, or Vudu. 
That wraps up our series for the summer. Enjoy the remaining warm and sunny days of the season. 
Check out our other recommendations from this summer: 
And here are our recommendations from last summer:
Still looking for something to watch? You can find all film (and book) recommendations from The Water's Edge here.