Five Movies Worth Watching About Love and War
Every summer Friday, we suggest foreign-policy-themed movies worth watching. This week: films about romance amid conflict.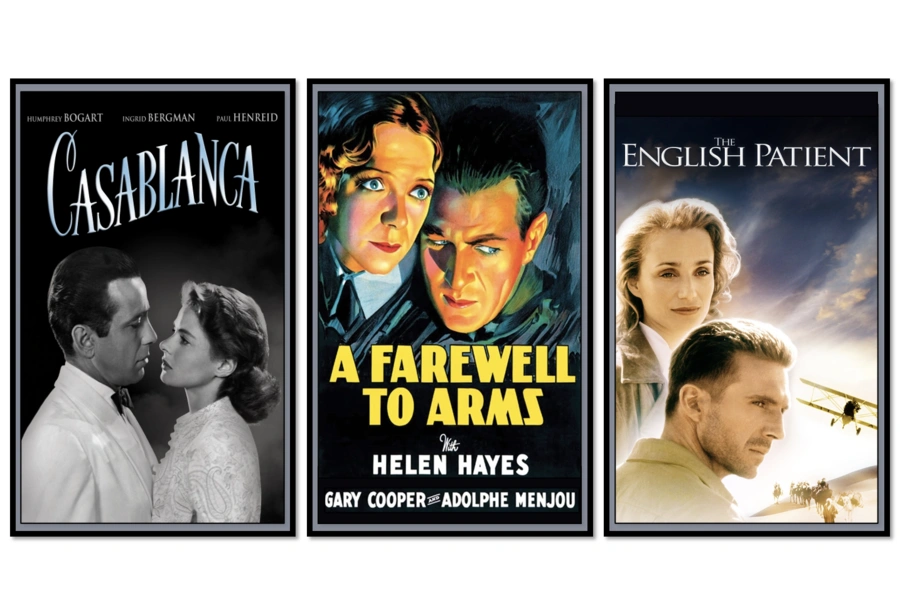 It's Friday, which means it's time for another installment of our summer movie recommendations. This week we're looking at movies about romance amid conflict.
All is fair in love and war, but we follow a few rules in making our movie choices. First, we restrict our selections to English-language films. Second, we pick movies only once for our summer lists. We recommended Dr. Zhivago, The African Queen, and The Year of Living Dangerously last summer. So they don't appear in today's list. Third, movies must be available to rent or stream online. (What's the point of a film recommendation if you can't watch it?)
Here are five movies about love and war worth watching, plus a bonus pick from a colleague.
Wings (1927). Wings won the first Academy Award for best picture in 1929, and it was the last silent film to win until 2012. When the United States enters the Great War, two men leave behind the woman they both love to become fighter pilots. As one might expect with a Hollywood love triangle, things don't go smoothly. Directed by William Wellman—a former fighter pilot who earned the nickname "Wild Bill" in World War I—Wings's realistic scenes of air combat placed it at the forefront of technical effects for its time. Appropriately, it won the Oscar for best engineering effects. Starring Clara Bow, Charles "Buddy" Rogers, and Richard Arlen, Wings was considered lost until 1992, when a nitrate print was found in an archive in Paris and restored. Today, you can stream it on Amazon Prime, Google Play, or Vudu.
A Farewell to Arms (1932). Director Frank Borzage adapted Ernest Hemingway's first bestseller, A Farewell to Arms, for the silver screen. In the Italian campaign of the Great War—where Hemingway served as a Red Cross ambulance driver and was seriously wounded by mortar fire—American ambulance driver Frederic Henry (Gary Cooper) meets English Red Cross nurse Catherine Barkley (Helen Hayes). Besotted with each other, they stop at nothing to be together even as the war tears them apart. Hemingway apparently disliked the film. While he was known for his cool and succinct prose, Borzage's trademark was passionate and lush romances—though both men had a healthy taste for tragedy. A Farewell to Arms won Oscars for cinematography and sound, and was nominated for best picture. You can stream it on Paramount+, Sling TV, or Tubi.
Casablanca (1942). Cynical American expatriate Rick Blaine (Humphrey Bogart) claims he wants no part of the war raging in Europe. That changes when his former lover (Ingrid Bergman) and her husband (Paul Henreid), a fugitive Czech resistance leader, arrive at his bar in Vichy French-controlled Casablanca. Based on the unproduced play Everybody Comes to Rick's by Murray Burnett and Joan Alison, the drama can be viewed as a political allegory, with Rick as an isolationist United States being beseeched for aid. Henreid and many other members of the cast and crew were European refugees or exiles themselves; Conrad Veidt, who plays the Nazi antagonist Major Strasser, was a vehement anti-Nazi German. No one expected Casablanca to enjoy the commercial or critical success it did. It is one of the most quoted movies of all time. It also won the Oscar for best picture, best director for Michael Curtiz, and best adapted screenplay, and was nominated for five others. The American Film Institute ranks Casablanca the third greatest American film and the best love story of all time. You can watch it on Amazon Prime, HBO Max, or YouTube.
The Best Years of Our Lives (1946). World War II has ended. Three American combat veterans, played by Dana Andrews, Frederic March, and Howard Russell, reunite with their loved ones. But war extracts physical and psychological costs, and readjusting to civilian life comes with its own battles. Director William Wyler, himself a former Air Force colonel, sought to show veterans' struggles not only in love but also in reentering society as a whole. He recruited former paratrooper Russell, who lost both his hands in an explosives accident, to play disabled sailor Homer Parrish. Russell won an honorary Oscar for "bringing aid and comfort to disabled veterans" and the Oscar for best supporting actor, making him the only person to win two Academy Awards for the same role. The Best Years of Our Lives won six other Oscars, including best picture and Wyler's second for best director. The American Film Institute ranks it the thirty-seventh greatest American film of all time. You can watch it on Amazon Prime, Apple TV, or Pluto.
South Pacific (1958). Based on the 1949 musical by Richard Rodgers and Oscar Hammerstein, South Pacific follows two couples on a Pacific island during World War II. American nurse Nellie Forbush (Mitzi Gaynor) falls for French plantation owner Emile de Becque (Rossano Brazzi) but struggles to accept his two half-Polynesian children. Meanwhile, Marine Joseph Cable (John Kerr) falls for islander Liat (France Nuyen) but worries about what his family back home will think. The relationships face further turbulence when de Becque and Cable go on an intelligence mission behind Japanese lines. Adapted from John Michener's 1947 Pulitzer Prize-winning novel, Tales of the South Pacific, the Rodgers and Hammerstein musical became a hit despite stirring controversy for depicting interracial relationships—a taboo at the time—and for its message of racial tolerance and acceptance. (The lyrics of one song are: "You've got to be taught to hate and fear.") Directed by Joshua Logan, the film version won the Oscar for best sound and was nominated for two others. You can find South Pacific on Apple TV, Google Play, or YouTube.
This week we asked Jennifer Hillman to provide a bonus pick. Jennifer is a senior fellow for trade and international political economy at CFR and a professor of practice at the Georgetown University Law Center. She recommended:
The English Patient (1996). The lives of an unrecognizable burn victim (Ralph Fiennes), a nurse haunted by death (Juliette Binoche), a Canadian intelligence agent (Willem Dafoe), and a Sikh sapper (Naveen Andrews) collide in an abandoned Italian monastery in the final months of World War II. As the patient reveals what led to his injuries, the intelligence agent seeks revenge against the man who betrayed him to the Germans while the nurse and sapper fall in love. Based on Michael Ondaatje's 1992 novel of the same name, The English Patient won nine Oscars, including best picture and best director for Anthony Mighella. The American Film Institute ranks it the fifty-sixth best love story of all time, and the British Film Institute ranks it the fifty-fifth best British film of the twentieth century. Jennifer says: "The English Patient's searingly beautiful, rich images draw you into the mystery of the multiple love stories at play. With soaring scenes from Fiennes's airplane flights over Egypt and the slow unraveling of exactly who he is and how he came to be in Italy, the film is one that, as a reviewer put it, you will want to watch once to figure out the questions and watch a second time for the answers. It's gorgeous and the acting and filming are stellar." You can stream The English Patient on Google Play, HBO Max, or YouTube.
Next week we will suggest films about conflict at sea.
Check out our other recommendations from this summer:
And here are our recommendations from last summer:
Still looking for something to watch? You can find all film (and book) recommendations from The Water's Edge here.