Five Movies Worth Watching About Foreign-Policy Conspiracies
Every summer Friday, we suggest foreign-policy-themed movies worth watching. This week: films about conspiracies in the halls of power.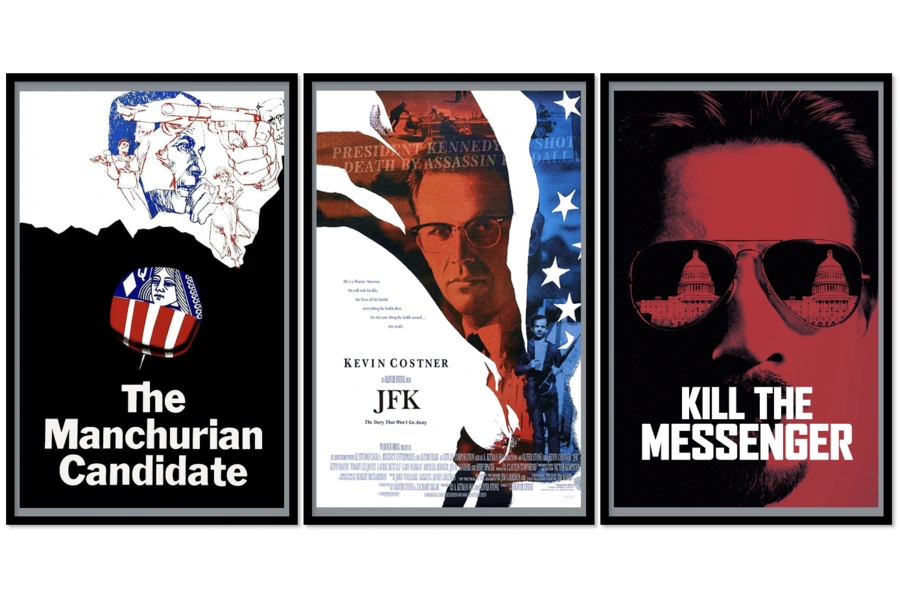 We are posting another installment of our foreign-policy movie recommendations, so that means it's Friday. Congratulations on making it through the next-to-last week of (unofficial) summer. We hope you have had some time to recharge your batteries—even if only by getting to watch a few films.
This week's theme is conspiracies. They are as American as apple pie. The American Revolution arose because colonialists were convinced that King George III was plotting to take away their liberties. The idea that powerful forces are at play seeking to control and direct our lives did not end in 1776. From fears in the Republic's early years of an Illuminati plot to restore monarchical rule to talk that NASA faked the moon landings to the current insistence that the 2020 election was stolen, the United States has a long history with conspiracy theories. To be clear, not all "conspiracies" are imaginary. Watergate is a case in point. But whether conspiracies are rooted in fact or reflect the delusions of the paranoid, they provide powerful grist for filmmakers.
We won't rehash all the rules we follow in making our selections. But know that we only recommend movies on these summer lists once. We have recommended Seven Days in May, Three Days of the Condor, and Wag the Dog in other lists. So they don't appear on today's.
Here are five movies about conspiracies in U.S. foreign policy, plus a bonus pick from a colleague.
The Manchurian Candidate (1962). After returning from Korea, Major Bennett Marco (Frank Sinatra) has recurring nightmares of his subordinate, Staff Sergeant Raymond Shaw (Laurence Harvey), shooting two other members of their platoon. Marco then learns that several other members of the platoon are having similar dreams. He eventually discovers that Shaw is not the war hero who saved his comrades' lives as everyone believes, but a former prisoner of war brainwashed by communists to act as a sleeper assassin. Marco finds himself in a race against time to stop a plot in which Shaw's own mother (Angela Lansbury) plays a pivotal role. Director John Frankenheimer used the film both to capitalize on Cold War paranoia and to criticize McCarthyism. (Frankenheimer followed up with another conspiracy thriller, Seven Days in May, two years later). Based on Richard Condon's 1959 book of the same name, The Manchurian Candidate was nominated for two Oscars, including best supporting actress for Lansbury's nefarious performance. (Fun fact: Lansbury in real life was just three years older than her "son," Harvey.) The American Film Institute ranks Lansbury's character the twenty-first greatest American film villain of all time. You can watch The Manchurian Candidate on Amazon Prime or Apple TV.
JFK (1991). Director Oliver Stone's three-hour political epic follows New Orleans District Attorney Jim Garrison's unsuccessful prosecution of businessman Clay Shaw for conspiring to assassinate President John F. Kennedy. The effort earns Garrison (Kevin Costner) powerful enemies as he uncovers evidence that high-level government officials and the military-industrial complex had Kennedy assassinated to prevent him from ending U.S. involvement in Vietnam and from dismantling the CIA. JFK also pushes the notion that Lee Harvey Oswald wasn't a lone gunman. Stone said his film was not a "true story per se," and it isn't—not by a long stretch. But it's a powerful piece of filmmaking. Even though Stone's version of history was rightly challenged at the time for abusing history, JFK was nominated for eight Oscars, including best picture. It won for best film editing and best cinematography. The film also helped inspire Congress to pass the JFK Records Act in 1992, which required all assassination-related records to be released within twenty-five years. When the Trump administration did so in 2017, FiveThirtyEight polling found that 61 percent of Americans believe Oswald didn't act alone. This year Stone returned to the subject with a new documentary titled, JFK Revisited: Through the Looking Glass. You can stream JFK on Amazon Prime or HBO Max.
Enemy of the State (1998). After lawyer Robert Clayton Dean (Will Smith) receives a mysterious videotape from an old friend, he finds himself the target of a bewildering smear campaign. The tape ties a corrupt bureaucrat (Jon Voight) to the murder of a prominent congressional critic of a counterterrorism bill making its way through Congress. The bill proposes drastically expanding the surveillance authority of the National Security Agency (NSA). Targeted by the NSA, Dean works with a mafia contact (Gene Hackman) to escape the agency's high-tech clutches and to uncover the conspiracy. Director Tony Scott's blockbuster sensationalized the efficiency and technology of the NSA to generate thrilling action scenes delivered at a breakneck pace. But Enemy of the State is, in a way, a prescient look at privacy concerns that would arise after Congress passed the Patriot Act in the wake of the 9/11 attacks. You can find Enemy of the State on Amazon Prime, Google Play, or YouTube.
Kill the Messenger (2014). In 1996, San Jose Mercury News reporter Gary Webb wrote a bombshell three-part series claiming that the Reagan-era CIA had facilitated the flow of cocaine into the United States in order to fund contra rebels in Nicaragua. Webb's "Dark Alliance" series was picked up across the country. Soon, however, many mainstream newspapers (not to mention the CIA) said he had hyperbolized the agency's responsibility for the crack cocaine "crisis" in the United States. Webb's editors eventually renounced the story, and Webb was blackballed in the news business. Kill the Messenger is based on Webb's 1999 book defending his reporting and Nick Schou's subsequent 2006 biography of Webb. Director Michael Cuesta and producer and star Jeremy Renner dramatize Webb's investigation and the effort to discredit it, though the film "sidesteps some of the more provocative aspects" of the narrative. You can watch Kill the Messenger on Amazon Prime, Netflix, or YouTube.
Fair Game (2010). On July 6, 2003, Joseph Wilson, a former U.S. ambassador to Gabon and São Tomé and Príncipe, published an op-ed titled "What I Didn't Find in Africa" in the New York Times. The piece disputed the George W. Bush administration's claim that Saddam Hussein's Iraq had attempted to purchase uranium in Africa in the 1990s. A week later, Washington Post columnist Robert Novak published leaked information that identified Wilson's wife, Valerie Plame, as a CIA agent. The piece blew Plame's cover. It also sparked a federal investigation that implicated White House officials and prompted speculation that the leak was retribution for Wilson's op-ed. Vice President Dick Cheney's chief of staff, Scooter Libby, was subsequently convicted for lying to the FBI and obstructing the investigation. (President George W. Bush commuted Libby's sentence, and President Donald Trump pardoned him in 2018.) Starring Naomi Watts and Sean Penn, director Doug Liman's Fair Game adapts Plame's and Wilson's memoirs of the leak and its aftermath. You can stream Fair Game on Amazon Prime, Tubi, or YouTube.
This week we asked Chris Tuttle to provide a bonus pick. Chris is managing director at the Council and formerly served as the policy director at the Senate Foreign Relations Committee, a State Department official, and a chief of staff in the U.S. House of Representatives. He recommended:
No Way Out (1987). Navy Lieutenant Commander Tom Farrell (Kevin Costner) thought things were complicated enough when his new love interest (Sean Young) reveals she is also the mistress of his boss, Defense Secretary David Brice (Gene Hackman). But when Brice accidentally kills her in a jealous rage, his second-in-command (Will Patton) suggests that Brice shift the blame toward her mysterious second lover by accusing him of being a KGB spy named "Yuri." They put Farrell in charge of the investigation. What ensues is a suspenseful manhunt in the halls of the Pentagon in which every participant is desperately trying to outwit the others in order to save themselves. Director Robert Garland's thriller is adapted from Kenneth Fearing's 1946 novel, The Big Clock. Chris says: "No Way Out has it all: big '80s stars, Washington power games, scandal, treachery, and murder. And just when you thought you were in on the film's big conspiracy all along, another emerges in one of the finest final plot twists of all time." You can watch No Way Out on Amazon Prime, Google Play, or YouTube.
Next week's theme is classified. All we will say for now is that we will break our own rules.
Check out our other recommendations from this summer: 
And here are our recommendations from last summer:
Still looking for something to watch? You can find all film (and book) recommendations from The Water's Edge here.