Five Foreign-Policy Movies Worth Watching About Human Rights
Every summer Friday, we suggest foreign-policy-themed movies worth watching. This week: films about the fight for human rights.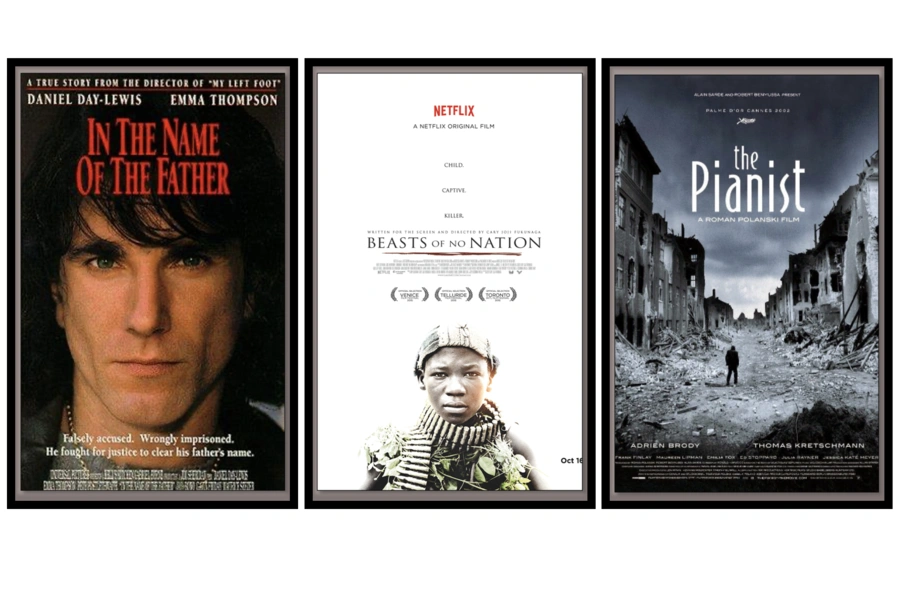 It's Friday, so it's time for another installment of foreign-policy-themed movies worth watching. This week we're looking at films about the fight for human rights. 
We follow three rules in our selections. First, we stick to English-language movies. So you won't see great films like First They Killed My Father or Life Is Beautiful below. Second, we only include films on these summer lists once. We've already recommended Gandhi, Hotel Rwanda, Mandela: Long Walk to Freedom, Salvador, Schindler's List, The Killing Fields, and many classic POW movies. Third, each recommendation has to be available to rent or stream online. 
Here are five movies about human rights worth watching, plus a bonus pick from one of our colleagues.  
Judgment at Nuremberg (1961). We make the rules, so we can break them, too. Any list of movies worth watching about human rights has to include director Stanley Kramer's 1961 courtroom drama starring Spencer Tracy, Montgomery Clift, Marlene Dietrich, Judy Garland, Burt Lancaster, Maximilian Schell, and Richard Widmark. (The movie also features William Shatner, who more famously played Captain James T. Kirk on Star Trek, and Werner Klemperer, who played Colonel Klink on Hogan's Heroes.) But the film is not currently available to rent online. You can, however, stream the 1959 televised play Judgment at Nuremberg, which was written by Abby Mann, who won an Oscar for the movie's script. Three years after top Nazi leaders were tried in Nuremberg, retired U.S. judge Dan Haywood (Tracy) hears the case of four German judges accused of abetting Nazi atrocities. Faced with the defense's arguments about Germany's collective culpability, harrowing witness testimony, and political pressure to forget the past, Haywood has to decide whether and how to punish the four men. Schell, a native Austrian and a staunch anti-Nazi in real life, won the Oscar for best actor for his role as defense counsel, Hans Rolfe. The film was also nominated for nine Oscars, including best picture. (West Side Story took that prize.) The American Film Institute ranks Judgment at Nuremberg as the tenth best American courtroom drama of all time. The 1959 television version, which was directed by George Roy Hill and stars Schell, Claude Rains, and Paul Lukas, has won fewer accolades. But you can watch it on Amazon Prime. 
In the Name of the Father (1993). At the height of the Troubles in Northern Ireland in 1974, five people were killed and sixty-five injured when IRA bombs exploded in two pubs in Guildford, England. Gerry Conlon, a Belfast resident who had been in the area but had no connection to the bombings, was arrested and tortured into confessing responsibility. Along with three others, he was sentenced to life in prison. In the Name of the Father follows Conlon's passionate fight to clear both his name and that of his father, who was wrongly convicted for aiding the bombing. Daniel Day-Lewis and Pete Postlethwaite received Oscar nods for their roles as son and father. Emma Thompson was nominated for her turn as the solicitor appealing their convictions. In the Name of the Father was nominated for four other Oscars, including best picture and best director for Jim Sheridan. You can rent it on Amazon Prime, Google Play, or YouTube. 
The Pianist (2002). Władysław Szpilman was playing Chopin when the first bombs hit Warsaw on September 1, 1939. Drawing on Szpilman's 1946 memoir of the same name, The Pianist follows the Polish-Jewish musician's struggle to survive under the Nazi occupation. Adrien Brody lost 31 pounds to play Szpilman as he deteriorated from confident performer to gaunt survivor, torn from the people and piano that he loved. Director Roman Polanski, a Holocaust survivor whose mother was killed in Nazi gas chambers, realistically relates Szpilman's story as one of tremendous luck, not Hollywood heroism. The Pianist won three Oscars: best actor for Brody (who accepted his award in a surprising way), best director for Polanski, and best adapted screenplay. The Pianist was nominated for four other Oscars, including best picture. You can rent it on Amazon Prime, Netflix, or YouTube. 
Beasts of No Nation (2015). The United Nations reported nearly 8,500 children were recruited and used in armed conflict in 2020. Beasts of No Nation offers an intimate and harrowing look at not only the trauma but also the perseverance of one of those victims. When civil war engulfs the home of twelve-year-old Agu (Abraham Attah), he flees his massacred village only to run into a faction of rebel guerilla fighters. Trained to fight and kill by the charismatic and tyrannical Commandant (Idris Elba), Agu's innocence is quickly and brutally torn away. Director Cary Joji Fukunaga spent years researching Sierra Leone's civil war before discovering Uzodinma Iweala's 2005 debut novel Beasts of No Nation as the perfect foundation for a movie about humanity and children, specifically, in war. You can stream Beasts of No Nation on Netflix. 
The Report (2019). A 6,700-page government report doesn't sound like the stuff of a Hollywood storyline. Director Scott Z. Burns, however, turns the Senate investigation of the Bush administration's "enhanced interrogation techniques" after the September 11 attacks into a serious but "riveting" film. Based on actual events, The Report features Senate staffer Doug Jones (Adam Driver), who is tasked by Senator Diane Feinstein (Annette Benning) to investigate the CIA's destruction of interrogation videos in 2005. Jones uncovers evidence that the CIA misrepresented its methods, the number of detainees it tortured, and the quality of information it gained. But not everyone wants that information uncovered. Jones and Feinstein fight resistance within the CIA and the Obama administration before they succeed in releasing their report in 2014. Driver and Benning, who are joined by Jon Hamm, Ted Levine, and Corey Stoll, elevate this procedural into a gripping look at recent abuse of human rights by the United States. You can watch The Report on Amazon Prime.  
This week we asked David Scheffer to make a bonus pick. David is a senior fellow at CFR, a recent fellow at the U.S. Holocaust Memorial Museum's Ferencz International Justice Initiative, and a law professor emeritus at Northwestern's Pritzker School of Law. He previously served as the first U.S. ambassador at large for war crimes issues in the Clinton administration. David chose: 
The Whistleblower (2010). Director Larysa Kondracki tells the real-life story of Kathryn Bolkovac, a former policewoman from Lincoln, Nebraska, who was hired by UN-contractor DynCorp Aerospace in 1999 to investigate human rights abuses in postwar Bosnia. She soon discovered that many of her fellow UN peacekeepers were participating in the very sex trafficking of women and girls that they were supposed to stop. Bolkovac's superiors covered up her complaints, and she was eventually fired for "falsifying time sheets." She sued DynCorp in 2002 for wrongful termination and won. However, no one was ever prosecuted for the crimes she witnessed. Rachel Weisz starred as Bolkovac, and her castmates include Vanessa Redgrave, Monica Bellucdi, and David Strathairn. Then-UN General Secretary Ban Ki-moon held a special screening of film for UN officials, but activists say that sexual abuse by peacekeepers remains a problem. David says: "The Whistleblower offers you both the truth and relentless drama. This film reminds us that a single woman's courage can challenge the entire dynamic of confronting human rights abuses, particularly for leaders who tolerate such hideous crimes." You can find The Whistleblower on Amazon Prime, Pluto TV, or Vudu. 
Next week we will offer suggestions for films about actual world events. 
Check out our other recommendations from this summer:
And here are our recommendations from last summer:
Still looking for something to watch? You can find all film (and book) recommendations from The Water's Edge here.