Five Foreign-Policy Movies Worth Watching About Real-Life Heroism
Every summer Friday, we suggest foreign-policy-themed movies worth watching. This week: films inspired by actual heroes.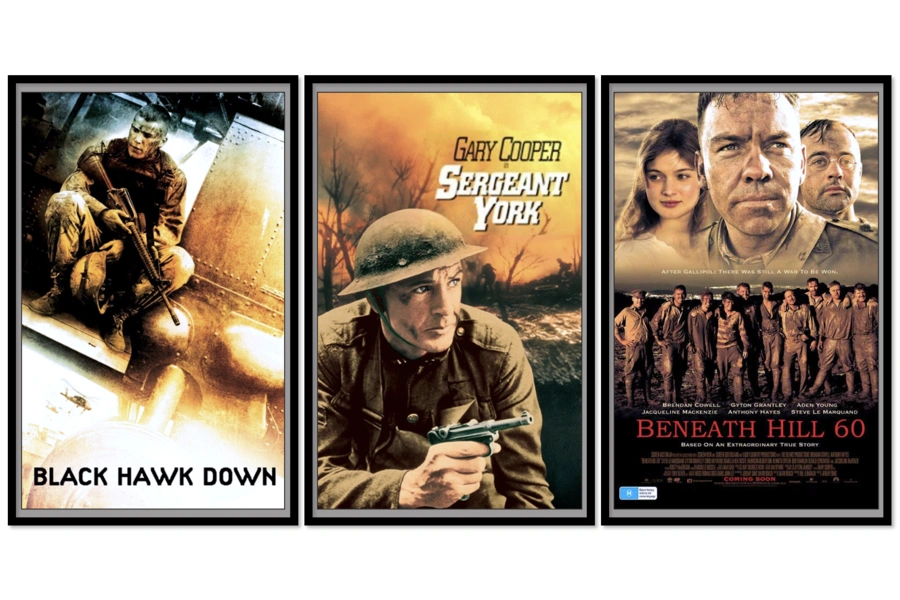 It's Friday, which means it's time for another installment of our summer foreign-policy movie recommendations. This week we're looking at films based on true stories of acts of heroism.
As with last week's recommendations of movies based on actual world events, we'll start with a disclaimer: Hollywood plays fast and loose with actual events to add drama and to awe and inspire. So don't expect our suggestions to be perfect reflections of the historical record. Also know that we only include movies for these summer lists once. We've already suggested Argo, Born on the Fourth of July, Carve Her Name With Pride, Gandhi, Hacksaw Ridge, Hotel Rwanda, Schindler's List, The Great Escape, The Imitation Game, and The Whistleblower. So they aren't featured below.
With that being said, here are five movies about actual acts of heroism, plus a bonus pick from a colleague. 
Sergeant York (1941). Two years after converting to a fundamentalist and pacifist Christian sect, Alvin York received his draft notice for the Great War. Denied status as a conscientious objector, he was sent to France in May 2018. His sharpshooting skills were put to the test in the Meuse-Argonne offensive, part of the last push to end the war, where York was credited with killing at least twenty German soldiers and helping his patrol capture another one hundred thirty-two. The feat earned him a Medal of Honor and celebrity back home. Director Howard Hawks depicted York's struggle with the conflict between faith and duty in Sergeant York. As the United States headed toward war in 1941, Hawks's film struck a patriotic tone that differed from many earlier—typically anti-war—movies about World War I. Sergeant York was nominated for ten Oscars, including best picture, with Gary Cooper winning for best actor for playing the eponymous lead. You can find Sergeant York on Amazon Prime, Google Play, or YouTube.  
The Fighting Sullivans (1944). The five Sullivan brothers of Waterloo, Iowa, joined the Navy together shortly after the attack on Pearl Harbor. George, Frank, Red, Matt, and Al all insisted on serving on the same ship. When the USS Juneau was struck by a Japanese torpedo on November 13, 1942, all five were killed. The Navy highlighted the story of their sacrifice for recruitment efforts—and possibly to distract from the failure to rescue the Juneau's survivors. Recruiting posters featured the brothers with the tagline, "they did their part," and the Sullivan parents were sent on a morale-boosting nationwide tour. A few years later, director Lloyd Bacon took up the story, dramatizing both the Sullivans' childhoods during the Great Depression and their service. The USS The Sullivans, the only Navy ship to be named after multiple people, was commissioned in 1943 and saw action in the Pacific theater, the Korean War, and the Cuban Missile Crisis. Contrary to urban lore, the deaths of the Sullivans did not prompt Congress to bar siblings from serving on the same ship or in the same unit. You can watch The Fighting Sullivans on Amazon Prime or IndieFlix.
Black Hawk Down (2001). On October 3, 1993, what was expected to be a one-hour snatch-and-grab mission turned into the U.S. military's longest and most expensive urban firefight since the Vietnam War. Elite U.S. soldiers dropped into Mogadishu to capture two lieutenants of Somali warlord Mohamed Farrah Aidid, who had targeted UN peacekeepers distributing food aid. Aidid's supporters, however, shot down two Black Hawk helicopters. A relief convoy sent to aid the downed U.S. servicemen became trapped in an intense battle with hundreds of local militia. Eighteen Americans and hundreds of Somalis were killed over eighteen hours. The battle and shocking photos of Americans' bodies being dragged through Mogadishu's streets led President Bill Clinton to withdraw U.S. forces from Somalia by March 1994 and left him hesitant for the remainder of his presidency about the wisdom of humanitarian interventions. Starring Josh Hartnett, Ewan McGregor, Tom Sizemore, and Eric Bana, Black Hawk Down features the soldiers' fight for survival against all odds. Ridley Scott earned an Oscar nod for directing the film, which is based on journalist Mark Bowden's 1999 book of the same name. Black Hawk Down won the Oscars for best film editing and best sound. You can find it on Amazon Prime, HBO Max, or YouTube. 
Beneath Hill 60 (2010). As the soldiers of World War I rushed from trenches across no-man's land on the Western Front, another type of battle raged below them. Groups of miners dug tunnels toward the opposing side and planted bombs in hopes of breaking the war's bloody stalemate. Director Jeremy Sims's Beneath Hill 60 tells the story of one of the most dramatic of those missions. In 1917, a unit of predominately Australian miners led by Captain Oliver Woodward (Brendan Cowell) fought floods, cave-ins, and enemy tunnellers to set 455 tons of explosives under the German-held "Hill 60" south of Ypres. The blast on June 7, 1917, was at the time the largest man-made explosion in history. The explosion was felt more than one hundred miles away in London and killed an estimated 10,000 German soldiers in a stunning start to Britain's victory at the Battle of Messines. You can watch Beneath Hill 60 on Amazon Prime, Apple TV, or Vudu.
The Outpost (2020). Combat Outpost Keating was a small U.S. operating base located at the bottom of a valley in northeastern Afghanistan. Vulnerable to attack from higher ground, it was scheduled to close in mid-October 2009. But on October 3, three hundred Taliban insurgents surrounded the base, leaving Keating's fifty U.S. soldiers in a desperate fight for their lives. The Outpost tells the story of the gallantry displayed that day by Staff Sergeant Clint Romesha (played by Scott Eastwood), Specialist Ty Michael Carter (played by Caleb Landry Jones), and their comrades. Romesha and Carter were both awarded Medals of Honor for their bravery in the twelve-hour battle that left eight Americans dead and another twenty-seven wounded. Based on journalist Jake Tapper's 2012 book, The Outpost: An Untold Story of American Valor, director Rod Lurie's film about life at Keating and the Battle of Kamdesh has been praised for its realism. You can watch The Outpost on Amazon Prime or Netflix.
This week we asked Charles Kupchan to provide a bonus pick. Charlie is a senior fellow at CFR and a professor of international affairs at Georgetown University's Walsh School of Foreign Service. He chose:
The Revenant (2015). Though a heavily dramatized account of American fur trapper Hugh Glass's life as a guide on the frontier in the 1820s, The Revenant is a visceral look at the United States when it was a newcomer on the world stage, still seeking to extend its reach across North America. Based on Michael Punke's 2002 novel of the same name, The Revenant earned Alejandro G. Iñárritu an Oscar for directing and Leonardo DiCaprio his first Oscar for best actor. It also won for cinematography and was nominated for nine others, including best picture. Charlie says: "Glass confronts multiple adversities—including harsh weather, wild animals, and betrayal from within his own ranks. Foreign policy figures prominently as the Americans navigate relations with Native Americans and conflict with French competitors. But Glass also finds ways to turn adversity into advantage and to survive against the odds, revealing stamina generated in no small part by his desire to exact revenge on his betrayer. The film, beautifully and artfully shot, is a story of heroic fortitude that also opens a window on life on the American frontier and the role of westward expansion in nation-building." You can watch The Revenant on Amazon Prime, Google Play, or YouTube.  
Next week we will offer recommendations for films about combat experience.
Check out our other recommendations from this summer:
And here are our recommendations from last summer:
Still looking for something to watch? You can find all film (and book) recommendations from The Water's Edge here.