Five Foreign-Policy Movies Worth Watching About Actual World Events
Every summer Friday, we suggest foreign-policy-themed movies worth watching. This week: films inspired by reality.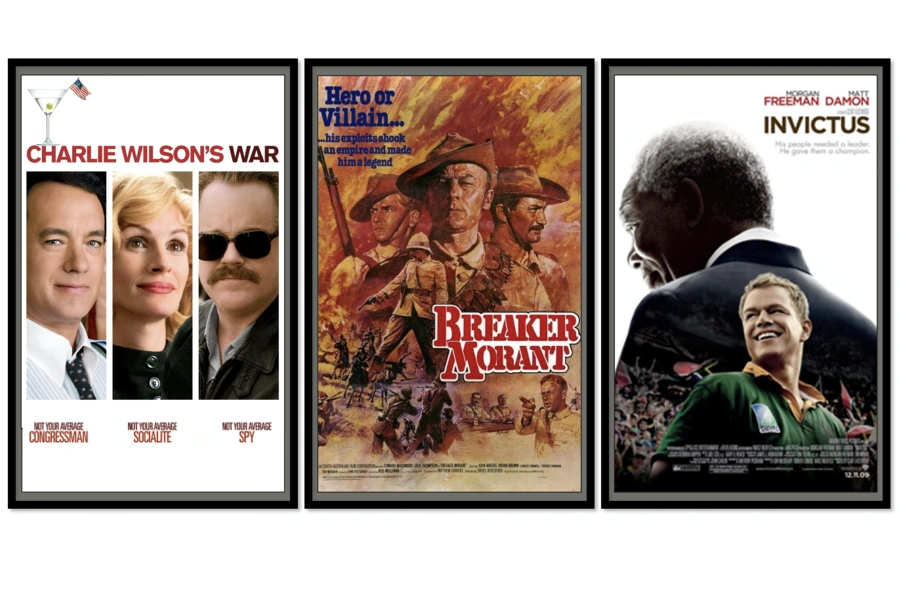 It's Friday and time for another set of foreign-policy-themed movies. This week we're suggesting movies based on real world events. We have to begin with an obvious caveat: Don't confuse any movie "based on" or "inspired by" actual events with a scholarly thesis. Hollywood invariably takes dramatic license with the facts to craft a film that entertains. Circumstances get simplified, characters get merged or eliminated, and dialogue gets invented. So it's your choice. You can fulminate about the historical inaccuracies, or you can grab the popcorn, have some fun, and perhaps be inspired to pick up a good history book to learn more.
We won't rehash all the rules we follow in making our movie picks. Just know that we only select movies for these lists once. We have already recommended Hacksaw Ridge, Hotel Rwanda, Patton, Schindler's List, The Longest Day, The Imitation Game, The Post, and Thirteen Days on other lists, so you won't see them today.
Here are five movies about actual world events, plus a bonus pick from one of our colleagues.
Thirty Seconds Over Tokyo (1944). Four months after the attack on Pearl Harbor, the United States needed a military success in the Pacific theater to boost morale at home. The Doolittle Raid did just that. Army Air Force Lieutenant Colonel James Doolittle trained volunteer pilots for three months before revealing their top-secret mission: to carry out the first U.S. bombing campaign on Japan. The strikes on Tokyo, Yokosuka, Yokohama, Kobe, and Nagoya in April 1942 went off without a hitch, though they did relatively little damage. However, rough landings and changing conditions in Japanese-occupied China made the back half of the Doolittle Raid more perilous. Screenwriter Dalton Trumbo based the script on the 1943 book by Captain Ted W. Lawson, who flew one of the B-25 bombers involved in the attack. (Trumbo, the author of the haunting novel Johnny Got His Gun, was later blacklisted in Hollywood for his communist sympathies.) Van Johnson stars as Lawson, Phyllis Thaxter as the expecting wife he leaves behind, and Spencer Tracy as Doolittle. Director Mervyn LeRoy used actual footage of the bombers' departure, while the film's special effects won an Oscar. You can stream Thirty Seconds Over Tokyo on Amazon Prime, Google Play, or YouTube.  
Breaker Morant (1980). In January 1902, small-town solicitor Major James Francis Thomas agreed to defend six Australian soldiers being court-martialed by the British army. The men, including Lieutenant Harry "Breaker" Morant, were accused of murdering civilians and prisoners-of-war during the Boer War, a bloody three-year conflict between the British Empire and Dutch settlers in southern Africa. Thomas argued the men were carrying out the orders of their superior officer, Britain's Lord Kitchener, to "take no prisoners." Kitchener denied having issued such an order despite his brutal scorched-earth policy. The court martial and subsequent execution of Morant and Lieutenant Peter Handcock outraged many Australians who thought both men had been made colonial scapegoats for British war crimes. Adapting Kenneth G. Ross's 1978 play to film, director Bruce Beresford set out to make a courtroom drama exploring the "pressures that are put to bear on people in war time." But despite never denying the defendants' guilt, he was surprised that many people thought Breaker Morant was about "poor Australians who were framed by the Brits." You can watch Breaker Morant on Amazon Prime, Sling TV, or Tubi.
Good Night, and Good Luck. (2005). Journalism major George Clooney directed this story of CBS reporter Edward Murrow's on-air battles with Senator Joseph McCarthy. Murrow drew McCarthy's ire when he used his program, See It Now, to challenge the ethics of the senator's denunciation of alleged communists in the United States. Clooney, the son of a news anchorman and a critic of many of George W. Bush's policies, said he wrote and directed Good Night, and Good Luck because he believed that the "fear and paranoia" of the 1950s had dangerous parallels fifty years later. David Strathairn's performance as Murrow earned him an Oscar nomination for best actor. Strathairn is joined by Patricia Clarkson, Jeff Daniels, Robert Downey Jr., and Clooney himself. No one, however, plays McCarthy. Instead of casting an actor, Clooney let the senator play himself by integrating archival footage and making the entire film black and white. Good Night, and Good Luck was nominated for five other Oscars, including best picture. You can watch it on Amazon Prime, Google Play, or YouTube.
Charlie Wilson's War (2007). In the 1980s, Texas Congressman Charlie Wilson was better known for his flamboyant lifestyle than his foreign policy views. But after visiting Pakistani leaders and an Afghan refugee camp, Wilson was moved by—and saw political opportunity in—the Afghans' fight against Soviet occupation. Wilson convinced Congress to dramatically increase covert U.S. support for mujahadeen fighters, including by supplying them with better weapons. With Wilson organizing international backing, the Afghans had surprising success and ultimately forced the Soviets out of Afghanistan. He failed, however, to secure lasting financial support for Afghanistan's post-occupation recovery. Director Mike Nichols put together a star-studded cast to tell (a simplified version of) Wilson's story, as recounted in journalist George Crile's 2003 book of the same name. The lead is Tom Hanks, who is joined by Julia Roberts, Amy Adams, Ned Beatty, and Emily Blunt. Philip Seymour Hoffman received an Oscar nod for his portrayal of unorthodox CIA agent Gust Avrakotos. You can watch Charlie Wilson's War on Amazon Prime, Google Play, or Starz.
Invictus (2009). In his first year as South Africa's first Black president, Nelson Mandela was looking for a way to unite the country. He found it in an unexpected place: South Africa's struggling national rugby team, the Springboks. Many Black South Africans rooted against the Springboks, considering the team a symbol of the apartheid-era. But as the new South Africa prepared to host the 1995 Rugby World Cup, Mandela worked with the Springbok's captain Francois Pienaar to rally South Africans behind the team. Unlike many of director Clint Eastwood's films, Invictus focuses on forgiveness over revenge. Adapted from John Carlin's 2008 book Playing the Enemy, the film is an uplifting, if idealistic, view of the early post-apartheid years. Morgan Freeman and Matt Damon received Oscar nominations for their respective performances as Mandela and Pienaar. You can find Invictus on Amazon Prime, Tubi, or YouTube.
This week we asked Alice Hill to provide a bonus pick. Alice is the David M. Rubenstein senior fellow for energy and the environment at CFR. Before joining CFR, she had a wide-ranging career as a prosecutor, judge, and working on climate issues in the federal government. Alice picked:
The King's Speech (2010). "Bertie," as he was known to close friends and family, never expected to be king. But after his brother Edward abdicated in 1936 to marry an American divorcee, he ascended to the British throne as King George VI. Plagued by poor health and a stutter, the new king also faced a rapidly deteriorating political situation in Europe. Director Tom Hooper's The King's Speech depicts the relationship of George (Colin Firth) and Australian speech therapist Lionel Logue (Geoffrey Rush) as the king prepares for a radio broadcast to a worried nation after Britain's declaration of war on Germany. The film significantly compresses the timeline of George and Logue's relationship, but the added drama was effective: The King's Speech was nominated for twelve Oscars and won four: best picture, best director for Hooper, best actor for Firth, and best screenplay for David Seidler. Alice says: "Although criticized for historical inaccuracies, the movie tells a compelling story of resilience and perseverance in the tumultuous years leading up to World War II." You can find The King's Speech on Amazon Prime, AMC, or Red Box.
Next week we will offer suggestions for films about heroism.  
Check out our other recommendations from this summer:
And here are our recommendations from last summer:
Still looking for something to watch? You can find all film (and book) recommendations from The Water's Edge here.